Description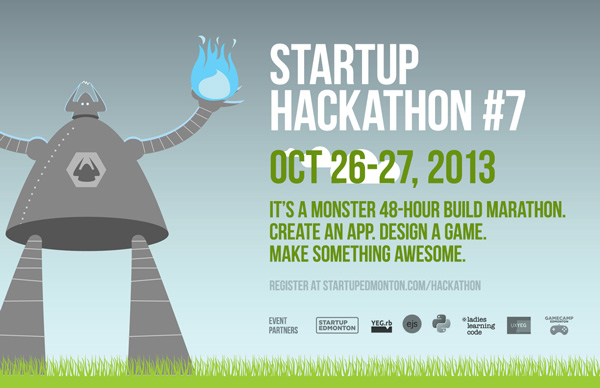 Hackathons are multi-day events where we invite developers and designers to come together to share ideas, form teams, and build an app or game.
Hackathons start off with idea pitches and then spend the rest of time planning and building. We wrap things up with every team sharing their demos with other participants and the community. Hackathons are a great way to get to know a new technology, learn to code, flex your mad programming or design skills, and work as part of a team, whether you're a student, rookie or pro.
This hackathon will be hosted by your friendly neighborhood meetup groups including YEGRB, Exchange.js, Edmonton.py, Ladies Learning Code, UXYEG, and GameCamp Edmonton.
The Details:
When: Saturday, October 26 and Sunday, October 27
Starts at: 9:30 am on Saturday, October 26
Where: Startup Edmonton, 3rd Floor, 10359 - 104 Street,
Cost: $25 (includes lunches and snacks on Saturday and Sunday; everyone's on their own for supper). Student and member rate is only $15. Tickets are non-refundable.
#hackathonyeg
Here's the schedule of events/activities:
Saturday
9:30 am - registration/arrivals, everyone gets to meet each other
10:00 am - introductions, agenda
10:30 am - idea pitches (anyone can pitch an idea to the group that they want to work on)
11:00 am - everyone splits into teams around the ideas/projects they want to work on, max 3-4 per team
12:30 pm - lunch
pm - everyone keeps working into the evening
6:30 pm - dinner (some can head to the tavern, etc)
8:30 pm - everyone keeps working into the evening, social drinks (somewhere nearby), cut off at midnight
Sunday
9:30 am - arrivals, everyone gets right to work
12:30 pm - lunch
2:00 pm - 3 hours to go!
4:30 pm - prep final demos and presentations
5:30 pm - demos/presentations
6:30 pm - hackathon wrap up