HackCité 375 -Le hackathon pour célébrer le 375è de Montréal | The hackatho...
Description
*** English below ***
HackCité #375MTL est un événement en plusieurs volets issu d'une démarche artistique multidisciplinaire afin de laisser un legs numérique à la ville de Montréal dans le cadre de son 375e anniversaire. Nous voulons offrir une œuvre célébrant la diversité créative de Montréal et cristallisant la mémoire collective dans une symbiose vivante entre arts, technologies, et design.
C'est un marathon de coopération rassemblant un maximum de 60 participants issus des arts, design et technologies pour réaliser en deux jours (26 - 28 Mai 2017) une première ébauche de cette oeuvre dans l'une des trois thématiques (énoncées ci-dessous)
Ce hackathon nouveau genre est organisé par Printemps numérique, Cohorte 2016 - Projet A144, Pixsenses, Desjardins Lab et MTL Newtech; en collaboration avec le Festival Chromatic de MASSIVart, et les entreprises DIX au carré, La boîte interactive et Pixsenses pour la partie réalisation par la suite.
9 projets au maximum seront admis dans 3 thématiques de réalisation :
- Artefact numérique

- Leg interactif & projection

- Réalité virtuelle & Réalité augmentée
3 projets gagnants seront sélectionnés par catégorie puis peaufinés pendant une semaine de résidence avec nos 3 entreprises partenaires DIX au carré, La boîte intéractive et Pixsenses, qui vous apporteront leur expertise pour vous aider à les mener à bien !
La réalisation finale de cette oeuvre en 3 volets sera enfin exposée le 21 Juin 2017, lors de la soirée de clôture du Printemps Numérique.
Ne manquez pas cette belle occasion d'apprendre, partager avec du beau monde, et de laisser votre marque concrête dans les célébrations du 375ème anniversaire de Montréal! À vendredi!
ps: Le contribution pour l'inscription est comme on l'avait souligné dans le formulaire, de 25$ pour couvrir une partie de certains frais tels que la nourriture et les boissons. On est trois communautés à s'être mis ensemble pour réaliser ce beau projet sans subventions (on y croit fort!!), et on a mis près de 7000$ pour couvrir les coûts de nourritures etc., et les prix pour réaliser les oeuvres par la suite!
On a vraiment vraiment hâte à Vendredi pour travailler ensemble et offrir une œuvre célébrant la diversité créative de Montréal et cristallisant la mémoire collective du 375ème de Montréal! Si vous ne pouvez vous permettre cette contribution, envoyez moi un message privé et on va essaye de s'arranger, on veut vraiment en faire la célébration la plus inclusive possible
ps: et veuillez aussi remplir le formulaire suivant, on va essayer d'avoir des tshirts!! :) http://go.mtlnewtech.com/hackcite375tshirt
---
HackCité #375MTL is a unique multidisciplinary cooperative project to create 3 digital artefacts to celebrate the 375th anniversary of our beloved Montréal. We want the Montréal community to offer a digital artwork to celebrate our creative diversity and crystallize our collective memory at the crossroad of art, design and technology. More info at www.hackcite.com
1. Register as a participant and pitch or select an idea you want to contribute to.
2. Work on your idea in a multidisciplinary team to create an innovative concept presented at the final pitches. Three winning projects will be selected by the jury.
3. Win cash prizes (800-1400$) to finalize your project in residence at one of our 3 partners (Dix2, Pixsenses, La Boîte Interactive) for up to 35 hours (worth thousands of dollars!)
This project is driven by Printemps numérique, Cohorte 2016 - Projet A144, Pixsenses, Desjardins Lab and of course MTL Newtech; in collaboration with MASSIVart's Chromatic Festival, DIX au carré, Pixsenses and La boîte interactive for the production.
The 3 themes of the art-pieces are as follow:
- Digital Artefact

- Interactivity & projection

- Virtual Reality & Augmented Reality
So, seize the day, and join us to mingle, learn and share with amazing people; and leave your mark in the #375th anniversary of Montréal
ps: The contribution that we had discussed is 25$ for the whole hackathon, and will go for a portion of the food and drinks. We are three communities coming together to get this unique hackathon to life and we pitched in more than 7000$ on our own (yep we really believe in this!) for food, drinks, and especially to dedicate it for the actual making of the three winning art pieces!!
If you can't afford this amount, please reach out to us and we will try to figure it out! We really want to make this celebration as inclusive as possible!!
ps: And please fill this form as well, we are trying hard to get you tshirts as well!!
http://go.mtlnewtech.com/hackcite375tshirt
==================
// Partenaires de réalisation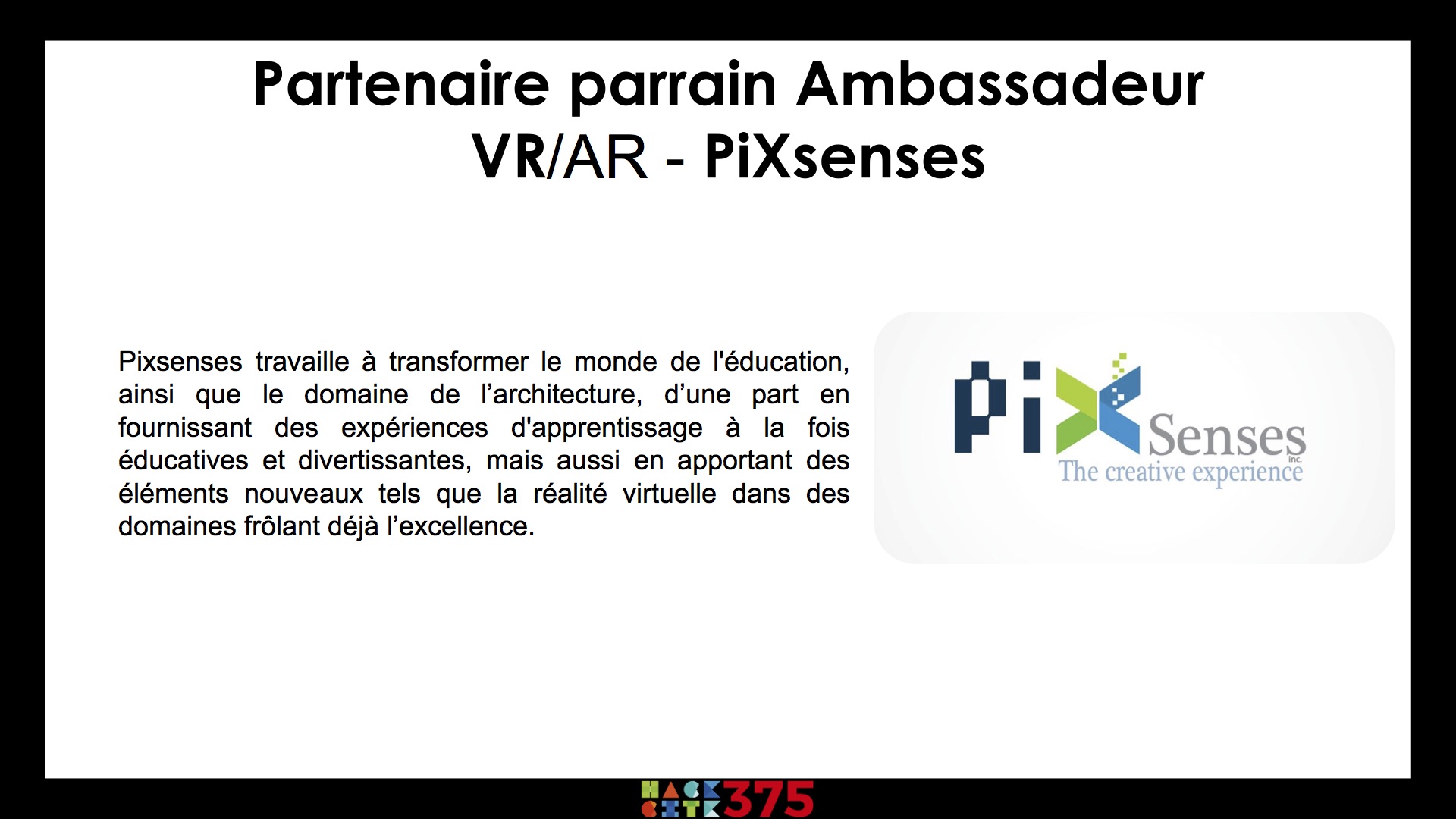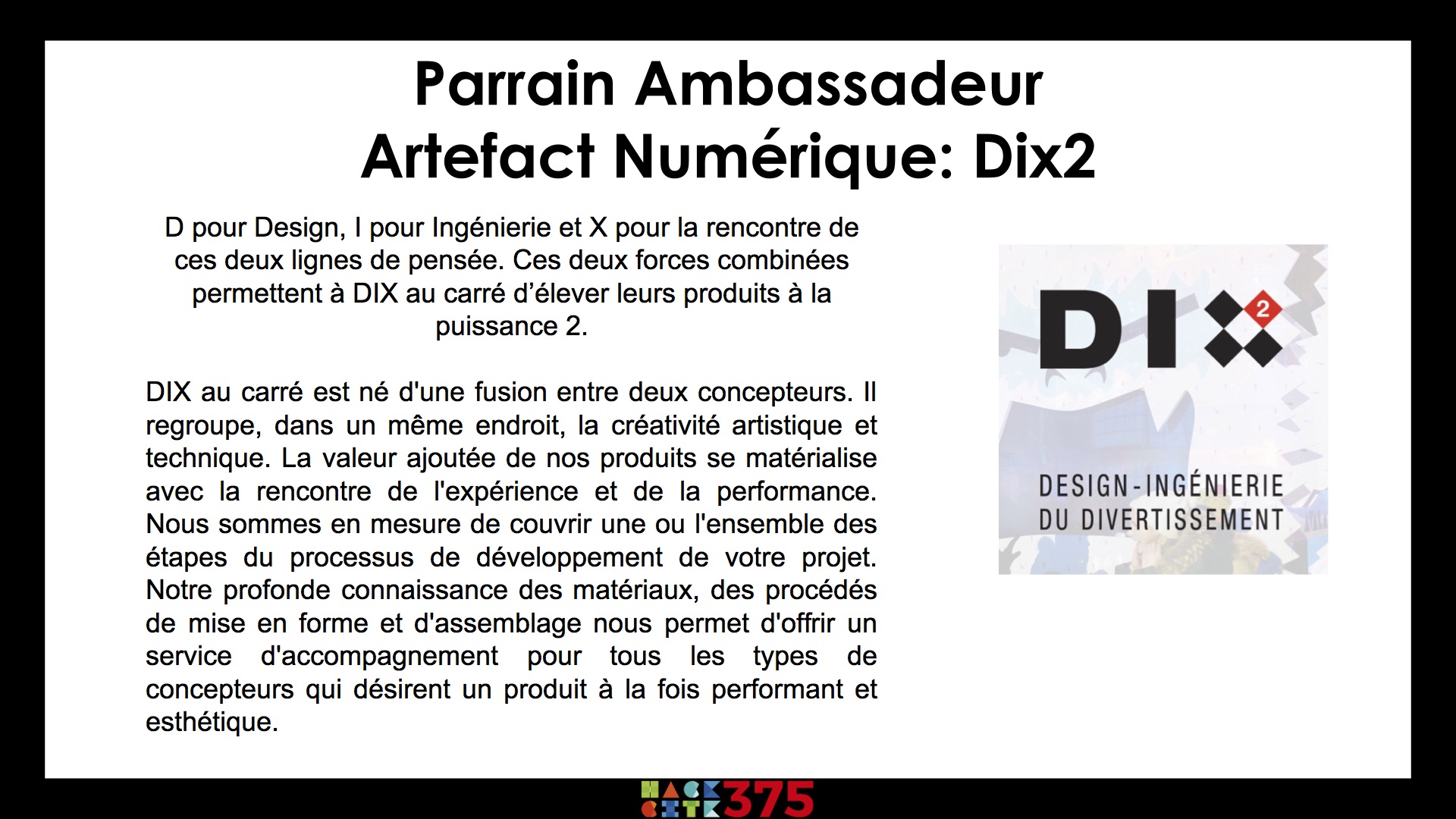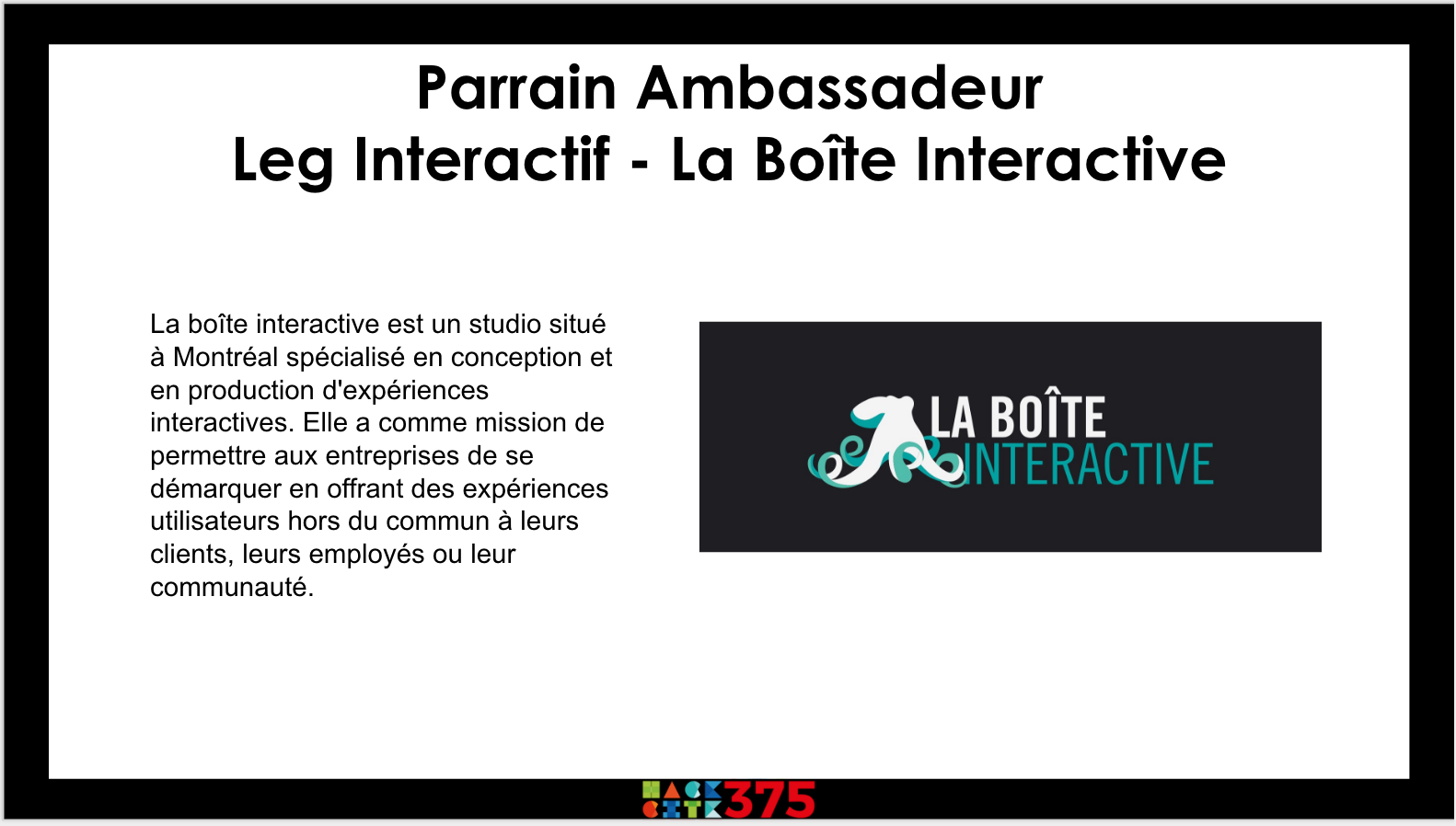 // Un hackathon nouveau genre pour un leg pérenne !
Nous ne pouvons évidemment pas garantir les résultats, et c'est la beauté d'un hackathon! Cependant nous voulions faire en sorte que cette collaboration majeure puisse mettre le maximum de chances de votre côté pour vous permettre de réaliser une oeuvre qui fera honneur à Montréal, et à nos communautés de créateurs de tout horizons! D'où le déroulement suivant: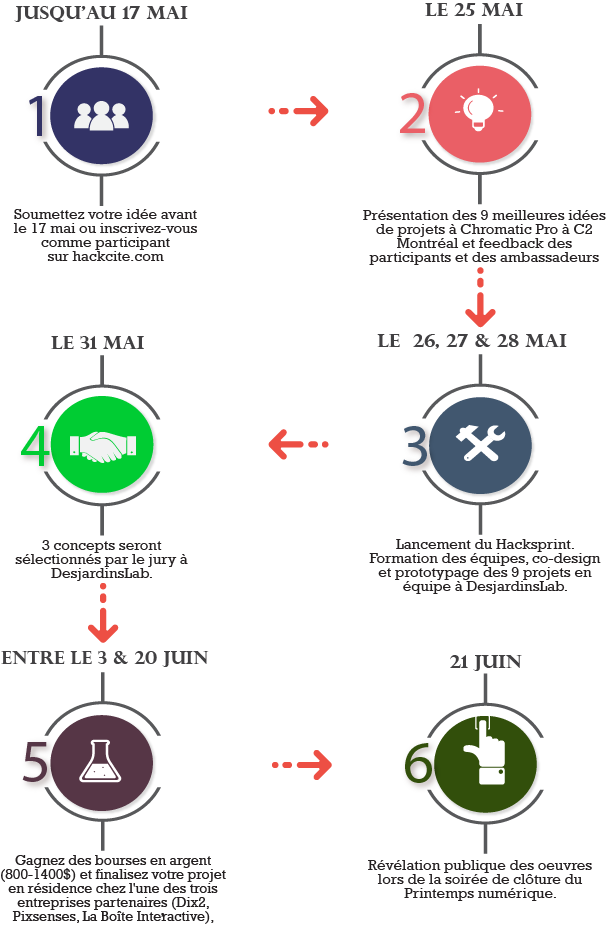 // Partenaires organisateurs
Nous avons la chance de pouvoir organiser ce hackathon pour célébrer l'anniversaire de Montréal avec des acteurs majeurs de l'écosystème créatif de Montréal, tant du côté artistique, citoyen que technologique. Cette démarche se veut collaborative et inclusive, si vous représentez, ou connaissez des organisations qui désireuse de contribuer à cette opportunité de célébrer le 375ème anniversaire de Montréal, n'hésitez pas à entrer en contact avec nous. Nous avons à coeur la collaborations citoyennes et désirons contribuer au mieux-être économique et social des personnes et des collectivités au Québec par l'entrepreneuriat et l'innovation artistique, technologique, et sociale.