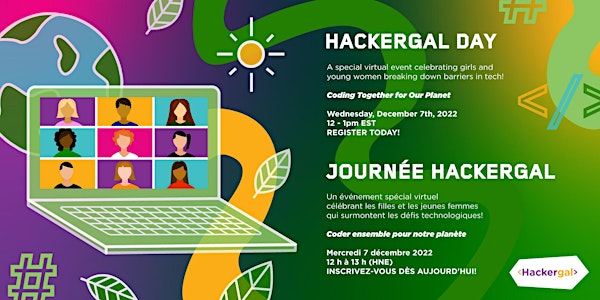 HACKERGAL DAY: Coding Together for Our Planet
On December 7, 2022, come join our virtual event celebrating girls and young women breaking down barriers in tech!
Refund Policy
Contact the organizer to request a refund.
Eventbrite's fee is nonrefundable.
About this event
Hackergal Day 2022: Coding Together for Our Planet
Join our nationwide virtual event celebrating girls and young women breaking barriers in tech!
About this event:
The countdown is on! Join us for Hackergal Day 2022, a special national celebration of girls* and young women breaking barriers in the tech industry. This event will feature a live-streamed kickoff celebration, exclusive pre-recorded videos highlighting inspirational women in tech, and interactive educational resources. Participants can also look forward to fun prizes and giveaways!
Hackergal Day Schedule
Live Kick-Off Event | 12:00-1:00pm EST
Celebrate with the Hackergal Team and participants across Canada as we learn about upcoming events, hear from special guest speakers, and discuss the 2023 Hackathon theme.
Meet a Woman in Tech Spotlights | Pre-recorded videos, self-paced viewing
Meet inspiring professionals breaking down gender stereotypes in tech!
Learning Materials | Self-paced discussion
Discussion questions to help you and/or your class reflect on women's experiences studying and working in the tech industry.
RSVP today and become part of a powerful virtual movement closing the gender gap in Canada's tech industry.
*Events are open to all students who identify as a girl and live in Canada! Hackergal is committed to diversity and inclusion. We use an inclusive definition of "girls" and "women" and welcome the participation of all learners who identify as girls. This includes trans girls because we recognize trans girls are girls. We also welcome the participation of gender-fluid, non-binary, and two-spirit learners.
We can't wait to see you there!
-------------------------------------------------------------------
Journée Hackergal 2022 : Coder ensemble pour notre planète
Participez à notre événement virtuel national pour célébrer les filles et les jeunes femmes qui brisent les barrières de la technologie!
À propos de cet événement :
Le compte à rebours est lancé! Rejoignez-nous pour la journée Hackergal 2022, une célébration nationale spéciale des filles* et des jeunes femmes qui brisent les barrières de la technologie. Cet événement comprendra une célébration de lancement diffusée en direct, des vidéos préenregistrées exclusives présentant des femmes inspirantes dans le domaine de la technologie, ainsi que des ressources éducatives interactives. Les participantes peuvent également s'attendre à recevoir des prix et des cadeaux!
Horaire de la journée Hackergal :
Événement de lancement en direct | 12 h à 13 h HE
Célébrez avec l'équipe Hackergal et des personnes participantes de tout le Canada en découvrant les événements à venir, en écoutant les invités spéciaux et en discutant du thème du Hackathon 2023.
Spots ''Recontrez une femme dans la technologie'' | Vidéos préenregistrées, visionnage à rythme libre
Rencontrez des professionnelles inspirantes qui brisent les stéréotypes liés au genre dans le secteur de la technologie!
Matériel d'apprentissage | Discussion à votre propre rythme
Des questions de discussion pour vous aider et/ou votre classe, à réfléchir aux expériences des femmes qui étudient et travaillent dans l'industrie technologique.
RSVP aujourd'hui et faites partie d'un puissant mouvement virtuel visant à combler l'écart entre les genres dans l'industrie technologique canadienne.
*Les événements sont ouverts à chaque élève vivant au Canada! Hackergal s'engage à promouvoir la diversité et l'inclusion. Nous utilisons une définition inclusive des "filles" et des "femmes" et nous accueillons la participation de toutes les apprenantes qui s'identifient comme des filles. Cela inclut les filles transgenres, car nous reconnaissons que les filles transgenres sont des filles. Nous accueillons également la participation d'apprenantes de genres fluides, non binaires et bi-spirituels.
Nous avons hâte d'apprendre ensemble à la Journée Hackergal!