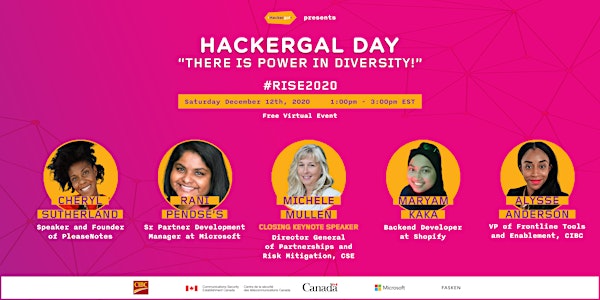 HACKERGAL DAY: THERE IS POWER IN DIVERSITY
On December 12, 2020, Hackergal is inviting YOU to join our community and RISE together to bring more gender diversity to the tech sector!
About this event
The countdown is on...#HACKERGALDAY will be live-streamed and celebrated in homes across Canada!
Join the Hackergal team as we host an exciting virtual event that will bring together people with different identities, backgrounds, and experiences by honouring the strengths and unique perspectives of all individuals in a meaningful way that inspires innovation!
This is the final celebration of Hackergal's Fall Theme: There is Power in Diversity #RISE2020! Let's RISE together. RISE stands for Reflect, Innovate, Share, and Encourage. It is a collective call to create a movement of people who will advocate for a more diverse and inclusive technology landscape.
What can I look forward to?
A nationwide virtual celebration of girls, trans girls, and non-binary students learning to code across Canada!
Inspirational keynote speakers
Interactive coding webinars
Student-led learning opportunities
Exciting giveaways
Big announcements
RSVP today and be part of a powerful virtual movement to close the gender gap across Canada.
You won't want to miss this special day!