Hacking Health Café: Inclure la réalité virtuelle en réadaptation // Includ...
Description
Rejoignez-nous au Hacking Health Café du 2 novembre pour discuter des opportunités et des besoins en réalité virtuelle et augmentée dans plusieurs domaines de la réadaptation. Apprenez des perspectives de chercheurs en réadaptation, cliniciens, et entreprises en réalité virtuelle durant cette soirée mixte de conférences et réseautage.
--
Join us on November 2nd at the next Hacking Health Café to discuss the opportunities and needs of virtual and augmented reality in many fields of rehabilitation. Learn from the perspectives of rehabilitation researchers, clinicians, and VR startups during this evening of networking and talks.
Déroulement / Schedule
16h00: Ouverture des portes / Doors open
16h30: Mot de bienvenue / Welcoming word
16h45: Philippe Ménard, pht, Nancy Dubé, erg, Marie-Thérèse Laramée & Mélanie Labelle | Hackons la douleur neuropathique!
17h00: Sylvie Nadeau, PhD, pht | Utilisation des hologrammes en rééducation de la mobilité
17h15: Félix Chénier, PhD | Concevoir un simulateur de fauteuil roulant pour la propulsion de tous les jours et le sport adapté
17h30: Patrick Tessier, Neweb Labs | Qu'est-ce que l'holographie et quelles sont les applications en réadaptation et la santé?
17h45: Naima Abbadi, PhD, MBA Embrace the Life VR | Une plateforme de réalité virtuelle immersive pour augmenté la mobilité chez les personnes en fauteuil roulant
18h00: David Schacter, Jintronix | Virtual rehabilitation and how we might close the gap in rehab exercise adherence
18h15 -19h: Bouchées et réseautage / Networking and refreshments
Conférenciers / Speakers

Sylvie Nadeau, pht., Ph.D.
Professeure titulaire et directrice des programmes de physiothérapie, Université de Montréal; chercheuse du CRIR-IURDPM. Les intérêts de recherche de Dre Nadeau incluent:
Analyse de la marche et autres tâches fonctionnelles, déterminants et facteurs limitant de la fonction, perception et sens de l'effort, évaluation de l'équilibre et des efforts

Analyse tridimensionnelle du mouvement, dynamométrie, EMG, hémiparésie, blessés médullaires, PTG, amputés

Nouvelles interventions en réadaptation locomotrice

Professeur régulier, Département des sciences de l'activité physique, UQÀM; chercheur du CRIR-IURDPM, Les intérêts de recherche de Dr Chénier incluent:
Analyse biomécanique et entraînement à la propulsion d'un fauteuil roulant manuel

Validité écologique de l'analyse biomécanique en laboratoire

Biofeedback

Nouvelles technologies en biomécanique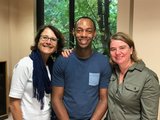 Philippe Ménard, pht, Nancy Dubé, erg, Mélanie Labelle & Marie-Thérèse Laramée
Philippe Ménard, physiothérapeute et Nancy Dubé, ergothérapeute sont des cliniciens travaillant avec la clientèle ayant une lésion médullaire depuis de nombreuses années. Marie Thérèse Laramée est coordonnatrice de recherche clinique, spécialiste de changement de pratiques (SAGE) au programme lésions médullaires et membre clinicienne intervenante du CRIR. Mélanie Labelle nous partagera sa perspective et son expérience, ayant vécu toutes les étapes de la réadaptation suite à une lésion à la moelle épinière au niveau cervical et ses conséquences, incluant la douleur neuropathique.
Face à l'incidence importante de douleur neuropathique suite à une lésion médullaire, l'équipe souhaite explorer l'utilisation de la stimulation magnétique transcranienne combinée à la réalité virtuelle comme moyen de diminuer la douleur.
Patrick Tessier, Directeur commercial Neweb Labs
Patrick Tessier est le directeur commercial de Neweb Labs, une entreprise spécialisée en utilisation combinée de l'holographie et l'intelligence artificielle.

Naima Abbadi, PhD, MBA, fondatrice de l'entreprise Embrace the Life VR / Croquez la vie
Titre : Présidente du conseil et Chef des opération administratives (CEO)
Doctorat en génie biologique et médicale et MBA en gestion des technologies médicale. Naima a travaillé comme chercheur aux états unis et au canada, puis en évaluation d'innovation et en transfert des technologies, elle a travaillé à l'université McGill, Investissement Québec et le conseil National recherche Canada comme conseillère industrielle et technologique
Embrace the life / Croquez la vie est une entreprise qui développe des simulations scénarisées et immersives en vidéo 360 / Réalité virtuelle interactives des activités quotidiennes, professionnelles et activités des loisirs des personnes en fauteuil roulant.
Embrace the life / Croquez la vie aide les utilisateurs de fauteuil roulants à naviguer avec succès dans différents environnements afin d'augmenter leur autonomie et leur qualité de vie.

David Schacter, Jintronix
David Schacter is a Chief Operating Officer at Jintronix where he led the development of the first motion-capture based rehabilitation system in the world to be cleared by the FDA. His systems are used around the world and in over 140 rehab hospitals in North America, and have treated over 30,000 patients. David believes strongly in the need to make post-acute care more effective, accessible, and affordable in order to maintain population health, and is excited by the opportunities that virtual rehabilitation technology can bring to bear in solving these challenges.