Hacking Health Café: Inclure la réalité virtuelle en réadaptation // Includ...
Description
Rejoignez-nous au Hacking Health Café du 2 novembre pour discuter des opportunités et des besoins en réalité virtuelle et augmentée dans plusieurs domaines de la réadaptation. Apprenez des perspectives de chercheurs en réadaptation, cliniciens, et entreprises en réalité virtuelle durant cette soirée mixte de conférences et réseautage.
--
Join us on November 2nd at the next Hacking Health Café to discuss the opportunities and needs of virtual and augmented reality in many fields of rehabilitation. Learn from the perspectives of rehabilitation researchers, clinicians, and VR startups during this evening of networking and talks.
Déroulement / Schedule
16h00: Ouverture des portes / Doors open
16h30: Mot de bienvenue / Welcoming word
16h45: Philippe Ménard, pht, Nancy Dubé, erg, & Marie-Thérèse Laramée| Hackons la douleur neuropathique!
17h00: Sylvie Nadeau, PhD, pht | Utilisation des hologrammes en rééducation de la mobilité
17h15: Félix Chénier, PhD | Concevoir un simulateur de fauteuil roulant pour la propulsion de tous les jours et le sport adapté
17h30 - 17h45: Patrick Tessier, Neweb Labs | Qu'est-ce que l'holographie et quelles sont les applications en réadaptation et la santé?
17h45 - 18h: Naima Abbadi, Embrace the Life VR | Une plateforme de réalité virtuelle immersive pour augmenté la mobilité chez les personnes en fauteuil roulant
18h-19h: Bouchées et réseautage / Networking and refreshments
Conférenciers / Speakers

Sylvie Nadeau, pht., Ph.D.
Professeure titulaire et directrice des programmes de physiothérapie, Université de Montréal; chercheuse du CRIR-IURDPM. Les intérêts de recherche de Dre Nadeau incluent:
Analyse de la marche et autres tâches fonctionnelles, déterminants et facteurs limitant de la fonction, perception et sens de l'effort, évaluation de l'équilibre et des efforts

Analyse tridimensionnelle du mouvement, dynamométrie, EMG, hémiparésie, blessés médullaires, PTG, amputés

Nouvelles interventions en réadaptation locomotrice

Professeur régulier, Département des sciences de l'activité physique, UQÀM; chercheur du CRIR-IURDPM, Les intérêts de recherche de Dr Chénier incluent:
Analyse biomécanique et entraînement à la propulsion d'un fauteuil roulant manuel

Validité écologique de l'analyse biomécanique en laboratoire

Biofeedback

Nouvelles technologies en biomécanique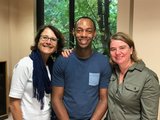 Philippe Ménard, pht, Nancy Dubé, erg, & Marie-Thérèse Laramée
Philippe Ménard, physiothérapeute et Nancy Dubé, ergothérapeute sont des cliniciens travaillant avec la clientèle ayant une lésion médullaire depuis de nombreuses années. Marie Thérèse Laramée est coordonnatrice de recherche clinique, spécialiste de changement de pratiques (SAGE) au programme lésions médullaires et membre clinicienne intervenante du CRIR.
Face à l'incidence importante de douleur neuropathique suite à une lésion médullaire, l'équipe souhaite explorer l'utilisation de la stimulation magnétique transcranienne combinée à la réalité virtuelle comme moyen de diminuer la douleur.
Patrick Tessier, Directeur commercial Neweb Labs
Patick Tessier est le directeur commercial de Neweb Labs, une entreprise spécialisée en utilisation combinée de l'holographie et l'intelligence artificielle.

Naima Abbadi, CEO Embrace the Life VR
Détentrice d'un Ph.D. en sciences médicales et un MBA en gestion de la technologie médicale, Naima amène 20 ans d'expérience en analyse d'innovation et transfère de technologie. Avant de fonder Embrace the Life VR, elle a travaillé à l'Université Mcgill en tant que gérante de programme, à Investissement Québec, et au CNRC en tant que conseillère en technologie et industrie.
D'autres présentations seront confirmées prochainement!
Date and Time
Location
Amphithéâtre Saputo, CIUSSS Centre-Sud-de-l'Ile-de-Montréal, Institut de réadaptation Gingras-Lindsay-de-Montréal
6300 Darlington
Montreal, QC H3S 2J4
Canada