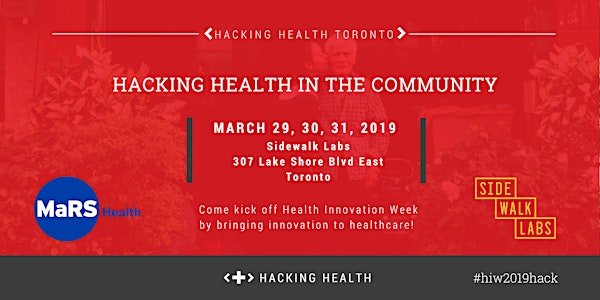 Hacking Health in the Community
When and where
Location
Sidewalk Labs / 307 307 Lake Shore Boulevard East Toronto, ON M5A 1C1 Canada
Refund Policy
Refunds up to 7 days before event
Description
Hacking Health in the Community
Health Innovation Week 2019 is kicking off with an exciting event hosted by Hacking Health. Join us for an action packed 3-day hackathon March 29th to 31st at Sidewalk Labs Toronto.

The mission? Getting EveryOne EqualCare EveryWhere in the community!
Together, we'll figure out how we can leverage technology to ensure equal, inclusive access to healthcare for the whole community while creating an integrated health experience virtually and physically. Big Data, AI, Machine Learning, Connected Health… all tech tools are on the table as we hack the problem.
We're calling all passionate innovators, designers, developers, healthcare professionals, entrepreneurs and patients with lived experience to join forces and solve some of the greatest challenges facing patients in the community. Sound like you? Read on!
What's a Hackathon?
Hackathons are amazing innovation competitions which bring together people from the multiple disciplines to solve challenges. At Hacking Health events these disciplines can include tech, business, health, and most importantly patients! Participants meet, ideate, and form teams to solve today's biggest healthcare challenges by pulling together all their skills and knowledge with support from mentors from all sectors. The design thinking framework is used as the backbone of the hacking process, to ensure that solutions address the end users' problems. It also helps teams focus their creative energy to build out a prototype to show during the pitches on Sunday afternoon.

Want to meet your team before the event? Register on the Sparkboard page here and share your inspiration for a project!
https:///hiw2019hack.sparkboard.com
The Best Part? Prizes!
Each team will present their solution on the third day at the pitch competition, which is open to delegates of Health Innovation Week and other attendees. A panel of experts will judge the projects, and the most innovative and impactful solutions will win prizes ranging from cash to mentorship and in-kind services that will support those winning projects as they scale.

$10,000 in cash prizes

Biomedical Zone mentorship and free access to events

Free legal services, including trademark support

Free tickets to HealthTO's April Special Edition

$500 People's Choice Award
Tech Tools & Support
Hacking is hard work (but fun too!), and takes more than a team to build great solutions over a weekend. You bring your laptop, and we'll provide a team of talented mentors from health, tech, and business to make sure you have all the support you need as you're building.
We're also proud to offer access to some cool API's and community data sets from Empower health and iamsick.ca to help your team create the best, most cutting-edge solutions out there. Need to test them? Hypercare is bringing their brains and... smartphones for testing out your solutions!
Event Schedule
March 29th, 6pm-10pm
6:00pm Doors open
7:00pm Welcome and talks
Alexis Wise, Director of Health and Human Services at Sidewalk Labs

Mark Casselman, CEO at Digital Health Canada

Dr Latif Murji, St. Michael's Hospital and founder of Stand Up for Health

Janet Rodriguez, Patient Advocate

Morgan Rosenberg, CEO and founder of Supports Health
8:15pm Project ideas presented

8:30pm Team formation and Hacking
10:00pm Venue closes
March 30th, 8am-11pm - Saturday is about working together to bring ideas to life. We will have mentors, APIs and end users available to help advise teams as they work on their projects.
8:00am Doors open
9:00am - 6pm Hacking & Design Thinking Check-Ins
7:00pm More hacking
11:00pm Venue closes
March 31st, 8am-6pm

8:00am Doors open
9:00am - 1:00pm Hacking!
1:00pm - 3:00pm Pitch Clinics & demo testing
_______________________________________
2:30pm Registration for Sunday Attendees opens
3:00pm Team pitches begin!
4:30pm Winners are announced and Prizes awarded!
4:45pm Closing remarks

5:00pm Networking reception begins

6:00pm Event concluded
The event will be catered, just bring your own refillable water bottles!

---
FAQs
I'm not available all weekend or don't think I'm a hacker - can I still attend?
YES! There are tickets available to attend the demo presentation and judging on Sunday afternoon, so you can see the amazing solutions created at the event and have a chance to network.
What if I don't have the financial means to pay the registration fee?
We want to enable as many people as we can to participate in our hackathon. So if you cannot pay for a ticket, email us at toronto@hackinghealth.ca and we'll find a way to get you involved.
Where can I find a team?
Before the hackathon, you can go to our Sparkboard page or come to one of our cafes. If you still don't have a team, no worries! There will be an opportunity for you to mix and mingle on Friday night so you can form at team.
People sometimes also come with teams already made so you can start by asking around in your network.
What do I bring?
Most participants bring laptops and accessories to hackathons. We provide whiteboards, note paper, pens, sticky notes, and lots of coffee!
Note: Bring your devices charged up; we will have 4 charging hubs at the venue, but they're not all on the hackathon floor.
Who owns the IP?
Great question! Hacking Health does not make any claims to Intellectual Property that emerges from the event. However, using some of the proprietary API's and/or data sets available at the event may require that you sign an agreement with the company allowing access to those API's.
By participating in the hackathon, you are agreeing to donate your time to the project, but if you choose to continue post-hackathon, then your team should discuss IP ownership as soon as possible before moving forward. In many cases, it can be more beneficial to get paid for any work to be completed post-hackathon instead of negotiating IP ownership.
Do I have to attend the full hackathon to join a team?
YES! Before you apply and register, ensure that you are available during the whole weekend to support your team full-time during the hackathon. It's only fair to your peers.
What's the refund policy?
Paid tickets can be refunded up to 7 days before the hackathon.
Do I have to bring my printed ticket to the event?
No, you can simply show us a digital copy if you wish.
Can I update my registration information?
Yes, if you make a mistake simply update the information and let us know at toronto@hackinghealth.ca.
Is my registration fee or ticket transferrable?
No, because you will be part of a team, tickets are only valid for the person named on the ticket.
Is the venue fully accessible?
Yes, the venue is fully accessible.