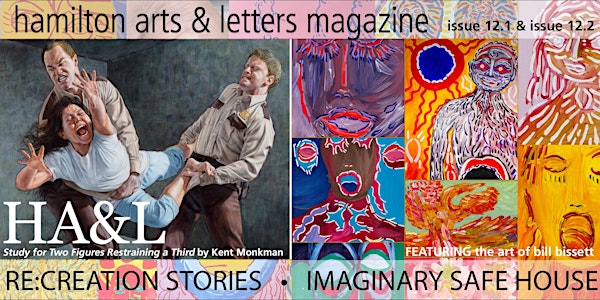 HA&L Magazine 11th ANNIVERSARY CELEBRATION - issues 12.1 & 12.2
Location
Art Gallery of Hamilton
123 King Street West
Hamilton, ON L8P 4S8
Canada
HA&L magazine 11th Anniversary Celebration
About this event
HA&L magazine 11th ANNIVERSARY
CELEBRATING:
HA&L issue 12.1 Re:Creation Stories • An Indigenous led issue with Guest Editor Johannah Bird
AND
HA&L issue 12.2 Imaginary Safe House • Dis/Ability Poetics Issue with Guest Editors Shane Neilson, Roxanna Bennett, & Ally Fleming
JOIN US FOR HA&L's 11th ANNIVERSARY!
Friday November 1, 2019, 7:00pm
R.S.V.P.
FREE ADMISSION
CASH BAR
Fabulous Speakers / Live Music / Poetry
LOCATION: Art Gallery of Hamilton
(Main Floor: The Joey And Toby Tanenbaum Pavilion)
123 King St. W. Hamilton, ON L8P 4S8
Doors Open: 6:30pm
Start Time: 7pm
Please refer to the Art Gallery of Hamilton's website for information on Accessibility
An ASL Interpreter will be present
PARTICIPANTS:
Hosted by the Art Gallery of Hamilton's Ryan Ferguson
Composer Dusty Micale and the Mohawk College music ensemble ArtPop. Original musical composition commissioned by HAL and the AbleHamilton Poetry Collective.
RE:CREATION STORIES
Guest Editor: Johannah Bird, Anishinaabe Euro-Canadian from Treaty 1 territory, Manitoba
Odadrihonyanisoh (Sara General), Turtle Clan and the Mohawk Nation
Kaitlin Debicki, Kanien'keha:ka, Wolf Clan, Six Nations of the Grand River
John Isaiah Edward Hill, Oneida nation, Turtle clan from Six Nations of the Grand River
Alyssa M. General, Mohawk Nation Turtle Clan from Six Nations of the Grand River Territory
IMAGINARY SAFE HOUSE & The AbleHamilton Poetry Festival
Guest Editor, Shane Neilson celebrating HAL magazine's "Dis/Ability Poetics" issue in partnership with the AbleHamilton Poetry Festival
Readings from poets Roxanna Bennett and Leo Dragtoe
Click here for information about the Participants >>>
DISCOVERY PROGRAM
Acknowledgment of the McMaster University Discovery Program with Professor Daniel Coleman, Program Coordinator Melissa Ricci, and program graduate Bill Rankin. The Discovery Program, run by the Arts and Science program and supported through the Office of the President, offers adults in the community who face barriers to education the chance to take a university-level course at no cost.
TAKE IN A FEW EXHIBITIONS BEFORE HA&L's 11th ANNIVERSARY LAUNCH at the ART GALLERY of HAMILTON:
FREE ADMISSION on the First Friday of every month starting at 4pm. NOTE that HA&L Editor Paul Lisson has a piece in the AGH permanent collection, currently on view until January 5, 2020.
HA&L Funders and Partners
Hamilton Arts & Letters magazine is funded by: the Ontario Arts Council, Canada Council for the Arts, the City of Hamilton, Open Access Library Subscription, Advertising, Sponsors, and Members! Our thanks to Palimpsest Press, Frog Hollow Press, and Gordon Hill Press for their support in the past year.
Our thanks to the McMaster University Centre for Community Engaged Narrative Arts (CCENA) for their partnership and project support.
HA&L Community Partner: The Hamilton Spectator
HA&L magazine extends special thanks to: Guest Editors Johannah Bird, Shane Neilson, Roxanna Bennett, and Ally Fleming. Thanks to Ryan Ferguson and Tor Lukasik-Foss at the Art Gallery of Hamilton, and all of HA&L's Event Presenters, Contributors, and Members. Congratulations to the McMaster Discovery Program Participants!
REGISTER NOW - We'd LOVE TO SEE YOU THERE!
JOIN US NOVEMBER 1st !
NOTE:
You don't need to print your Eventbrite ticket. We just want to see you there!
Paul Lisson, Fiona Kinsella, and Shane Neilson, Editors
Hamilton Arts & Letters
QUESTIONS? Email: HAL@HALmagazine.com