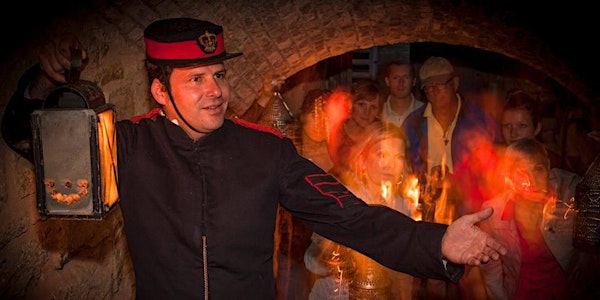 Halifax Citadel Ghost Tour
When and where
Location
Halifax Citadel National Historic Site 5425 Sackville Street Halifax, NS B3J 3Y3 Canada
Description
Climb to the top of The Halifax Citadel National Historic Site and meet your historically costumed guide on the drawbridge at the main gate. For 70 minutes, you'll be led by candlelight through tunnels, prison cells, and restricted areas of Canada's most haunted historic site, to hear true accounts of unexplained events in their actual locations.
Location: the main gate of the Halifax Citadel
Duration: approximately 70 minutes.
Dates and Times: Every Thursday Friday and Saturday at 8:30PM, from July 6 to October 28.

Adult (Tax Inclusive)...............................................$12.00
Senior / Student (Tax Inclusive)...............................$10.00
Youth (Tax Inclusive)..............................................$8.00
Family (2 adults, 2 youth) (Tax Inclusive)..................$35.00
Seniors are 65+
Youth are ages 6-16
Student verification is by student card.
PLEASE NOTE THAT REFUNDS ARE NOT GIVEN FOR ONLINE TICKET PURCHASES
FAQs
Do I need to arrive early if I have already bought tickets?
We recommend arriving 5-10 minutes before the tour begins in order to present your ticket or valid photo id to the kiosk attendant. Please ensure you have your ticket printed, on your mobile device or a piece of photo identification.
What should I bring to the Ghost Tour?
Your proof of purchase (printed ticket, ticket email on mobile device, or a valid piece of photo id) and yourself!

Where do Ghost Tours begin?
The Ghost Tour will take place at the main entrance of the Halifax Citadel (facing the town clock) promptly at 8:30 pm. The main gate will close after the group has been brought in by the Ghost Tour guide so late entry is not permitted.

Are Ghost Tours cancelled due to inclement weather such as rain?
Ghost Tours will run rain or shine. The tour will take place in both indoor and outdoor locations, so be sure to dress for the weather!

Where can I park for Ghost Tours?
Limited parking is available on a scramble basis at the top of the hill over looking the town clock. To reach these spots use the Sackville Street entrance, and exit onto Ahern Avenue.
Do you offer public Ghost Tours in any languages other than English?
Unfortunately, our public ghost tours are only offered in English. However, private ghost tours can be booked in French. Please contact bookings@regimental.com or 902-426-1990 for more information.

Do you offer Ghost Tours on any days besides Thursdays Fridays and Saturdays?
Public Ghost Tours are only offered on Thursdays Fridays and Saturdays from July 6th until October 28th 2017. However, we offer private ghost tours year round for $200 + tax for a maximum of 30 people per tour guide. Booking inquiries can be emailed to bookings@regimental.com.