Halifax: National Learn to Code Day 2016: Interactive Stories & Game Making...
Description
Hey you! Have you joined the Ladies Learning Code mailing list? If not, join here.
What is Ladies Learning Code?
We're a Canada wide not-for-profit organization providing women, *men and youth the opportunity to learn beginner-friendly technical skills in a social and collaborative way. We're all about showing people that learning to code can be fun!
*Men are welcome to attend (and they do!), but we encourage you to bring an additional female learner where possible
What is National Learn to Code Day?
On September 24th, 2016, Ladies Learning Code is hosting its fourth annual National Learn to Code Day -- the first and only event of its kind in Canada. On that day, over 1,500 Canadians will gather together in over 25 communities to challenge themselves to learn a new skill: interactive storytelling and game making using HTML & CSS.
In partnership with Shopify, we'll build on our mission of teaching Canadians 21st century digital skills and encourage them to tell their stories through one of the most popular digital mediums: gaming.
Why Interactive Storytelling & Game Making?
From video games to interactive stories, digital media is a powerful way to make your message, cause, or idea stand out in a crowded online world.
Canada has become a major leader in the video game industry, yet, like most technology, only a small percentage of games are built by women.
In this hands-on, beginner-friendly workshop, you will create a game, quiz, or interactive story that's centred on a case, community, or message that you care about while learning critical coding skills.
Is this workshop for you?
This workshop has been designed for absolute beginners. If you know absolutely nothing about coding or computer programming, you've come to the right place! Our only expectation is that you know how to open up a web browser and do something online like checking your email. (But if you're reading this, we're pretty sure you know how to do that.)
What's Included:

Requirements:

Questions?
Email us at info [at] ladieslearningcode.com
You can also find us here: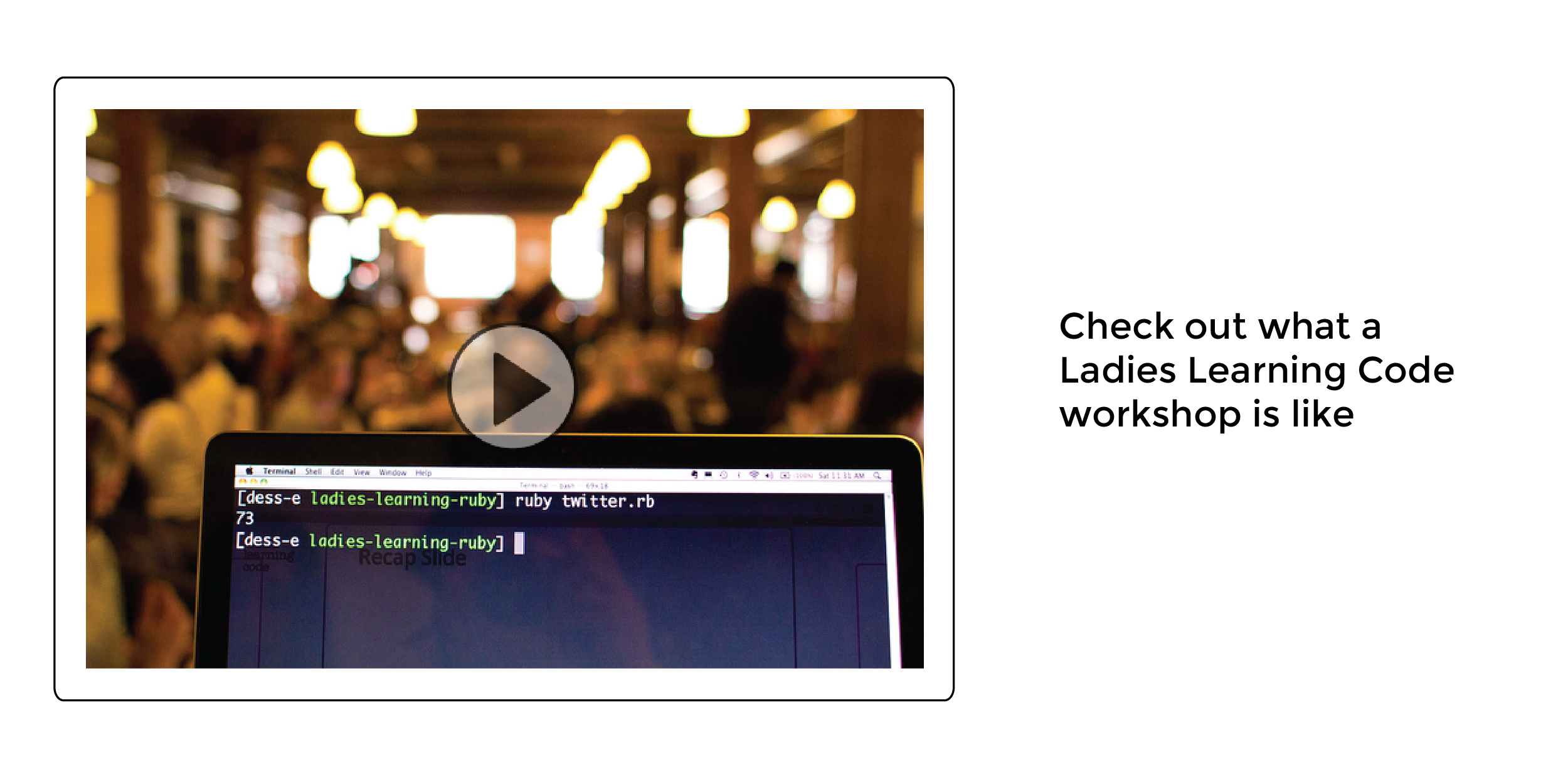 What participants say about our programs:
"Honestly, the set up of one instructor - four students is brilliant."
"I'm super impressed with the organizers and participants, and I think it's a really valuable initiative"
"[The best part of the workshop was] the positivity, helpfulness and eagerness to learn/teach of every person in the room."
"After years of teaching myself to code, I wasn't sure how I'd find the collaborative experience of an LLC workshop- but it completely exceed my expectations. The lead instructor was clear and throrough, and the volunteer instructors were always ready to throw new challenges at us the moment they saw we'd completed the current task. Solving a coding problem has always been exciting for me, but havin a group of people equally excited about it was amazing!"
Hope to see you soon!
If for some reason you can't make it check out our REFUND POLICY.
Organizer of Halifax: National Learn to Code Day 2016: Interactive Stories & Game Making with HTML & CSS on September 24th