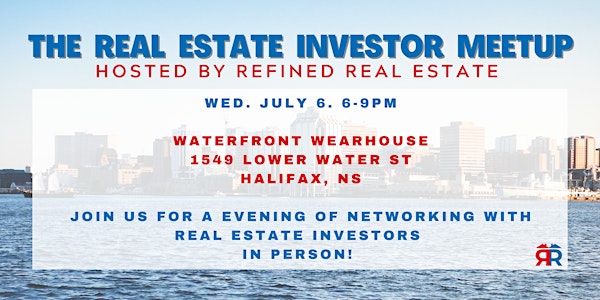 Halifax Real Estate Investor Meetup
The PREMIER Halifax Real Estate Investor Meetup hosted by Refined Real Estate
When and where
Location
Waterfront Warehouse 1549 Lower Water Street Halifax, NS B3J 1S2 Canada
About this event
Who is this for?
Real Estate Investors who live and/or invest in Nova Scotia (or just getting started investing!)
Our goal with this event is to:
1. Build Community
2. Add Value
3. Have fun
Come and talk real estate in a casual setting. We will do a brief introduction of ourselves and our vision for this event (and events to follow.) While there will be ample time to casually chat and newtork, we will facilitate a newtworking game to ensure you get the most out of this event. Come hang out and get to know people in your local Real Estate market!
One last note
Bring a Giver's mentality to this event. Plan to share knowledge to help others, and watch for yourself that what you gain will be much than what you give.

Meet Your Hosts Co-Owners of Refined Real Estate - Ian Armour & Janelle Poushay
With over half a dozen house flips completed (Yes, we bought an off market house in Fairview for less than $100K with a paper letter) and 2 multifamily properties closed, we're confident in saying our passion is real estate. We can't wait to spend an entire evening surrounded by like-minded investors.