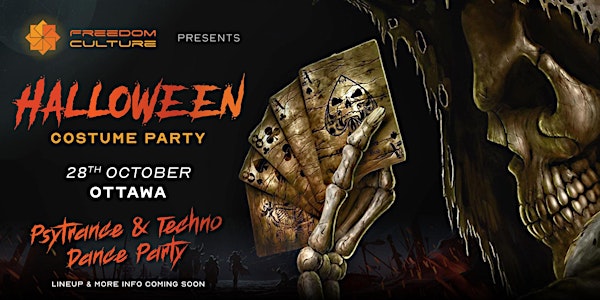 ✪ Halloween Costume Party 2022 ✪ (Ottawa )
✦ Freedom Culture presents our 1st Annual Halloween Costume Party✦
When and where
Location
Ottawa 70 Bongard Ave, Nepean, ON K2E 7Z9, Canada Ottawa, ON K2E 7Z9 Canada
About this event
✦The Event will take place in a spacious venue warehouse with outdoor lounge ,upscale decor, visuals, and sound system!
✦Featuring Underground Dark Techno and Progressive Psytrance Music🧛
So Get Ready for Unforgettable Halloween Event!⚡
🔮 Date and Time:
Fri, Oct 28, 2022, 10:00 PM EDT –
Sat, Oct 29, 2022, 4:00 AM EDT
✦LINEUP:
✦D.J PRANA PAPA (MTL)🧙
https://soundcloud.com/pranadude
✦D.J D.M.T(IL)🧙
https://soundcloud.com/d-m-t-official-
(Special 2 Hr Halloween Theme Dj Set 🧞💀)
✦D.J Quantaloop(MTL)🧙 (Zenon Records)
https://soundcloud.com/quantaloop
TICKETS:
Early Bird Ticket -$29.92-(SOLD OUT)!!
General Admission Tier 1 -$36.29(SOLD OUT)
General Admission Tier 2- $44.78
***At the door Admission**$45
✦✦✦PURCHASE ADVANCE TICKETS FOR GUARANTEED ENTRY ✦✦✦
✦✦✦✦
We look forward to seeing you! 🧡
⍣19+ ID Required
⍣ Please note: A limited number of tickets will be available at the door, first-come, first-served basis, subject to capacity!