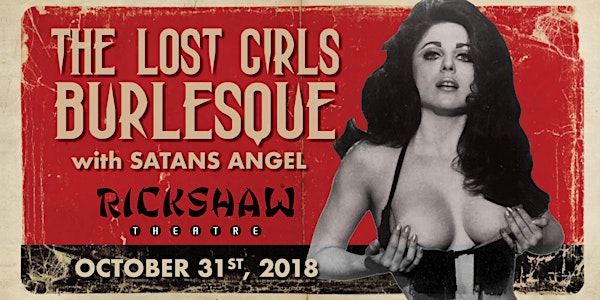 HALLOWEEN NIGHT - Lost Girls Burlesque with Satans Angel at The Rickshaw
Description
ONLINE TICKETS ARE SOLD OUT - General Admission is $25 at DOOOR
Halloween Night - October 31st, 2018
Lost Girls Burlesque with Satan's Angel
at The Rickshaw Theatre
Doors @ 8pm Show at 9pm-11pm. Monster Mash Dance Party til close.

This Halloween, The Lost Girls Burlesque will once again rise from the sexiest depths of darkness. For the first time ever, these deadly babes will open their season at Vancouver's iconic Rickshaw Theatre. Burlesque legend, and "The Devil's Own Mistress", SATAN'S ANGEL will set the stage ablaze along with performances from Ava Lure, Gidget Gravedigger, Cherry On Top, and more...

Presented in continuous, non-stop, hot-action format like youve NEVER seen before. In technicolour and high-definition! No emcees, no holds barred, NO MERCY! A daring exposé of flesh that will tantalize and torture even the most respectable members of society. Prepare to be ripped apart by seduction as The Lost Girls bare it all, again and again... and again. *Audiences 19 and over only.

Head Mistress Calamity Kate
With performances by:
Justine Sane
Ginger Avenue
Bunny
Ava Lure
Gidget Gravedigger
and Cherry On Top
Music by Cawama
$20 Early Bird Theatre Seats - Limited Time
$25 Early Bird(VIP) Theatre Seats - Limited Time
*ask us about getting a VIP table for 2 or 4.

www.facebook.com/lostgirlsburlesque
https://www.instagram.com/lostgirlsburlesque/
https://twitter.com/lostgirlsburlsq
http://lostgirlsburlesque.com/

Production Sorcery: Mercury Artists & Black Moon Media
Tech Wizard: Christopher Mark Steffler

Organizer of HALLOWEEN NIGHT - Lost Girls Burlesque with Satans Angel at The Rickshaw
Element-Eighty Entertainment is the arm of Mercury Artists that produces, manages, and promotes special events, concerts, and festivals.  We manage shows for the artist we represent, for artists we collaborate with, and for the corpoate client that is looking to have a major event planned, and executed with flare.  We have developed strong relationships with venues and promoters across Canada, the US, the Caribbean, and most recently, Europe.  
We don't just book the venue, we provide and manage the talent, the sound sytems, engineers, and lighting technicians.  Element-Eighty Entertainment handles ticket printing and sales, e-tickets, marketing, and catering; both food and beverage.  We work with media outlets, such as television, print, and on the web to ensure that everyone knows when we are throwimg a party. 
The goal of Element-Eighty Entertainment is simple. We create, promote, and manage events that are safe, memorable, sound great, and have fantastic culture and  food.  Wherever possible, we endeavor to include charities, and fundraising with our events. Music, is supposed to bring us together after all.