Description
{NOTE: If viewing this on mobile, please click the "Read more" link below to see FULL description}
WELCOME to the Halton Women Networking group's NOVEMBER Meetup! You do not have to be an HWN member to attend this event. To find out more about Halton Women Networking, click the link above.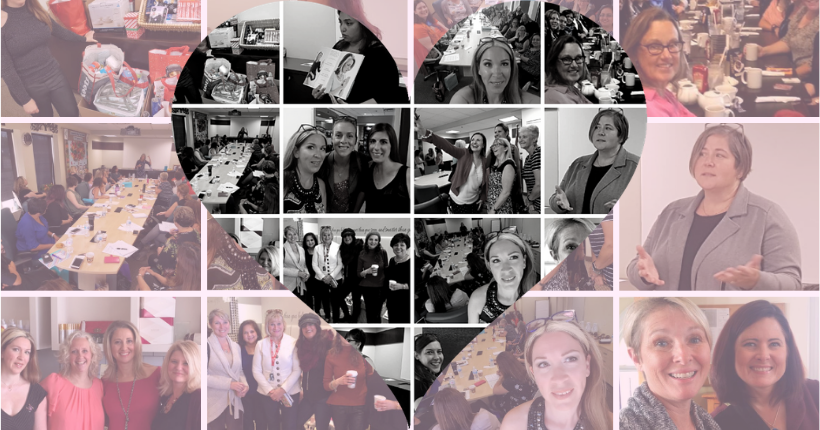 HALTON WOMEN November Meetup!
We will be meeting at Touchdown Coworking in Oakville on Tuesday November 19th from 11am - 1pm (and beyond, if you'd like to stay and co-work with us! See details below). Address is 2030 Bristol Cir Suite 210, Oakville, ON L6H 6P5
We will be meeting in the PRIVATE BOARDROOM area
When you arrive, please let receptionist know you are there for the Halton Women event / co-working day
***I M P O R T A N T*** PLEASE NOTE!
The owner of the Touchdown Coworking (HWN member Fernanda Sambotelecan) has kindly offered us complimentary use of the general (open area) space for the rest of the day (1-4), so if you have any business meetings you want to host there that day after the meetup, feel free to use that space. Please note that the PRIVATE (closed) offices and boardrooms are NOT a part of this offer so if you need one of those, you will have to contact Touchdown at 1 877-793-0853 to book the space in advance for a fee.
OUR TOPIC FOR THIS MEETUP: Digital and Social Marketing Expert Tips
Event schedule:
11:00am - 11:20am - mix and mingle / welcome message
11:20am - 12:20pm - speaker panel
12:20pm - 12:35pm - Q&A period
12:35pm - 12:55pm - attendee introduction time / door prizes, if any
12:55pm - 1:00pm - attendees pick up gifts
Meetup adjourns at 1pm but as mentioned above, all are welcome to stay until 4pm - a great time for more Q&A, networking, mingling or co-working!
WANT MORE PROMO TIME?
A gift bag will be provided to each attendee to take home and enjoy. Have a doorprize or some goodie bag items we can give away and promote you with? E mail Sara at least 3 days in advance at sara@sarahodgedigital.com Please use EVENT GOODIES in all caps as your e mail title for quick reference
COST TO ATTEND
Meetup ticket price is just $15 per person + $1.52 Eventbrite fee + HST. For your ticket you get the 2 hour workshop plus you're invited to stay up until 4pm and work, chill or mingle in the open coworking space.
YOUR HOSTS FOR THIS EVENT:
Sara Hodge - Social and Digital Media strategist and Halton Women Networking group leader - see bio below.
Our speakers (we will have a panel discussion + Q&A)
Sara Hodge - see bio below
Erum Zehra - see bio below
Christy Laverty - see bio below
Robin Read-Griffin - see bio below
Shahara Burch-Smith - bio coming
About Erum Zehra:

Erum Zehra has been a part of the Ecommerce arena for over a decade. She began her journey of web business marketing and development by composing web content for her clients. Her intellectual curiosity led her to pursue and acquire important skills including SEO, graphic design and web design, along with the intricacies of running a business on social media. Having been associated with the media industry for almost 5 years, she launched her social media agency, 'Prestige Interactive' in December 2018. The agency supports clients with business launches as well as social media management and marketing. Erum's experience and insight makes her an effective resource to help a business create an impactful web presence. Her agency offers a platform for one stop solutions for all business promotion avenues.
About Robin Read-Griffin:

Robin has been immersed in the marketing communications world for over 20 years. For the last seven years she has been building her own marketing company with the core focus being on social media marketing. Robin is also the mother to a 16 year old daughter trying to find her own path.

Twitter & Instagram @socialrobin

Facebook.com/robinreadgriffin
About Shahara Burch-Smith:

"Co Founder and VP Strategy, over 15 years in the Oil and Gas industry, now taking that knowledge and transforming it use in my new ventures - digital marketing, cross border payments, skincare and wellness businesses. I want grow, learn, share and help small business achieve their potential."
About Christy Laverty:

Christy A Laverty is a Media Relations Specialist and Media Coach. As a 20-year veteran Journalist, working in some of Canada's largest broadcast newsrooms, Christy knows what the media needs and wants. Now, she works with small business owners and corporate clients to help them secure media mentions, press and features. Christy also teaches entrepreneurs to understand and master their media and PR plans through coaching and media training. There is power in the media. When entrepreneurs understand and learn to leverage it they can better promote their business, blog or brand.

Getting press success and landing a feature in print or broadcast helps you build serious business cred. It also helps you build on that all-important know, trust, and like factor with your customers and community and allows you to share who you are and what you do with a bigger audience to ultimately gain more customers and clients.
Christy believes there is no better way to toot your own horn than by featuring all those as seen on media logos on your website.

YOU are the BEST PR REP for your business. You know it better than anyone else and you can get press success on our own, for your own business. I teach entrepreneurs how to make their presence, pitch and performance a magnet for media.
www.ChristyALaverty.com
www.facebook.com/ChristyALaverty
www.facebook.com/groups/mediaprcollectiveforentrepreneurs
www.twitter.com/ChristyALaverty
www.twitter.com/Imfreckles
https://www.linkedin.com/in/christylaverty/


About Sara Hodge, Halton Networking Group leader:

Sara Hodge is a digital media entrepreneur who has been marketing in the digital space for almost 10 years. Sara has gained and leveraged her years of experience as a multi-website founder on various social platforms to create lucrative opportunities, grow networks and give back to her community through charity. Sara has worked on social marketing campaigns with popular brands such as P&G, KitchenAid, Hasbro and many more. She currently teaches online social media courses for entrepreneurs, hosts 1:1 and group social and digital media strategy sessions, attends (and leads) public speaking events, and hosts the Connect for Entrepreneurial Women international Facebook group where she offers daily tips and support to small biz owners around the world. Closer to home, Sara leads a large women's networking group in the Halton area: Halton Women Networking, serving all of Halton. She credits all of her connections, networking and business growth to social media and enjoys sharing her knowledge by helping others learn to do the same.
FAQs
What can I bring into the event?
Bring your business cards! DOOR PRIZES and goodie bag items are also always welcome but never required - if you would like to bring an item for a door prize, please let Sara know in advance by e mailing her at sara@sarahodgedigital.com ALSO! If you plan to stick around for some coworking afterward, bring whatever you need to get your work done.
How can I contact the organizer with any questions?
Contact Sara Hodge at sara@sarahodgedigital.com
What's the refund policy?
Your ticket is refundable anytime within 24 hours of the event start time. Cancellations made 24 hours or less before the event starts will NOT be refunded.

Do I have to bring my printed ticket to the event?
No need to worry about that, we will have a list of the attendees handy.
DISCLAIMER: Sara Hodge Digital Media Inc. and Halton Women Networking can not make ANY guarantees toward the attendees and ticketholders of this event. Although we are very confident that you will receive helpful support, legally, we cannot guarantee results. We do not guarantee booking engagements, certain connections or results from the talks being given at the event.