Description
{NOTE: If viewing this on mobile, please click the "Read more" link below to see FULL description}
WELCOME to the Halton Women Networking group's September Meetup! You do not have to be an HWN member to attend this event. To find out more about Halton Women Networking, click the link above.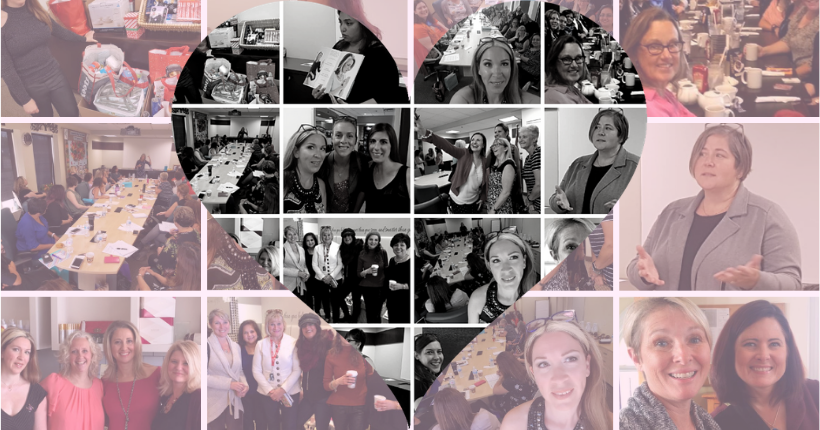 HALTON WOMEN September Meetup!
It's our first EVENING EVENT!
We will be meeting at DOMILYA Group HQ in Burlington on Thursday September 26th from 6-9 PM
STEP INTO WHAT'S IMPORTANT IN YOUR HEART!
Join us for an evening of light and soulful motivation with the fabulous and fun Laurel Crossley, as we join together for an evening of true inspiration and positive vibes.
Something else that's very important to our hearts: supporting Halton women! That is why for this event, we have decided to donate ticket proceeds (not including $1.69 per ticket processing fees) to our charity of choice, Halton Women's Place.
Tickets are just $20 (+ $1.69 Eventbrite fee) each, and together we can make a huge difference for women and children in need within our own community.

What is Halton Women's Place?
A brief description provided to us by HWP:
"Halton Women's Place is a charitable organization that provides safe shelter for abused women and their children, and aims to also provide information and education to support a future without violence against women. We operate two shelters, one in Burlington and one in Milton, which hold 30 and 22 emergency beds, respectively, serving all of Halton Region. Last year alone, Halton Women's Place provided services to over 700 women children through our residential and transitional programs. Our crisis intervention counselors responded to more than 2100 crisis calls."
Event schedule:
6pm - 6:30 pm: Mix, mingle, and add your cards / brochures to the goodie bags!
6:30pm - 6:40 pm: Welcome and intro

6:40 - 7:40 pm - Motivational Speaker Laurel Crossley - The Well-Preneur - 5 Simple Steps to Support Your Wellness! Overextended, overworked, not sleeping, not eating properly, feeling like you've lost your sense of self while trying to achieve a successful business? Life Coach Laurel and Wellness Advocate, will delve into 5 simple, everyday activities you can incorporate into your routine, that will not only catapult your personal wellness but the wellness of your business!
7:40 - 8pm: Door prize announcements

8:00 pm - 9:00pm: NETWORKING time - casual, freestyle networking AND / OR continue the discussion, plus take a walk around the gorgeous Domilya showroom!
WANT MORE PROMO TIME?
A gift bag will be provided to each attendee to take home and enjoy. Have a doorprize or some goodie bag items we can give away and promote you with? E mail Sara at least 3 days in advance at sara@sarahodgedigital.com Please use EVENT GOODIES in all caps as your e mail title for quick reference
COST TO ATTEND
Meetup ticket price is just $20 per person + 1.69 Eventbrite fee, and as mentioned above we are pleased to announce that for this special event, we are DONATING TICKET SALES PROCEEDS (not including Eventbrite fees) TO HALTON WOMEN'S PLACE CHARITY. We have supported Halton Women's Place in the past and are proud to continue doing so whenever we can.
YOUR HOSTS FOR THIS EVENT:
Sara Hodge - Social and Digital Media strategist and Halton Women Networking group leader - see bio below.
Our Host: Heba Ahmed Malki

Heba Ahmed Malki is a talented and award winning entrepreneur. She is the Director of Business Development at domilya Group Inc. a renovation, design, and custom construction company in both the Halton and Peel Regions, and a Senior Executive with SendOutCards - an online greeting card and gift system that helps businesses improve leads and referrals.
Heba is also Canada's Mompreneur of the Year for 2019 and was recently awarded the main award - the Mompreneur Award of Excellence! Heba has graciously offered to host our event in Domilya's stunning showroom in Burlington.
Our guest speaker: LAUREL CROSSLEY

Laurel Crossley is a professional motivational and inspirational speaker for students, parents, teachers, and non-profit organizations with over 20 years of experience. Laurel speaks from her heart injecting humour and real life experiences to connect with her audience in a way that stays with them long after they've heard her speak.
Laurel's is currently hard at work on her Children's Wellness Conference, taking place in Burlington on Saturday September 28th, with a mision to build a global community that better supports children - mind (emotionally), body (physically) and spirit (self-esteem).
Did you know that Laurel's speaking is PRO Grant approved and that there is funding available for your school? Learn more about a PRO grant!
Laurel's Topics
Mindfulness and Meditation

Life Balance

Stress Management

Assisting Children with Fears, Anxiety, and Feeling Disconnected

Parenting

Supporting Children as Caregivers/teachers

Healthy and Purposefully Living

Supporting the Well Being of Adults Diagnosed with ASD (Autism Spectrum Disorder)

Fostering Leadership in Youth

Supporting women Through Change and Transformation

Building and Fostering Relationships
Laurel can speak on any level and leaves her audiences with tips, tools, and proven tactics to enhance their lives and connections to one other building community. Her inspirational and loving messages are often the catalyst to help change audience member's lives in dramatic and long lasting ways.
To book Laurel to speak at your next conference, parent or professional association or retreat, please visit her website here: https://laurelcrossley.com/contact/


About Sara Hodge, Halton Networking Group leader:

Sara Hodge is a digital media entrepreneur who has been marketing in the digital space for almost 10 years. Sara has gained and leveraged her years of experience as a multi-website founder on various social platforms to create lucrative opportunities, grow networks and give back to her community through charity. Sara has worked on social marketing campaigns with popular brands such as P&G, KitchenAid, Hasbro and many more. She currently teaches online social media courses for entrepreneurs, hosts 1:1 and group social and digital media strategy sessions, attends (and leads) public speaking events, and hosts the Connect for Entrepreneurial Women international Facebook group where she offers daily tips and support to small biz owners around the world. Closer to home, Sara leads a large women's networking group in the Halton area: Halton Women Networking, serving all of Halton. She credits all of her connections, networking and business growth to social media and enjoys sharing her knowledge by helping others learn to do the same.
FAQs
What can I bring into the event?
Bring your business cards! DOOR PRIZES and goodie bag items are also always welcome but never required - if you would like to bring an item for a door prize, please let Sara know in advance by e mailing her at sara@sarahodgedigital.com
How can I contact the organizer with any questions?
Contact Sara Hodge at sara@sarahodgedigital.com
What's the refund policy?
Your ticket is refundable anytime within 24 hours of the event start time. Cancellations made 24 hours or less before the event starts will NOT be refunded. Ticket proceeds (not including Eventbrite fee of 1.69 per ticket) from ticket sales to this event will be donated to Halton Women's Place.

Do I have to bring my printed ticket to the event?
No need to worry about that, we will have a list of the attendees handy.
DISCLAIMER: Sara Hodge Digital Media Inc. and Halton Women Networking can not make ANY guarantees toward the attendees and ticketholders of this event. Although we are very confident that you will receive helpful support, legally, we cannot guarantee results. We do not guarantee booking engagements, certain connections or results from the talks being given at the event.