Hamilton Arts & Letters PREVIEW LAUNCH • HA&L issue 10.2 • STORIED LIVES
Description
Hamilton Arts & Letters magazine in partnership with CCENA and the Art Gallery of Hamilton

REGISTER NOW!

JOIN US for the Preview Launch of
HA&L issue ten.2​
STORIED LIVES
Guest Editor Melissa Tanti
Guest Poetry Editor Canisia Lubrin

CELEBRATE WITH US!
Friday December 1st
DOORS OPEN: 6:30pm
START TIME: 7pm
R.S.V.P.
Free Admission
Cash Bar
LOCATION: Art Gallery of Hamilton
Main Floor: The Joey And Toby Tanenbaum Pavilion

Short Talks:
• Gary Barwin: 1930s-40s Yiddish language newspaper "The Jewish Voice of Hamilton"
• Tobi Bruce: Alex Colville's painting "Horse and Train"
• Jeffery Donaldson: "Our Country, Le Canada"
• Kaitlin Debicki (Kanien'keha:ka, Wolf Clan): "Yotsitsyonte O:se & 'Going Back on their Tracks' - How Eastern Flowering Dogwood Taught Me to Be My Own Creation Story"
• Melissa Tanti: HA&L Guest Editor shares her vision for issue ten.2, Storied Lives

Poetry:
• Kenneth Rexroth's final oral poem, "Thou Shalt Not Kill", read by R. Bruce Elder.
• A performance from Klyde Broox, internationally respected dub poet.
• Canisia Lubrin, Guest Poetry Editor for HA&L issue 10.2.

Music:
• the Mohawk College music ensemble ArtPop, under the direction of Dusty Micale

Short Film:

• Haugh
by Bryce Kanbara
• Metamorphosis by Jim Chambers

AGH Exhibitions:
• All AGH Exhibitions on view are free after 4pm Friday, December 1st. Take in a few exhibitions before our HA&L Preview Launch.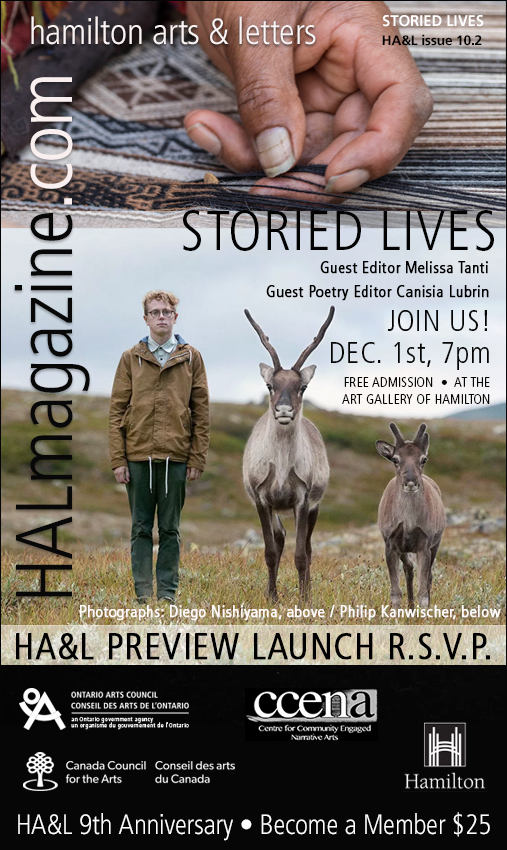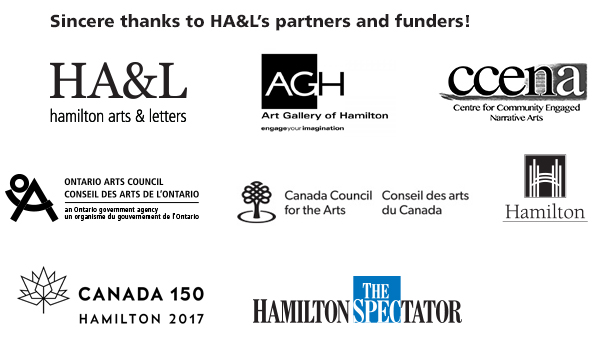 JOIN US! All are welcome.
Questions?
Email HAL@HALmagazine.com
www.HALmagazine.com