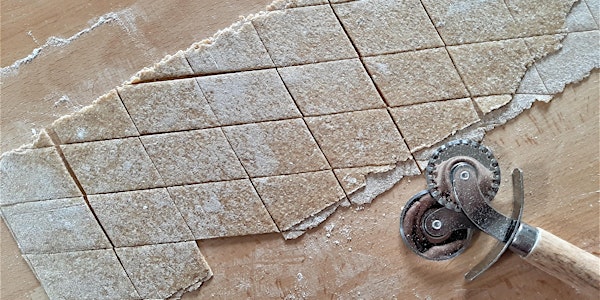 Handmade Whole Grain Pasta Cooking Class (Jan.20.2023)
Spend a night in the country learning how to make fresh, flavoursome, whole grain pasta by hand.
When and where
Location
Red Hen Artisanale 384265 Concession 4 Priceville, ON N0C 1K0 Canada
About this event
Come, on your own, or with your cooking partner to spend the night learning how to make fresh pasta from scratch with the most basic of tools -- your hands, a bench scraper, and a rolling pin.
This workshop will take place in the private baking studio of Red Hen Artisanale along the Saugeen River in West Grey. The beautifully copper clad St. Johns Catholic Church in Glenelg Center is a view point from the front windows of the studio. Detailed instructions of locating the studio will be sent out upon registration.
In this workshop, we will discuss different whole grains, and mill some up to make fresh pasta. While our dough is resting, we will work as a group to prepare the ingredients for a delicious and seasonal sauce. We will then get busy rolling our dough out nice and thin, and I will walk you through a variety of different shapes you can make with your pasta dough.
We will make 2 different doughs utilizing 2 different grains, both accompanied with their own sauces. We'll discuss why one is better for shorter shapes of pasta, like orecchiette, cavatelli, etc. and why the other is better for longer noodles, like papardelle, tagliatelle, etc. And we'll make a variety of both! Served alongside the pasta will be a seasonal appetizer. A sweet treat will be provided as a take-home snack that you can enjoy on the car ride home if you've got space, or safe it for brunch the next day. Non-alcoholic beverages will be available for consumption. BYOB. This workshop is part hands-on experience, part dinner night out!
See below for some FAQs.
FAQ's
COVID?
All workshops will take place in accordance with government guidelines and restrictions in place at the time the workshop takes place. In order to keep everyone as safe and healthy as possible during workshops, masking and spacing may be required by workshoppers, even if this is not enforced by the government. Should the workshop be cancelled due to a government shutdown, guests will be offered the opportunity to transfer their ticket to a future event, or receive a refund. Guests will be asked to monitor themselves for any covid symptoms and refrain from attending if you are unwell. If you cannot attend, you are welcome to send someone in your place.
Dietary Requests?
Send me an email with your specific dietary restrictions and I'll do my best to accommodate. Wheat and gluten will most definitely be a component of this workshop and will not be substituted out this time around.
Are there any other fees associated with the evening? Tips? Etc.
Pay for your ticket ahead of time, and leave your wallet in the car. Once you arrive, there is nothing else to pay for. All ingredients, tools and equipment will be ready and waiting for you to create some delicious food with.
Refunds?
All tickets are final sale. Refunds will only be provided should Lauren need to cancel the workshop or the government mandates a shutdown. If you purchase your ticket and you are unable to attend, you are welcome to send someone in your place. Please just email Lauren to notify of the modifications.
More Questions!
The best way to reach me is through email. Send me an email at hello@redhenartisanale.com
Reviews:
"This needs to be advertised as more than just a pasta workshop. This is a whole experience, with the making, and the eating, and the wonderful environment. This is a grade A experience" - N
"We attended the pasta making workshop last night and had an amazing experience. It was fun, informative and so so delicious. The space is very inviting and Lauren is a great instructor. In terms of Covid protocols it felt very safe. Great for experienced as well as novice cooks. Great value." - Judith