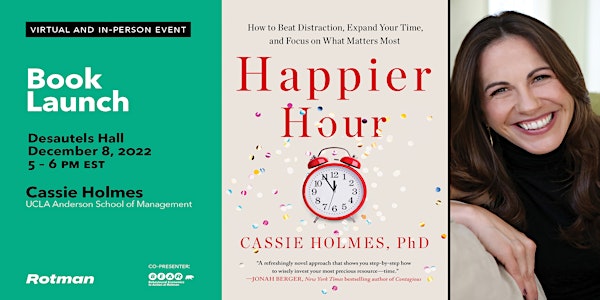 Happier Hour: Beat Distraction, Expand Your Time & Focus on What Matters
Cassie Holmes discusses her new book "Happier Hour: How To Beat Distraction, Expand Your Time & Focus on What Matters Most" (Gallery Books).
When and where
Date and time
Thu, Dec 8, 2022 5:00 PM - 6:00 PM EST
Location
Rotman School of Management + Livestream 105 St. George Street Toronto, ON M5S 3E6 Canada
Refund Policy
Refunds up to 1 day before event
About this event
Topic: Happier Hour: How to Beat Distraction, Expand Your Time & Focus on What Matters Most (Gallery Books)
By: Cassie Holmes
Speakers:
Cassie Holmes, PhD., Professor, UCLA's Anderson School of Management; author
Rhia Catapano, PhD., Assistant Professor, Rotman School of Management (Moderator)
Book Synopsis:
Our most precious resource isn't money. It's time.
Not only are we allotted just twenty-four hours a day and an unknown number of years, we live in a culture that tricks us into feeling that we never have enough.
UCLA's Anderson School of Management professor Cassie Holmes is one of the world's leading authorities on time and happiness. In her ground-breaking new book, Happier Hour: How to Beat Distraction, Expand Your Time, and Focus on What Matters Most (Gallery Books), she shares her cutting-edge research, guiding readers how to immediately enrich their lives by better investing their time.
"One evening early in my career, on a late-night train home to my 4-month-old and husband, I was about to give it all up. I felt exhausted and utterly overwhelmed: there was too much to do and not enough time to do it all…let alone to enjoy any of it along the way," says Dr. Holmes. "But, instead of quitting my job, I rededicated my research agenda to solving this very problem that plagues so many. What I discovered is in this book."
For the first time, readers will have access to the same insights and exercises Dr. Holmes has been sharing with MBA students in her wildly popular UCLA course. Just some of the findings in Happier Hour include:
Ways you can quickly increase your time affluence and how simple shifts in perspective make a huge difference
If you have less than two hours of free time (leading to feelings of stress) or more than five hours of free time (undermining your sense of purpose), you'll likely feel unsatisfied in your life. In between is the sweet spot— and most of us can achieve this with a few simple exercises provided in the book
Unhappy activities can be made less painful by reframing them (bundling them with something fun or remembering its purpose–why you're doing it)
Why we tend to put off current enjoyment for the sake of tasks we "should" do and why we should do this less. Dr. Holmes says we need to identify and commit to activities that make us happy so we don't later feel regret from missing out on life's good stuff
Focusing on time increases happiness, because it motivates you to spend your time more deliberately
Recognizing that your remaining time is limited and thus precious helps you savor life's everyday moments of joy
Connecting socially, spending time outside, and being mindful during the hours you spend have the greatest impact on the happiness experienced in your day.
The pandemic has caused many people to reconsider what they're doing with their lives; it's also impacted our feelings about time. Happier Hour is the perfect book to help readers reset and re-evaluate what's meaningful. For more fulfilling days right now and happier years ahead, it starts with transforming just one hour into a happier hour.
"[E]nlightening…. Holmes pulls from behavioral economics, marketing, and psychology research to offer wisdom on how to optimize one's time 'to live a better, happier, and more fulfilling life'… [Happier Hour has] an intellectual heft that puts this a notch above similar volumes, and her presentation remains accessible and remarkably unstuffy throughout. As thorough as it is practical, this one's well worth readers' time." —Publishers Weekly, ★ review
"Cassie Holmes is an expert on time, and this readable, practical book might just make you rethink how you spend yours." —Adam Grant, #1 New York Times bestselling author of Think Again and host of the podcast WorkLife
"Happier Hour is filled with loads and loads of practical, evidence-based advice for how to live better by investing in what really matters. It's the kind of book that can change your life for the better." — Laurie Santos, Chandrika and Ranjan Tandon Professor of Psychology at Yale University and host of "The Happiness Lab" podcast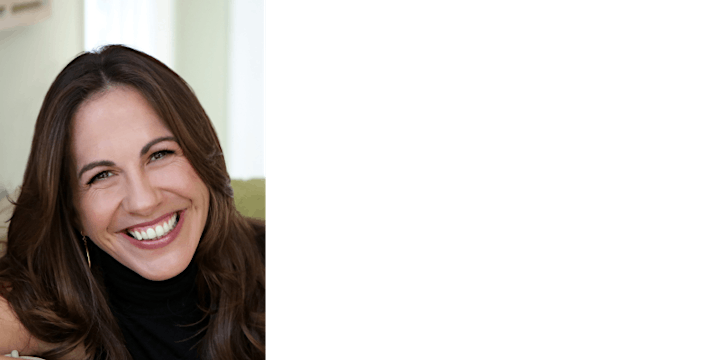 Cassie Holmes is a professor at UCLA's Anderson School of Management, where she is an award-winning teacher and researcher. Holmes's work on the intersection of time and happiness has been widely published in lead academic journals and featured in such outlets as NPR, The Economist, The New York Times, The Wall Street Journal, The Atlantic, The Washington Post, and more. Happier Hour is her first book. She will be on tour this Fall.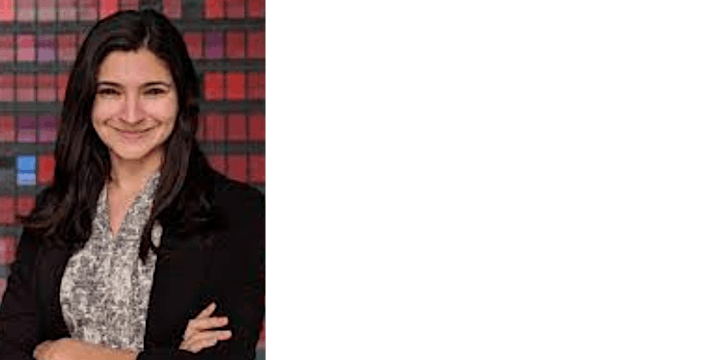 Rhia Catapano is an Assistant Professor of Marketing at Rotman School of Management at University of Toronto. Broadly, she is interested in how consumer research can be leveraged to benefit society. In her first research stream, she examines how people can be shifted away from entrenched views, and factors that affect receptiveness to the opposition. In her second research stream, she explores the role of meaning in consumer satisfaction and decision-making. She is originally from Brooklyn, New York. Before entering academia, she taught English and debate classes in Seoul, South Korea. She received her B.S. in Psychology from Yale University and her Ph. D. from Stanford University.
Event Logistics:
This event is available to attend in-person or virtually via livestream.
Rotman Events is committed to accessibility for all people. If you have any access needs or if there are any ways we can support your full participation in this session, please email Mandi Gosling [events@rotman.utoronto.ca] no later than 2 weeks in advance of the event and we will be glad to work with you to make the appropriate arrangements.
General Admission: In-Person Ticket Details
The event will be hosted in Desautels Hall at the Rotman School of Management (105 St. George St., Toronto, ON M5S 3E6). Your registration fee includes a seat at the session, access to a video replay of the session for 30 days and you will receive a hardcover copy of the book when you arrive.
General Admission: Livestream Ticket Details
Rotman Events will email registrants a link to the livestream. Your registration fee includes access to the livestream, video replay for 30 days, a hardcover copy of the book and shipping fees. The book will be shipped to registrants after the event. Please allow 3 - 4 weeks for delivery.
30-day Catch-up Viewing
Unable to attend the event due to scheduling conflicts? Not to worry. All registrants (in-person or livestream) can access the full recording on-demand for one month after the live event.
Cancellation & Refund Policy
Refunds will only be issued for cancellations received in writing NO LATER than 24 hours prior to the event. Please email events@rotman.utoronto.ca for processing.
In-person registrants who do not pick up their book at the event will have 5 business days to request postal delivery by emailing us at events@rotman.utoronto.ca. All unclaimed books will be returned to the publisher after that time.
Questions: events@rotman.utoronto.ca, Mandi Gosling