Description
The Harbour Harvest - Ice Fishing Tournament & Fundraiser
Features:
Option to enjoy a delicious brunch in the Harbour View Hall at the Galley Restaurant in the Nepean Sail Club in Ottawa!

No fishing license required on Family Day weekend! OFFE


Holes drilled and all equipment (tip ups with option for lure or bait). However you are welcome to bring your own gear and bait. We will have bait available on-site.

All abilities welcome! Volunteers here to help you set up and learn some tricks.

Cabela's Ottawa store local experts on site for demos

Ottawa Riverkeeper on site to talk about fish species and Ice Safety

This is cozy and fun ice fishing - you will have access to warm and clean washrooms, a restaurant, a fire pit with marshmallows, an indoor fireplace, and more.
ANYONE CAN FISH, ANYONE CAN WIN! EVERYONE HAS FUN!
Cash Prizes: (To be confirmed)
$300+ Trophy for 1st place (Longest live fish),
$200 for person with most species caught (if a tie, we will use total length of fish - must be presented to officials alive). Species that qualify include Pike, Walleye, Perch, Catfish, Crappie, Sunfish (Ontario Fishing Regulations). Only fish caught in the Harbour of the Nepean Sailing Club between 9:00am and 3:00pm will qualify. Must have at least two species to qualify - you cannot share or pass on your fish to help another person win, they must be your own catch.

- Every registration will receive a ticket for a door prizes (presented at 3:15 PM along with trophies)
Raffle Prizes to include: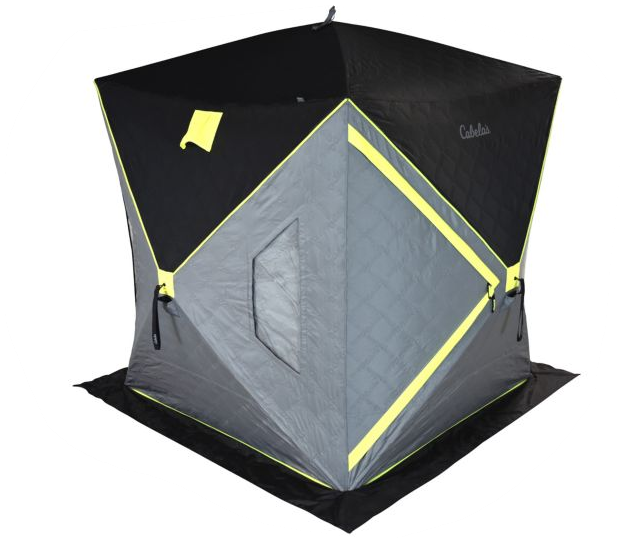 Other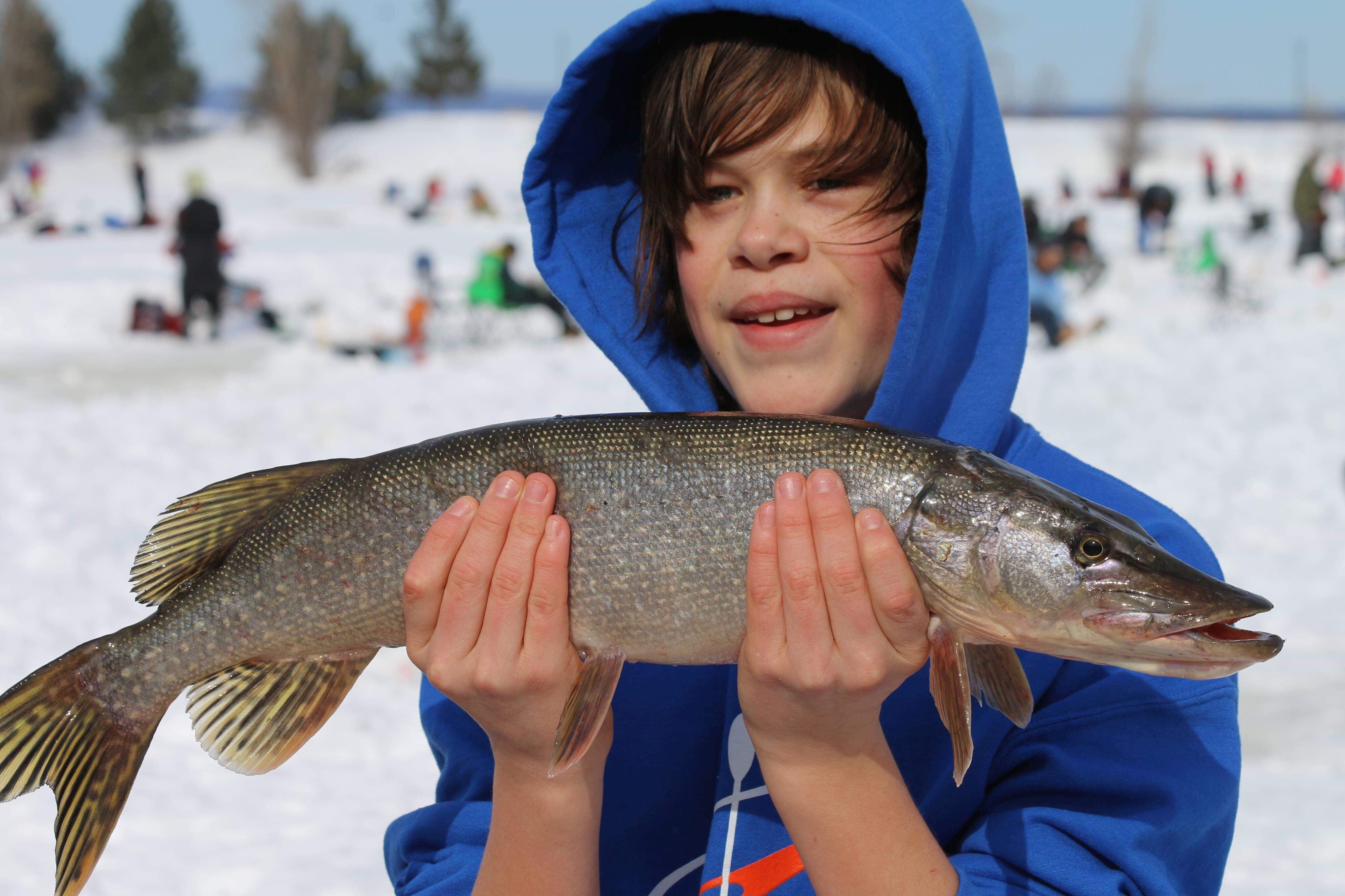 How it works:
Check in opens at 8:30am (you can arrive anytime you like after then, but we close the tourney at 3:00pm)
Registration options include the Regular "ALL DAY", or if you just want a small taste, try either a 9-12pm time slot, 12-3pm (this may allow us to share the equipment to more people if we know when you want to drop in)
Check-in table located inside the main entrance of the Nepean Sailing Club.

Everyone needs to sign a waiver (available at check-in if not able to do online)
Once you check in, you will be ushered to the equipment and bait. Unless you already consider yourself an expert, you will get an awesome orientation on how to set up and jig for fish by our volunteers.
Experts will also be roaming on the ice to help with set up and give advice (and creature handling if you wish).
We will be spread out throughout the harbour. You can go to any open hole/slip. You must be at your slip/hole if you want to keep it (note that no lines are allowed in the water unless you are within 20 meters), or move around to any unattended hole, or ask a volunteer for a new hole to be drilled for $5 .
Organizers will drill your hole (max 2 per registration). Provincial regulations limit is two lines/holes per angler - only one line in allowed per hole.
You are welcome to bring your own gear/bait and drill

your own

holes if you have the equipment.
A normal registration includes fully rigged up gear and a ticket for a minnow or worm (bait).
$1 each "additional" minnow or worm (limited quantities available or you may bring your own bait or favourite lures)
Everyone must respect and abide by the Ontario Fishing Regulations
Come for the entire day, or just drop in for a bite or two! See the new registration options for Drop-in.
Trophies/awards/door prizes presented at 3:15pm.
Feel Good Fishing: Raising money and opportunities for our community!
Proceeds will support to the Ottawa Riverkeeper

SPONSORS for 2020: (contact us to become a sponsor)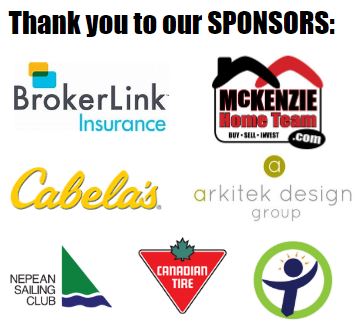 FAQs:
I can't attend, how can I still support you or get in on the fun?
If you, or your friends, can't make it to the event, try these ideas...
Share - spread the word
DONATE
I've never been ice fishing before. Can I still participate?
Absolutely! We'll get you set up and show you how it's done!
I have a big group, what do you recommend?
We recommend you order so each member of your group gets a rod (you get a hole for every rod)
If you have a group of 10 or more, contact us to see if we can put aside a bucket for you and you can pay in another way and get a deal (ie. 10 rods/holes and 1 bucket for a discounted price) email dan@dropinsports.ca or call 6133550735
If I want to go ice fishing with a friend, do we each need to buy a ticket?
No, if you would like to share a fishing hole you only need to purchase one individual angler ticket. Having your own holes are more fun though :)
What do I bring?
Dress warm - Waterproof/warm boots help you enjoy the day
Outdoor friendly snacks. The NSC "Galley" is a restaurant and for health code reasons no outside food or drinks will be allowed inside. We recommend chips, granola bars, or taking a break to go get a brunch at the restaurant!
Bring your own gear if you got it.
Camping or portable chairs (or just sit on the docks)
$cash for 50/50 draw or other donations to great causes!
$5 for unlimited hot chocolate!
Skates! Depending on conditions we will try to have a skateable surface
Where can I park for the event?
There is free parking available on-site at the Nepean Sailing Club.
Can I get there by Bus?
Yes, try OC Transpo route 152, or get to Bayshore and walk 14 min.
Will food and drinks be available for purchase?
The Bar and Galley at the Nepean Sailing Club will be open to participants all day after 10:30am. Call ahead to reserve a seat (or seats) Call Heather (613) 829-6462 or email her at businessmanager@nsc.ca
$5 onsite will get you a stamp for unlimited coffee and hot chocolate until 2:30pm.
You will be given the opportunity to add some donation money to your food bill. Anything helps
Can I hang out in the Galley restaurant all day?

Not really, please avoid staying indoors - get outside and jig, jig, jig. Of course you can go in and out as you please to warm up as needed, just dont fall asleep on those cozy couches by the fire place :)
What time does it start?
We will start on site registrations at 8:00am. Event starts officially at 8:30am for some of the serious anglers, normal people trickle in after 9:00am.
Will we catch fish?
No Guarantees - it depends. Annika caught three in 2018, but that is because she showed good patience and stuck by her hole most of the day.
Side activities (weather depending) may take place - such as a "pull your kid" sled pull challenge, snow building, tug of war
Fun Fact: In 2018, we had 17 fish caught - in 2019 we caught 32 fish. Here is 11 year old Nick and his 24.5 inch pike!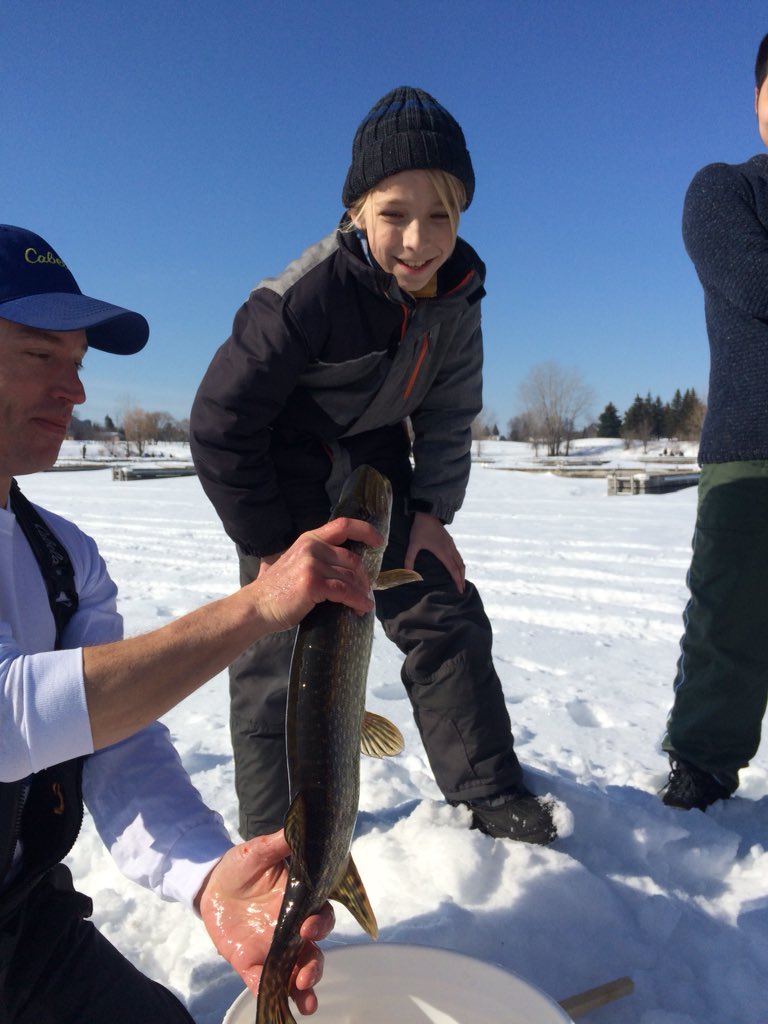 Are there ID or minimum age requirements to enter the event?

Can I be a SPONSOR or be a bigger supporter of this event and its participants?
Yes! Contact us and we can find a package that works for you and your goals! Lets talk SOON! Dan@dropinsports.ca
What's the refund policy?
No refunds. Ticket sales help cover costs and funds to charity. Thank you fo runderstanding.
All efforts will be made to ensure the event happens. If the event does not happen due to severe weather or other uncontrollable factors, ticket sales will not be refunded.
Do I have to bring my printed ticket to the event?
Can I sign up on-site?
Yes, but equipment may be limited and prices will increase by a couple dollars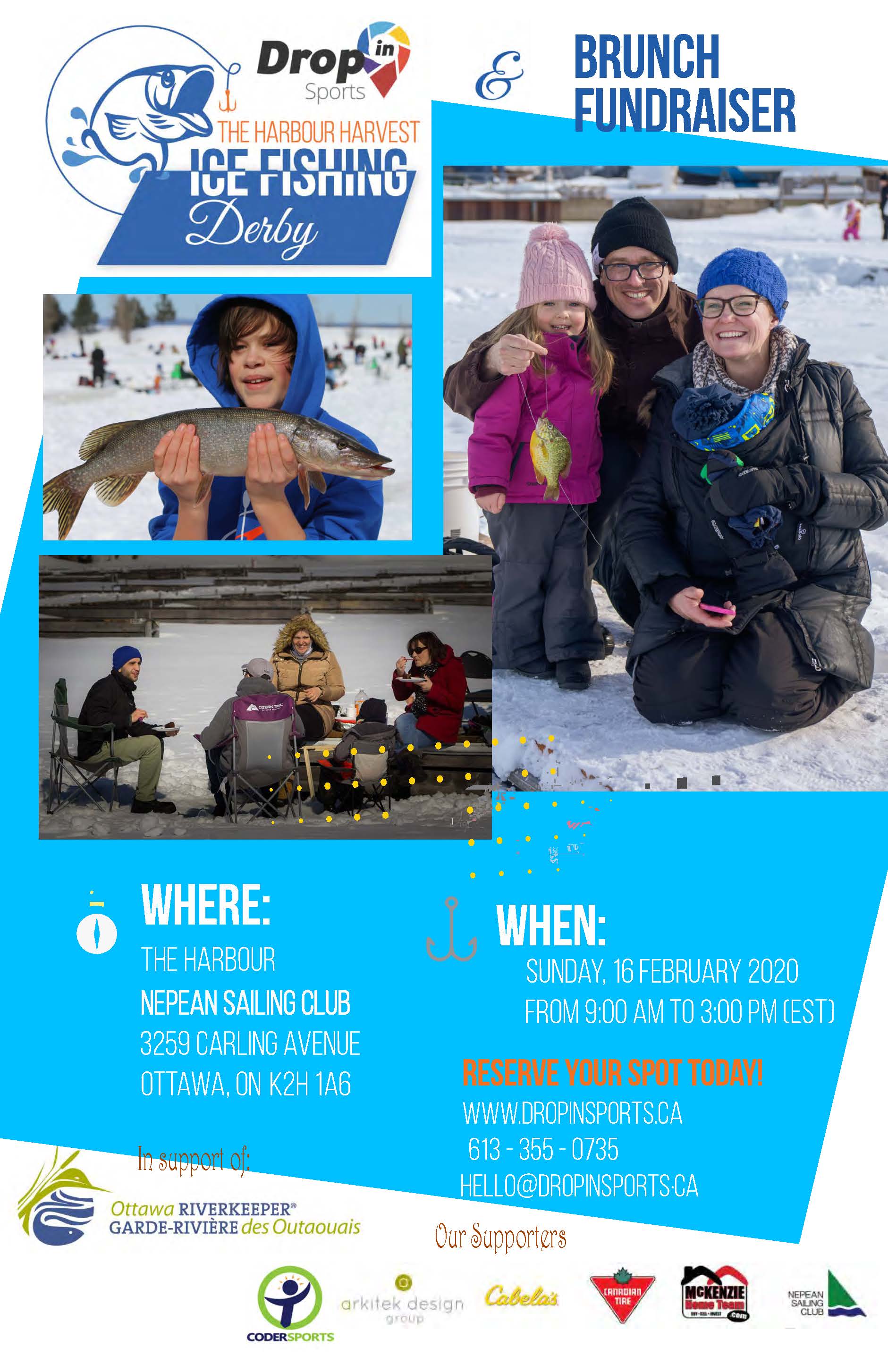 PHOTO CREDITS:
- Adriana Garcia
- Heather Unhola
- Amy Unhola