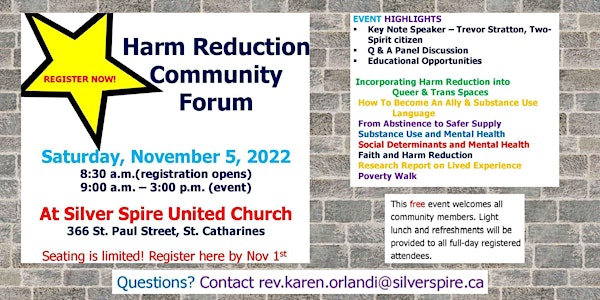 Harm Reduction Community Forum
This event is an opportunity for the all members of the community to learn about harm reduction and living with substance use.
When and where
Location
Silver Spire United Church 366 Saint Paul Street St. Catharines, ON L2R 3N2 Canada
About this event
Harm reduction is an approach to public health (e.g. substance use, HIV prevention etc.) that aims to "meet people where they are at" and work with community members to reduce harms and promote positive change.
The event's schedule includes a keynote speaker who will focus on an Indigenous approach to harm reduction, a panel on decriminalization and safer supply, a series of afternoon workshops and a recent community-based survey in the Niagara region that asked people who use(d) drugs about their ideas for how to share their lived experience/expertise with others.
Lunch and snacks are provided and you could learn a lot about important issues impacting the Niagara community. Seating is limited, registered by Nov 1, https://bit.ly/HRCForum22 Hope to see you there!
More from Harm Reduction International: "Harm reduction refers to policies, programs and practices that aim to minimize negative health, social and legal impacts associated with drug use, drug policies and drug laws. Harm reduction is grounded in justice and human rights. It focuses on positive change and on working with people without judgement, coercion, discrimination, or requiring that they stop using drugs as a precondition of support."