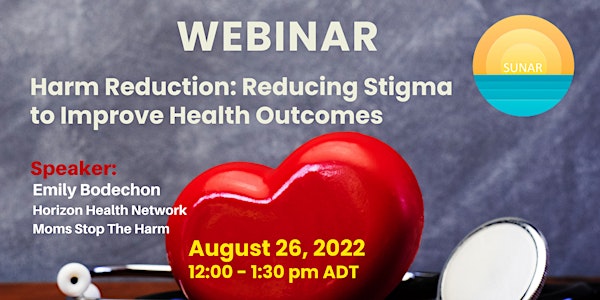 Harm Reduction: Reducing Stigma to Improve Health Outcomes
Learn about our preventable drug poisoning crisis and how to improve health outcomes through better drug policies and stigma elimination.
About this event
Substance use disorder has become an epidemic with thousands of Canadians dying every year from drug poisoning. Many of these deaths are preventable through harm reduction strategies, evidence based changes to drug policy and a safer, regulated supply. Eliminating the stigma associated with substance use disorder is the first step to improving health outcomes in this patient population.
Join SUNAR for a presentation and Q & A session on "Harm Reduction: Reducing Stigma to Improve Health Outcomes", with our special guest, Emily Bodechon.
Presenter
Emily Bodechon graduated from the NBCC MLT program in 1997 and completed her Bachelor of Applied Science from Charles Sturt University in 2004. She has worked for Horizon for 21 years, 10 years as a manger, most recently in the Chemistry and Toxicology Lab at the Saint John Regional Hospital until moving into the Director role in January 2022. Emily represents Atlantic Canada on the Board of Directors of the advocacy organization Moms Stop the Harm and facilitates a peer-led Holding Hope support group for families with a loved one(s) currently struggling with substance use or working on recovery.