Harmonics of Healing 4, A Retreat for Women to Rest, Reflect, Revive
Description

"Out With The Old…Feeling Renewed"
Give the gift of healing to yourself this year...



Harmonics of Healing 4



A Retreat for Women to
Rest, Reflect, Revive
Friday Evening, January 23, 2015 7:00 PM – 9:30 PM
and Saturday, January 24, 2015 9:00 AM – 5:00 PM
200 Collip Circle, London Ontario.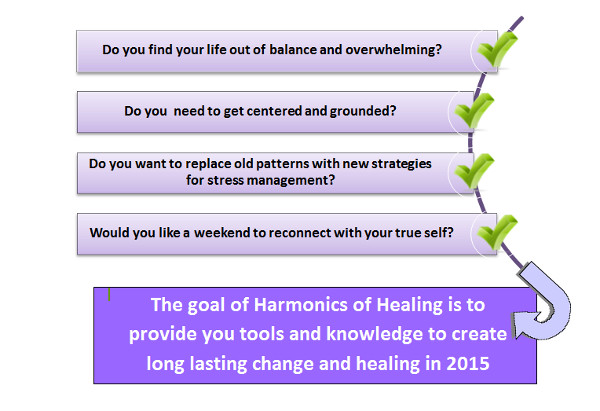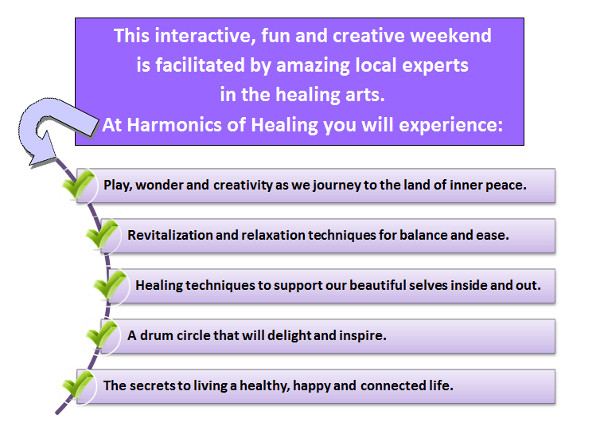 Tickets: $147.00
(Includes delicious, nutritious lunch and snacks.)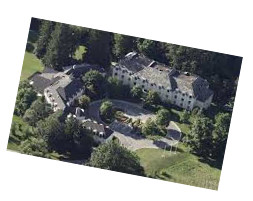 For an additional treat why not plan on staying on site at the Windermere Manor and taking advantage of their "Winter Wonderland" special.

Standard King or Queen room only $149.00 plus taxes Or Suite for $169 plus taxes. This is the total price for double occupancy!

This special also includes*: 3 course Dinner for 2 in the Café on Friday evening and Healthy Start Breakfast for 2 in the Café.

Phone Windermere at 519.858.1414 or visit www.windermeremanor.com for accomodation and price details.
*Must Make Advance Meal Reservations when booking the room.

Group Session Leaders

Dr. Laura Gravelle, D.C., Chiropractor
"Connected is Better"
Dr. Laura Gravelle knows all healing comes from above-down-inside-out. This is the foundation of understanding Chiropractic care. In a unique way Dr. Laura will share with us the importance of being connected from the inside out. A connected body is a better healer, more creative, more loving, more inspirational and more authentic. Chiropractic care has the power to save, change and transform lives. How connected are you willing to be?

Elizabeth Galbraith, Reiki Master Teacher in Usui and Karuna Reiki®
"Preparing Your Stage"
Elizabeth will share some simple Reiki techniques to clear your energy field, ground and relieve stress. This session will set the foundation for opening to receive what the weekend offers.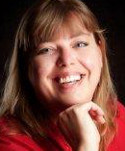 Jackie Emmons
Certified Access Bars Practitioner and a Certified Access Bars Facilitator
"Finding my Funny: How Tragedy Helped me to Learn to Laugh Again"
jackie@jackieemmons.ca Phone 226.234.4533
Jackie Emmons is a bookkeeper by trade. Losing her sister in 2012 triggered a transformation that caused Jackie's world to undergo remarkable shifts and changes and ultimately helped her create a life she never knew was possible. She has become a speaker and facilitator of change. When Jackie's sister was killed, it left her reeling. To work through her grief, it was necessary to take a hard look at her life and what she found was that she had become incredibly unhappy without even realizing it. She had to address the choices she was making that were not honouring her or bringing her joy and begin to make different choices. Jackie believes that whenever you change your perspective, your circumstances cannot help but change. Join us for this inspirational story of transformation.

Sheila Horrell
Drum Circle Facilitator

"The Pulse of Renewal"
Sheila has been drumming since 1985 and facilitating drum circles since 1990. In this session you will have FUN! This kind of participatory sharing will leave you with a sense of your own power to enjoy your life and contribute to the vibrant community of which you play such a unique part.

Janet Sandberg
Certified Holistic Cancer Practitioner, Usui Reiki Master Teacher, Energy Worker, Myomassologist
"Crystal Healing for a New You"
www.bluedragonflyenergywellnesscentre.com
Janet will teach us about crystals and gemstones, their healing properties and how they can benefit us in our daily life. We will leave knowing how to use some of the more common stones for ourselves and in our homes. We will also learn a simple technique using stones to balance and relax.

Di Riseborough
Intuitive Life Strategist & Transformational Speaker
"Relationship Challenge Workshop-How to Reclaim Yourself By Letting Go of What Still Has Hold Over You"
Recently interviewed on the Oprah Winfrey Network, Di Riseborough is quickly becoming known as 'The Woman' who helps you use the "F-Word" more effectively. Face your unresolved Fears & discover how to forgive yourself and others. As the author of two #1 Amazon Best Sellers, Di is an Intuitive Life Strategist & Transformational Speaker whose essence of her business is transformational, spiritual, inspirational, energy boosting and action orientated. Her goal is to encourage people to question what is not working in their lives. Through this session with Di you will learn why it is so hard to let go of what isn't working in relationships, the costs of sticking with what hasn't worked and how to change that.

Helena Bugler
Certified Yoga Teacher,Professional Co-Active Coach
"The Art of Getting Unstuck"
Helena has spent the past 17 years in the Health and Wellness field, honing her skills as a healer and has gained a deep appreciation and respect for what the body and mind can accomplish. Helena's gifts will help you initiating wholeness and deeper healing in your body and with others. Get unstuck and let go of old painful pattern by unraveling the mystery of how your body moves and communicates to create new patterns of movement. In this workshop you will learn how you to tap into your body's innate intelligence and collect a set of tools that will help you to build a strong foundation for a pure mobility and a healthy functioning mind, body connection.

Janet Entwistle
Makeup Artist, Teacher Fanshawe College
"Feeling and Looking Your Renewed Self"
We will learn simple makeup tips and fashion trends to help us put our best face forward. This session will leave you feeling inspired and more confident about radiating the beautiful you. Janet is contributing to the fashion component with Latika fashions.

Margaret Stielz
"Feeling and Looking Your Renewed Self"
The goal of LaTiKa Fashions is to provide unique clothing that is good quality and affordable. We offer sizes small to 3XL. Margaret will be presenting the clothing and accessories component of this session showcasing fashionable outfits for various sizes and shapes. Together wtih Janet Entwistle they will give you tips to confidently present a renewed you.


Barbara Kunz
Certified Ageless Grace® Trainer and Educator

"5 Tools for You to Use to Activate Your Creative Juices and Boost Your Energy!"
Barbara Kunz is a Certified Ageless Grace® Trainer and Educator, one of 2 Trainers in Canada. Ageless Grace® is a new and well accepted program created by Founder Denise Medved from North Carolina. What makes this program interesting and enriching is that Ageless Grace®, 21 Simple Tools for Lifelong Comfort and Ease, is both a body and brain exercise. Ageless Grace® is based on the science of neuroplasticity: the ability of the brain and nervous system to change its structure and function, and to continue to change it throughout our lives, to keep us youthful and vital. Feel the difference in your body and mind after participating in just Five Ageless Grace® Tools.

Joanna Rogister
Registered Holistic Nutritionist, Homeopath
"Homeopathy: A Natural Path to Health"
Attendees to Joanna's session will have a better understanding of how they can start to gain balance in their lives, and work towards overcoming their health issues in a completely holistic and natural way. Their increased knowledge of Homeopathy will provide them with the knowledge of an alternative form of medicine that will allow them to help boost their immune systems and help heal their bodies the way they were designed to be healed.

Beth Sutherland
Empowerment Coach, Certified N.L.P. Practitioner and Medical Intuitive/Quantum Healing Practitioner

"Flip That Switch -Techniques for Releasing and Replacing!"
As an Empowerment Coach, Beth always shares her 26 years of studying the brain for success and puts 'mind tools' in your hands! Giving you the ability to change the thoughts, emotions, fears, beliefs, etc. (and your response to them!) so, you can achieve your goals. We hold everything at a cellular level, this session you will receive energy tools and techniques to Release the Old and Replace with the New, which will leave you empowered for life.

Holly Ballantyne
B.A., M.H.W., C.C.F., Reiki II.
"Dealing with Life's Difficulties in a New Way; Mindfully"
https://sites.google.com/site/peacfulmoment/

Holly will be sharing her personal story of enlightenment. In 2008 she was dealing with many life difficulties; such as, illness, poverty, trauma, and chaos. Mindfulness was her tool to a gentler life and a reduction in her own suffering. Using her own story as an example, she will show how her life changed through mindfulness. We will leave with a new way of responding to life's difficulties, softening the edges of that which challenges us.

Holistic Treatment Facilitators

Cathy Brown Swanton
Healing Touch Apprentice Practitioner, Certified Reflexologist
Cathy is a full time practicing Certified Reflexologist for the past 8 years. She is focused on helping her clients to understand the health messages they are receiving from their body whether physical or emotional. Cathy chose Reflexology as her specialty because it is a "whole body" therapy, which clears energy blockages and restores the body to a balanced state of health. Working with the reflex points on your feet she is able to help her clients relax, sleep better and reduce pain.

Jolanta Dabrowski
M.Sc, Certified Consulting Hypnotist, Certified Self-Hypnosis and Mindfulness Meditation Instructor, Therapeutic Touch Recognized Practitioner, and Reiki Practitioner

www.innerbalanceconnections.com
Jolanta will be leading us in meditation Saturday morning and also helping out as a Holistic Treatment Facilitator doing Therapeutic Touch™.
Minfulness meditation allows you to become more present with yourself just as you are. You will leave the session with a better understanding of what mindfulness meditation is and the knowldedge how to practice it. You will feel relaxed and more aware of the present moment.
Therapeutic Touch™
Promotes relaxation response.

Reduces anxiety.

Changes the patient's perception of pain.

Facilitates body's natural restorative processes.

Margaret Goud
CranioSacral Therapy Provider and Registered Massage Therapist

www.lambethchiropractic.com

Margaret has been working in the alternative healthcare industry for over ten years. After choosing her path in massage therapy, she attended D'arcy Lane Institute of Massage Therapy and graduated in 2000. She received her registration from the College of Massage Therapists of Ontario (CMTO) in the same year and has been practicing since. In addition to massage therapy, Margaret is also a CranioSacral therapy provider.


Catherine Steele
Bars Practitioner and Teacher, Access Body Process Practitioner, Usue/Tibetan Reiki Master Teacher, Karuna Reiki Practitioner, and Shamanic Healer. M.S.W.
steelecatherine1@gmail.com 519.657.6982

Catherine Steele is an awareness coach, teacher and hands-on healing practitioner who facilitates change and transformation. She weaves a tapestry of modalities that release limited thoughts, emotions and judgments to facilitate infinite possibilities of exuberance, abundance and play. The Bars is a hands on process that allows you the ability to change what is not working in your life. When you open up to receive your body will become clear minded and aware. It is gentle touch on 32 points on the head.

Wanda Davis
Healing Touch Apprentice Practitioner, Shamanic Practitioner, M.Sc, Reiki Master/Teacher, and student of the Therapeutic Touch®
Wanda is a Holistic Health Practitioner, Speaker and Author, owner of Elements of Healing, who offers Inner Healing for Outward Success. Education about our energy body and the benefits of energy healing is a primary goal, in particular, discussing ways to reduce stress for better mental health. Wanda is coauthor of Getting Well: Mind, Body and Spirit. Healing Touch is a relaxing, nurturing, energy therapy that uses gentle touch to assist in balancing physical, emotional, mental and spiritual health and well-being.

Mary Lewis
Integrated Energy Therapy (IET) Practitioner, Registered Reflexologist RRPr, Emotion Code Therapy Practitioner, Reiki & Blue Matix Practitioner
www.healingsolutionswithmary.com

Integrated Energy Therapy (IET) identifies & releases your deeply suppressed feelings and helps with pain relief, stress, headaches, depression, improves sleep and more! IET clears energy blockages that limit your health, life purpose, prosperity and creativity as you heal with the energy of the angels.

---
A Note from the Organizers
This event is being offered to honour and recognize the healers within our local community creating a platform for personal growth and empowerment. When we are aware of what is available to assist our bodies to support ourselves in our healing process, we are able to make informed choices about our health and wellbeing. We value the ability to have everyone join in community to enjoy, laugh and learn. We hope you will feel the power that harmony within our bodies, minds, souls can bring.
Each year we have supported a worthy cause within our community, raising funds and awareness fro their program. This year we will again be holding the silent auction and in addition we will be collecting gently used clothing for the Mine101 store (http://mine101.com) affiliated with Women's Community House. Please bring your clothing donations to the event and we will take care of it from there.
Dr Laura and Elizabeth
Organizer of Harmonics of Healing 4, A Retreat for Women to Rest, Reflect, Revive