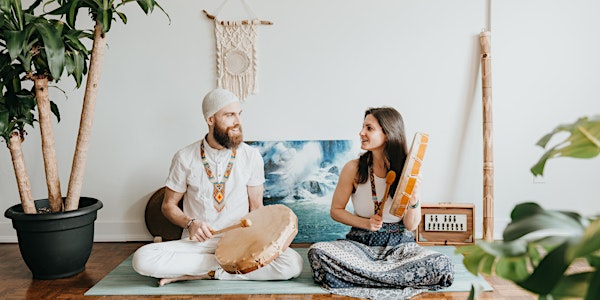 Harmonizing The Divine Masculine & Feminine Within 4 Day Retreat in Muskoka
Ground yourself with like hearted souls for a retreat filled with self love, relaxation, connection and deep healing. Fill your cup up full!
When and where
Location
Rosseau Given Upon Deposit Rosseau, ON P0C Canada
Refund Policy
Contact the organizer to request a refund.
Eventbrite's fee is nonrefundable.
About this event
Harmonizing The Divine Masculine & Feminine Within 4 Day Retreat in Muskoka
Featuring 'My Beloved' Jennifer Polansky as a Special Guest Facilitator
When we acknowledge and accept what is here now, Grace is bestowed upon us. This is where all lasting change occurs and from where wisdom sprouts. When we do not accept what is, we suffer. What Is, may not always align with our beliefs, goals, current perceptions or what we prefer, but it IS what IS, and the more we try to make it something else we get lost in time as we project our past perceptions or desires onto what is actually here.
What is our gateway into the timeless? It is to recognize what is beyond time and space... and this inquiry opens us up to the awareness of the Divine Masculine. From this awareness we can truly recognize, through our neutrality and unconditional love, the beauty, creativity, sweetness, bounty, mystery, wild, radiant & life giving qualities of the Divine Feminine.
"Experience & Embody The Sacred Dance of The Divine Feminine & Masculine"
From here we remember to honour the Mother and all that she provides us. Whether you were born as a man or a woman, we learn to acknowledge the divine father and mother within us. And this retreat will be an incredible opportunity to discover and experience the great wisdom that comes from recognizing and harmonizing the Divine Masculine & Feminine.
Masculine Devotion & Feminine Surrender Leads to Unity & This Harmony Can Be Cultivated Within All Men & Women, if so Desired
No Man or Woman is just Masculine or just Feminine. This retreat will be a huge breath of fresh air to clear out confusion, worn out beliefs, stigmas and anything else you come to see that is keeping you from experiencing harmony and love with the polarities within you.
Are you desiring to be supported and loved right NOW and accept yourself totally as you are? Then this is your space to land for 4 days & cultivate or strengthen your foundation. Witness the abundance of love that comes from committing deeper to knowing and loving yourself.
This retreat is for if you are single or in partnership, and will be filled with wisdom teachings, practices, Q & A, nature time, periods of sacred silence, sharing circles, reflection time, as well as partner and group activities. This is all to ensure every participant experiences a great depth in the polarities of the divine feminine and masculine, as well as the balance and harmony that comes from recognizing this sacred dance.  
This will be an intensive, immersive, yet joyful & relaxing retreat where you will move through old patterns and programs to unlock new coding and experience and embody more of your divinity.
YOUR POWER, WISDOM, CREATIVITY & HONEST EXPRESSION WILL BE CELEBRATED AND ENCOURAGED.
_______________________________________
WHAT WE WILL EXPERIENCE
🌲 Retreat Highlights 🌲
Tantric Kundalini Yoga ✦ Shakti Flow Yoga ✦ Restorative Yoga ✦ Tantric Partner Exercises ✦ Eye Gazing ✦ Experiencing & Embodying Both The Divine Masculine & Feminine ✦ Periods of Sacred Silence ✦ Energy Clearing ✦ Healing Old Wounds & Trauma ✦ Breathwork & Tantric Practices to Get "Unstuck" & Let go of Old Patterning ✦ Nature Immersion ✦ Sharing Circles ✦ Energetic Attunement & Alignment ✦ Medicine Songs, Gong Soundbath, Kirtan, Primordial Drumming & Prayer Portals ✦ Support & Care Moving Through Energy Blockages ✦
𝘌𝘹𝘱𝘦𝘳𝘪𝘦𝘯𝘤𝘦 𝘢 𝘧𝘦𝘦𝘭𝘪𝘯𝘨 𝘰𝘧 𝘥𝘦𝘦𝘱 𝘤𝘰𝘯𝘯𝘦𝘤𝘵𝘪𝘰𝘯 𝘢𝘯𝘥 𝘴𝘶𝘱𝘱𝘰𝘳𝘵 𝘪𝘯 𝘺𝘰𝘶𝘳 𝘭𝘪𝘧𝘦.
Y𝘰𝘶 𝘢𝘳𝘦 𝘯𝘰𝘵 𝘢𝘭𝘰𝘯𝘦 𝘰𝘯 𝘺𝘰𝘶𝘳 𝘫𝘰𝘶𝘳𝘯𝘦𝘺!
________________________________________
DETAILS & ITINERARY
~ Arrive Thursday, October 27th, by 4 pm for Snacks, Orientation & Opening Ceremony. (Late Arrivals Are Accepted If Needed)
~ Depart Sunday, October 30th, by 4 pm after Closing Ceremony
𝗚𝗥𝗢𝗨𝗡𝗗𝗦  &  𝗔𝗖𝗖𝗢𝗠𝗠𝗢𝗗𝗔𝗧𝗜𝗢𝗡𝗦
The Rosseau Sanctuary is located in the Muskoka's about 2.5 hours north of Toronto, surrounded by pristine forests, organic gardens, and a mystical 90 foot in diameter Chartres Labyrinth. The grounds are enveloped by a crisp clear stream and moss covered forest trails.
You'll feel like you stepped into a dream and wake up to realize this is your life!
The Sanctuary home farm is a rustic log cabin with a fireplace, ceremonial room with large bay windows, open kitchen and dinning room. There are 2 full bathrooms, and an outdoor shower.
On the 2nd floor of the main house are 7 single beds in a very spacious, open concept, dorm style room. Surrounding the main house are private bunkies that you can upgrade to.
WHAT'S INCLUDED
✦ All meals and snacks (100% organic, vegan, gluten-free) made by in-house chefs
✦ Shared lodging (upgrade to a private bunkie for additional cost)
✦ Entire retreat program and materials
✦ Guidebook to The Divine Feminine & Masculine
ENERGY EXCHANGE
Super Early Bird Exchange: $649 + tax (until September 28th)
Early Bird Exchange: $699 + tax (until October 12th)
Regular Exchange: $749 + tax
Bring a friend or partner and receive $40 off each (you will be reimbursed after payment, simply mention your friends name via email msg to chris@chrisdubkundalini.com)
Upgrade to a Private Bunkie for an Extra $215 (includes tax) "Sleeps 1 or 2 ppl"
Spots are limited
*A couple discounted spots are available for those who would otherwise not be able to attend. Send a private message or email to: chris@chrisdubkundalini.com
___________________________________
.:: 𝗬𝗢𝗨𝗥 𝗙𝗔𝗖𝗜𝗟𝗜𝗧𝗔𝗧𝗢𝗥𝗦 ::.
☼ 𝐂𝐡𝐫𝐢𝐬 𝐃𝐮𝐛 ☼
Intuitive & Energy Healing Facilitator, Ceremony Facilitator, Tantric Kundalini Yogi & Transformational Teacher
Chris is devoted to cultivating and holding space for you to become more aware of your mental blocks and repressed emotions, which allows this energy to transform into a higher understanding of one's self and your interconnectedness to all of nature. The result is a high degree of self love which leads to a letting go of past pain, hurt and trauma. Experience increased energy flow and creativity, zest for life, calmed nervous system, amplified self worth and deeper, more meaningful relationships.
Chris is a Certified Kundalini Yoga Teacher, Yoga Alliance Certified & has a over decade of commitment to the path of self-inquiry & advaita vedanta. He teaches Tantric Kundalini Yoga, Meditation, Self-Awareness Practices, Living From Your Spiritual Nature, True Forgiveness and Breath-Work classes and events. Chris facilitates transformational retreats and deep healing ceremonies, he also hosts the Sacred Brotherhood Men's Group and Women's & Men's Love Circles. Chris has undergone intensive breath work, bodily cleansing, meditation and self-inquiry to move through chronic pain and find deeper depths of self love since 2009.
Chris is passionate about supporting you to bring self awareness and energy flow practices to your daily life so you're internal GPS can always be online, guiding you to the most heart nourishing and fulfilling experiences.
 𝐂𝐡𝐫𝐢𝐬 𝐨𝐟𝐟𝐞𝐫'𝐬 𝟏 𝐨𝐧 𝟏 𝐄𝐦𝐨𝐭𝐢𝐨𝐧𝐚𝐥 𝐈𝐧𝐭𝐮𝐢𝐭𝐢𝐯𝐞 𝐇𝐞𝐚𝐥𝐢𝐧𝐠, 𝐘𝐨𝐠𝐚, 𝐁𝐫𝐞𝐚𝐭𝐡 𝐖𝐨𝐫𝐤 & 𝐌𝐞𝐝𝐢𝐭𝐚𝐭𝐢𝐨𝐧 𝐒𝐞𝐬𝐬𝐢𝐨𝐧𝐬. 𝐏𝐌 𝐂𝐡𝐫𝐢𝐬 𝐓𝐨𝐝𝐚𝐲 𝐟𝐨𝐫 𝐚 𝐅𝐫𝐞𝐞 𝟒𝟓 𝐌𝐢𝐧 𝐂𝐨𝐧𝐬𝐮𝐥𝐭𝐚𝐭𝐢𝐨𝐧 & 𝐌𝐢𝐧𝐢-𝐒𝐞𝐬𝐬𝐢𝐨𝐧 𝐕𝐢𝐚 𝐙𝐨𝐨𝐦 𝐕𝐢𝐝𝐞𝐨 𝐂𝐚𝐥𝐥. 
◐ Jennifer Mya ◑
Space holder, multi-modality healer, Certified Nutritional Practitioner, Empowerment Coach and Womb Healer.
Jennifer has been walking the Tantric path for 9 years and incorporates many different teachings and practices into her work. Her deepest calling is to guide women back home to their essence and the voice of their womb. To stand in their authentic truth and have the confidence to speak it.
Using a mix of Tantric and shamanic philosophy, embodiment, earthing practices, meditation, mindfulness, nutrition, and energy medicine, Jennifer helps you unearth the root causes of what holds you back from living your best life. Together you will breakthrough limiting beliefs and soften into self-love and self-acceptance, so you can heal at the foundational level, and truly create the life of your dreams.
After working together, you will feel more connected to your true Self, have confidence in your authentic voice, experience a deeper sense of worthiness and enoughness, and feel unconditional self-love and acceptance of who you are, exactly as you are.
Jennifer offers retreats, private mentorship, energy clearing & womb healing sessions, and builds sisterhood through online courses and programs.
You came here for a reason. The world needs you connected to that purpose now more than ever. The future generations depend on it.