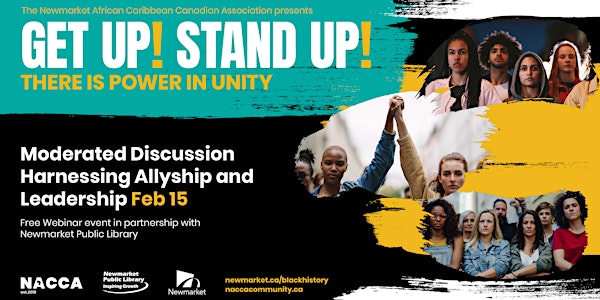 Harnessing Allyship and Leadership - A Moderated Panel Discussion
In recognition of Black History Month, NACCA and the Newmarket Public Library are hosting a moderated discussion on Allyship and Leadership
About this event
Event Details
Moderated by Kim Wheatley, the panel discussion will explore allyship and leadership with three professionals who are actively doing the work to disrupt injustice and inequities.
Moderator, Kim Wheatley
Anishinaabe Grandmother Kim Wheatley who carries the Spirit Name Shkoden Neegaan Waawaaskonen (Head or Leader of the Fireflower). She is Turtle Clan from Shawanaga First Nations and is a multi-award winning speaker who has appeared on television, radio and numerous written articles locally, nationally and internationally.
PANELISTS
Melissa McLetchie
A doctoral candidate in Sociology at York University, Melissa is examining the collateral consequences of imprisonment, particularly the impact of incarceration on the families of Black Canadian prisoners.
Mollie Coles Tonn
Is the co-creator of The SoCo Collective, a local grassroots organization that seeks to facilitate community learning and inspire active connection with important social movements.
Beatrice Anane-Bediakoh
A doctoral candidate in Sociology at York University, Beatrice examines how Black people respond to the racialization of space in racialized neighborhoods and its impact on Black personhood. She also offers affordable tutoring services to low-income families in the GTA.
Join us for a lineup of FREE virtual activities as we explore this year's theme: Harnessing Allyship and Leadership.
Support Black-Owned businesses at the virtual Ujamaa Marketplace.
For full details and to register for these free virtual activities and events, visit naccacommunty.ca | newmarket.ca/blackhistory
NOTE: the zoom link will be send 2 days, 1 day and 1 hour before the event. Remember to check your spam folder.