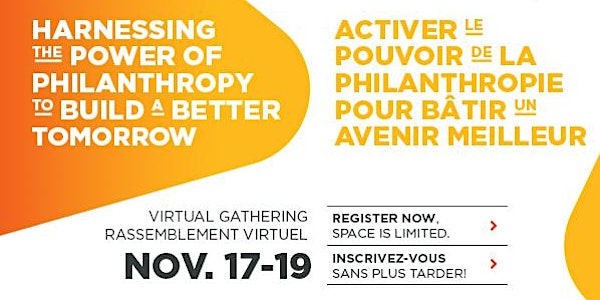 Harnessing the Power of Philanthropy/Activer le pouvoir de la philanthropie
PFC Virtual Gathering, November 17-19, 2020. Rassemblement virtuel de FPC, du 17 au 19 novembre 2020.
About this event
PFC is hosting its 2020 virtual gathering on November 17-19 . The event will serve PFC members and the broader philanthropic community to pause, reflect, and plan ahead.
--
FPC tiendra son Rassemblement 2020 en mode virtuel du 17 au 19 novembre. Cet événement offrira aux membres de FPC et à la communauté philanthropique l'occasion de prendre une pause, de réfléchir et de planifier l'avenir.
PFC will offer a Young Professionals Pricing to encourage the change-makers, innovators of tomorrow to be part of the conversation today. The gathering will be addressing topics such as anti-black racism, diversity equity and inclusion (DEI), SDGs, sustainable finance, trust-based philanthropy, and climate action, in the context of COVID-19. The overarching themes of this 3-days programming will be as follows.
--
FPC proposera un tarif spécial à l'attention des jeunes professionnels afin d'encourager la participation des acteurs de demain. Ce rassemblement abordera des sujets tels que le racisme anti-Noirs, la diversité, l'équité et l'inclusion, les Objectifs de Développement Durable, la finance durable, la philanthropie basée sur des liens de confiance, l'action climatique, le tout dans le contexte de la COVID-19. Les thèmes généraux de la programmation de ces 3 jours seront les suivants :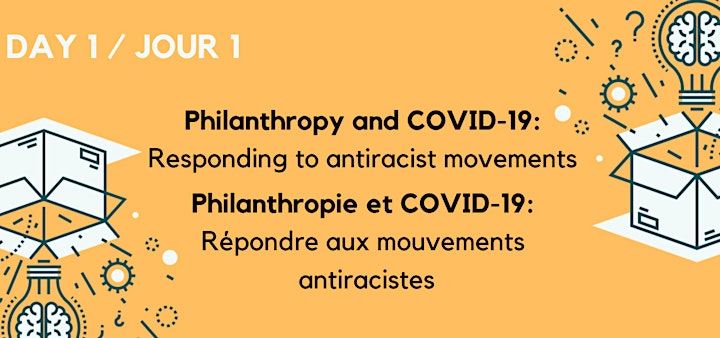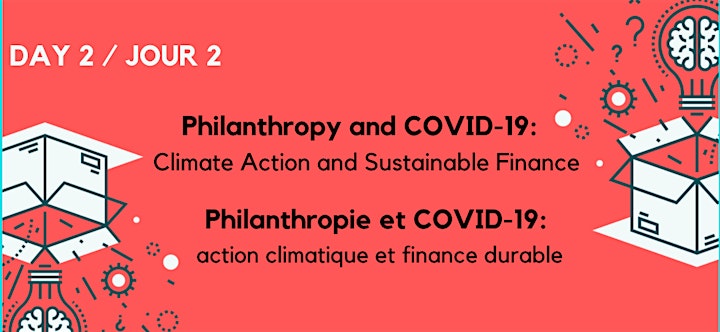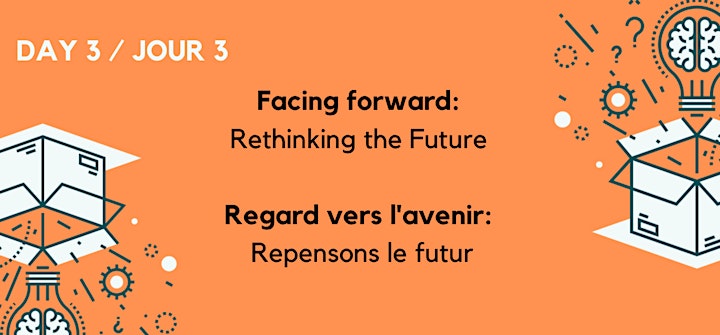 The philanthropic community is stepping up to address both the urgent and systemic needs highlighted by the COVID-19 crisis facing Canadians. How can we improve our collective impact and relevance working with our partners in governments, civil society, and the private sector? What have we learned in recent months? Let's press pause, and reflect together.
Registration fees will help us cover all of our programming costs for this event. Thank you for your contribution!
If you have any questions, please contact Jihane El Atifi at jelatifi@pfc.ca.
--
La communauté philanthropique intensifie ses efforts afin de répondre aux besoins urgents et systémiques révélés par la crise à laquelle sont confrontés les Canadiens. Comment pouvons-nous améliorer notre impact collectif et notre pertinence en travaillant avec nos partenaires qu'ils soient issus des gouvernements, de la société civile ou du secteur privé ? Qu'avons-nous appris ces derniers mois ? Prenons le temps de réfléchir ensemble !
Les frais d'inscription nous permettront de couvrir tous les frais de programmation pour cet évènement. Merci pour votre contribution!
Contact : jelatifi@pfc.ca