About this Event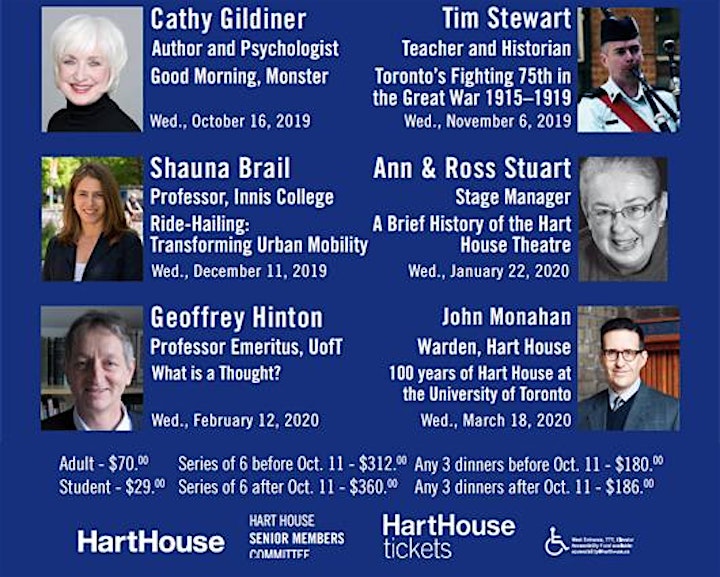 All dinners include:
An informal reception from 6:00 to 6:30 pm in the North Dining room
Dinner with wine in the South Dining Room from 6:30 to 9:00 pm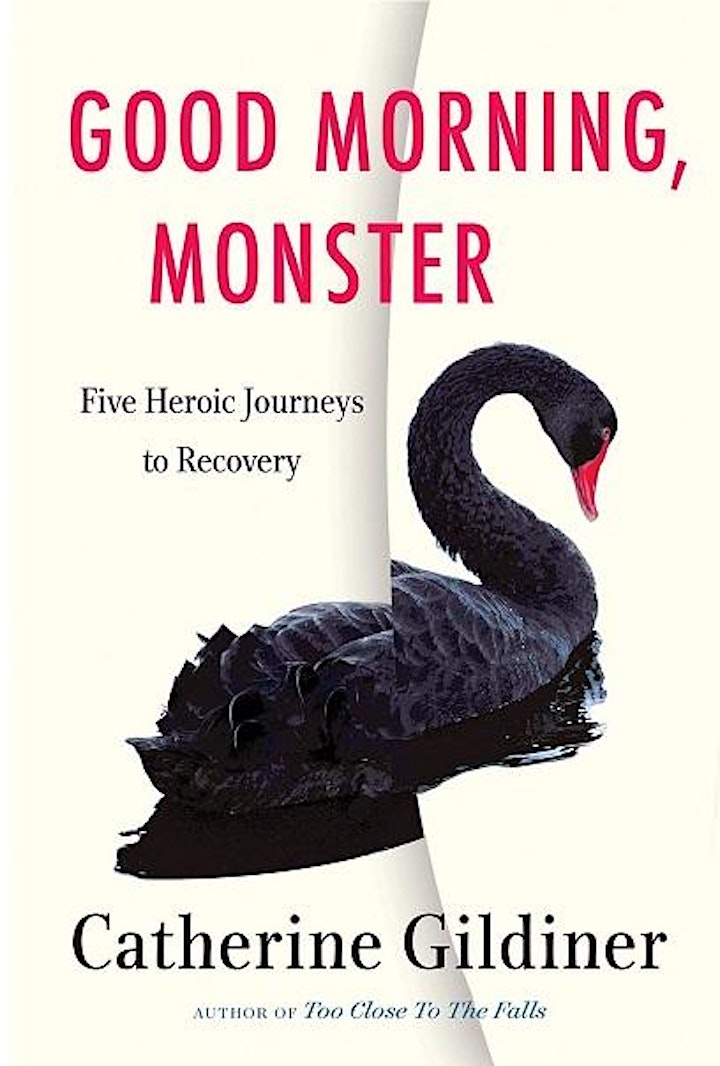 Wed, Oct. 16, 2019 6-9pm: Cathy Gildiner, Author & Psychologist will talk about her new book: Good Morning Monster
Catherine Gildiner is a bestselling memoirist, a novelist, and a psychologist in private practice for twenty-five years. In Good Morning, Monster, she focuses on five patients who overcame enormous trauma--people she considers heroes. With a novelist's storytelling gift, Gildiner recounts the details of their struggles, their paths to recovery, and her own tale of growth as a therapist.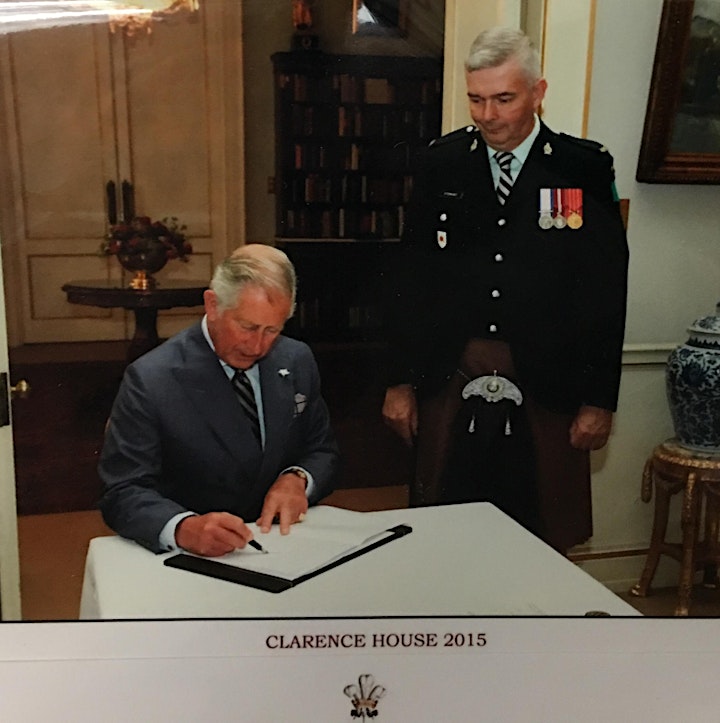 Wed, Nov. 6, 2019 6-9pm: Tim Stewart, Teacher & Historian: Toronto's Fighting 75th in the Great War 1915-1919
A Prehistory of the Toronto Scottish Regiment (Queen Elizabeth the Queen Mother's Own): Toronto's Fighting 75th evokes the spirit and consequences of Toronto at war. It tells the story of urban professionals, university graduates, labourers and the unemployed who fought alongside the British in 1915 to 1921. This book was created out of exhaustive research, drawn from archival sources, diaries, letters, newspaper accounts, and interviews, and has created a lasting record of the sacrifice of Toronto's Fighting 75th in the Great War.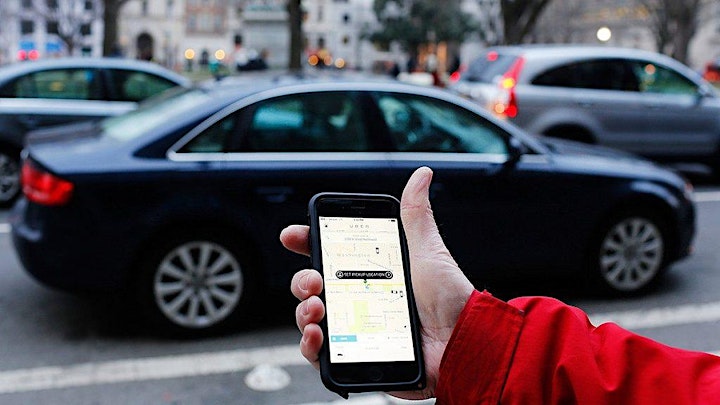 Wed. Dec. 11, 2019 6-9pm: Shauna Brail, Professor, Innis College: Ride-Hailing: Transforming Urban Mobility
Urban transportation is currently undergoing dramatic change, including the emergence of ride-hailing as a disruptive mobility option. While at first it may have appeared that ride-hailing firms such as Uber were focused on disrupting the taxi industry, it is now evident that disruptions associated with ride-hailing are connected to wide-ranging transformations in urban mobility. These include a move towards mobility as a service, efforts to reduce private vehicle ownership, and the convergence of ride-hailing with autonomous vehicle technology.
Prof. Brail will discuss a brief history of ride-hailing and its connection to innovation, regulation and cities. She will describe how 21st century cities are transforming, and being transformed, as a result of a shifting mobility landscape.
Dr. Shauna Brail is an Associate Professor in the Urban Studies Program, Associate Director, Partnerships & Outreach, School of Cities, and Director of the Urban Studies Program at Innis College, University of Toronto.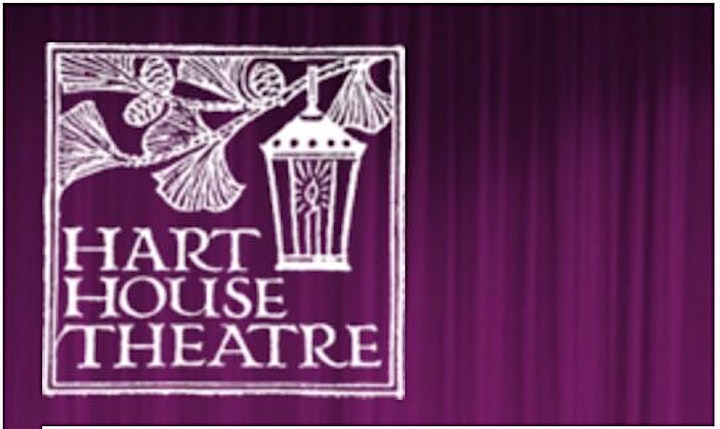 Wed., Jan. 22, 2020 6-9pm: Ann and Ross Stuart: A Brief History of the Hart House Theatre
With theatrical roots beginning at Hart House Theatre, Ann Stuart has now been a Stage Manager with Stratford for 38 seasons, working in all four of the Festival's theatres on over 70 productions (including thirty of Shakespeare's plays).
Ross Stuart has taught, directed and served as an academic administrator for the Department of Theatre at York for 45 years. In addition, he helped found the Canadian Theatre Review, the national theatre journal and served as President of the Canadian Association for Theatre Research. Ann and Ross first met at the Hart House Theatre.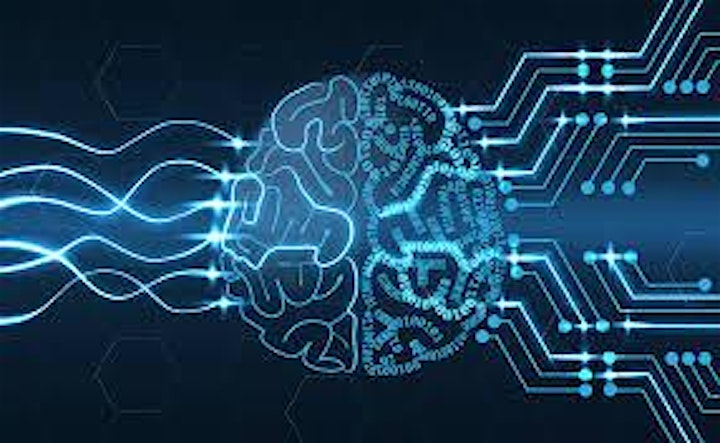 Feb. SOLD OUT: Professor Emeritus Geoffrey Hinton: What is a Thought?
Hinton is the great-great-grandson both of logician George Boole whose work eventually became one of the foundations of modern computer science, and of surgeon and author James Hinton. Geoffrey Hinton designs machine learning algorithms. His aim is to discover a learning procedure that is efficient at finding complex structure in large, high-dimensional datasets and to show that this is how the brain learns to see. Since 2013 he has been working half-time for Google in Mountain View and Toronto.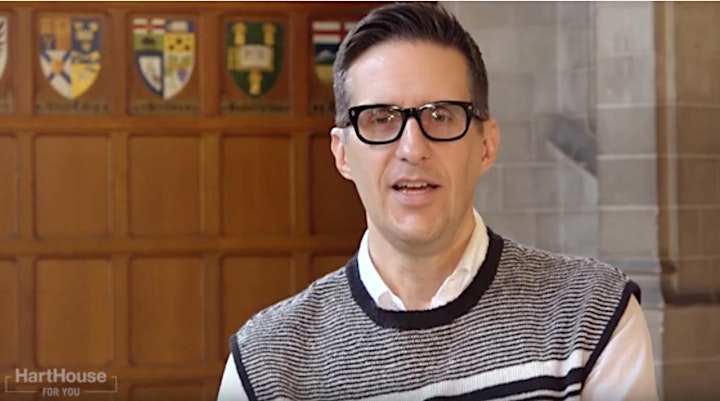 Wed., Mar. 18, 2020 6-9pm: John Monahan, Warden, Hart House: 100 Years of Hart House at the University of Toronto
From spring 2019—spring 2020, Hart House marks its 100th anniversary as a student-focused centre for the arts, dialogue and wellness at the University of Toronto. More than just a physical space, Hart House plays a pivotal role as an inclusive gathering place that enhances the student experience on all three campuses and provides a haven for students and community members to come together in all their diversity to take delight in the sheer joy of discovering new things about themselves, each other and the world we all share.
John Monahan has been Hart House Warden since 2015. Before becoming Warden, John worked as a labour, employment and human rights lawyer; served as Consul (Economic Affairs-Ontario) at the Canadian Consulate-General in New York; and led the international representation and research portfolio for the Ontario Ministry of Economic Development & Trade.