Take a YOU dinner to the comfort of your home! Pre-order a Harvest-inspired take-out meal prepared by the YOU Made It Cafe.
About this event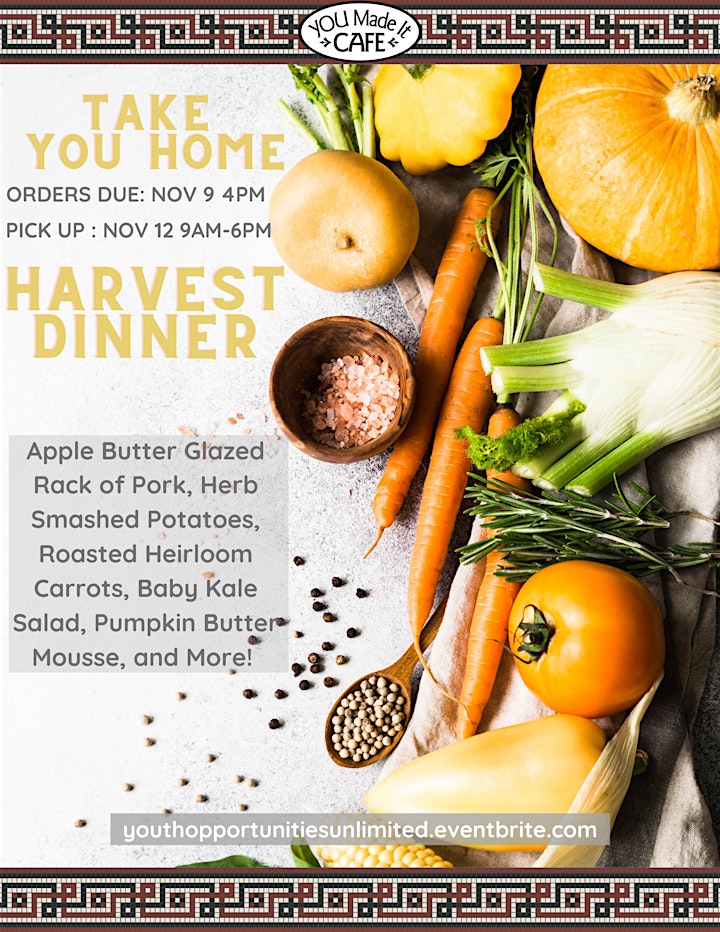 Take YOU Home - Harvest Dinner
By ordering a meal you are directly supporting youth in our community.
Event Details:
Friday, November 12th, 2021
Place your orders online by Tuesday, November 9th @ 4:00 PM.
Pick-up Times: November 12th, 9:00 AM - 6:00 PM
Menu:
Apple Butter Glazed 10oz Rack of Pork, Herb Smashed Potatoes, Roasted Heirloom Carrots [21]
or
Creamy Ricotta & Roasted Pumpkin Lasagna with Sauteed Garlic Kale[18]
Additions:
Baby Kale Salad with Crumbled Goat Cheese, Roasted Pumpkin Seeds, Dried Cranberries, Apple Butter Vinaigrette [5]
Pumpkin Butter Mousse with Shortbread Crumble [6]
YOU Cream Ale [7]
Apple Cider Mule Drink Kit - Apple Cider, Vodka (1 oz), ginger beer, Garnish of Cinnamon Stick, Apple Slice, Rosemary Sprig [7]
Note: All meals will be prepared prior to pick-up, and are to be refrigerated until ready to heat and serve! Prior to serving, simply heat meals in oven or microwave.
Donate Now
YOU is looking for donations to help us sustain our youth-based programming. Please consider making a donation at check-out.
What is the Take YOU Home dinner series?
Youth Opportunities Unlimited (YOU) highlights the chefs from the YOU Made It Cafe with themed take-out dinners to enjoy in the comfort of your home! By pre-ordering a Take YOU Home dinner, you are supporting youth to gain the skills and confidence they need to obtain future employment in our community!
For more information please contact us:
E: catering@you.ca
P: (519)432.1112 x 504
Organizer of Harvest Dinner with YOU