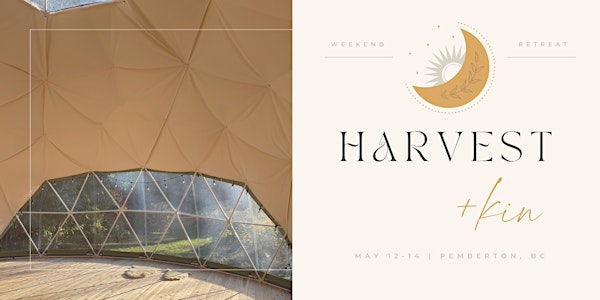 Harvest + Kin: Weekend Retreat
A unique, elevated wellness retreat rooted in food, friends, ceremony + celebration. Hosted by Jenn River, Sierra Wright + Ashley Drody.
Date and time
Fri, May 12, 2023 2:00 PM - Sun, May 14, 2023 2:00 PM PDT
Location
1710 BC-99 1710 British Columbia 99 Pemberton, BC V0N 2L0 Canada
Refund Policy
Contact the organizer to request a refund.
About this event
*For more details about this experience, please visit our official event page.
*PLEASE NOTE: Only deposits are collected through Eventbrite. You will be contacted upon registration to pay the remaining balance. Please read ticket details, as they outline the total investment per room type.
~~~
Welcome to "Harvest + Kin": a unique wellness retreat rooted in food, connected by sisterhood, anchored in ceremony and elevated by celebration - held on sacred Líl̓wat Traditional Territory (Pemberton, BC).
At its heart, this weekend retreat is intended to connect you with community, to sisterhood, to yourSELF; to attune you to your inner radiance, abundance and sacred joy through a variety of rituals and ceremonies. The practices and workshops offered provide a balance of stillness and self-reflection, community and connection — helping awaken your well-being and innate capacity for self-celebration and evolution.
As we witness Nature's seasons, we're also invited to acknowledge and drop into our own seasons of self; our cycles of intention, growth, harvest, death and rebirth. And together, we will release, renew, rise into the wholeness of our Being and celebrate the magic and beauty of life (while having a heck of a lot of fun).
~~~
WHAT'S INCLUDED:
All weekend programming, accommodation in a stunning private property, all meals prepared by our private fine-dining chef, and all beverages (alcohol and non-alcoholic) are included in the investment. This looks like:
morning 'Cha Dao' tea meditation
daily slow-flow yoga + movement
women's circle style group work, journaling + self-inquiry
guided group cooking class
daily "happy hour" social time + long table dinners
all meals prepared by our private chef, who offers elevated farm-to-table nourishment focused on local, seasonal + foraged ingredients
time to rest, integrate, move, breathe + be on the land
...and so much more magic!
Daily "happy hour" + long table dinner
Friday evening: happy hour social // welcome dinner
Saturday evening: happy hour cooking class // plated dinner
Time to rest, integrate, move, breathe + be on the land
... and so much more that simply can't be put into words.
*please note: there is alcohol provided at this event, as well as a variety of non-alcoholic options. you will always be supported to make the choice that best serves your body and intention for the weekend!
ACCOMMODATION:
Our retreat is held at a stunning, luxurious private home which sits on a 3.3 acre property, located 5 minutes from downtown Pemberton and 2 hours from Vancouver. The land is expansive, featuring a covered hot tub, large geodome and an abundance of deck space. We can't wait to share the magic of this special place with you!
*There are additional details in the ticket information, but feel free to reach out with any questions you may have: hello@jennriver.com
OUR MENU:
We will be offering holistic farm-to-table nourishment, with an elevated West Coast menu focused on local, seasonal and foraged ingredients
Created and prepared by holistic chef/nutritionist Sierra Wright of Cultivate Roots
Please note: *Our menu will include a balance of plant-based, meat, and seafood options. This said, we will always do our best to accommodate a dietary choice/allergy. If you are exclusively plant-based and/or have allergies/special dietary restrictions, please let us know upon registration.
*This is not a dry event, however the alcohol is a choice and intended to add to the experience, not take away from it. All beverages throughout the weekend are included in the investment.
INVESTMENT:
The investment is a range, categorized by room type. *only deposits are collected through eventbrite. please read details on each ticket type for full investment info.
YOUR FACILITATORS:
Retreat Leader + Ceremonialist: Jenn River @jenn_river ~ www.jennriver.com
Chef: Sierra Wright @cultivate.roots ~ www.cultivateroots.ca
Yoga + Photography: Ashley Drody @ashleydrody ~ www.ashleydrody.com
OTHER THINGS TO NOTE:
*This is a women's retreat weekend and is open to those who self-identify as female.
Arrival will be at 2:00 PM Friday May 12 and departure will be between 1-2pm on Sunday May 14. You will need to arrange transportation to and from the land. Ride-share group with other attendees will be shared prior to retreat.
To learn more, visit our official retreat page.
CANCELLATION POLICY:
We understand that life can shift — especially in these times! If you need to give up your spot 14 days or more prior​ to the scheduled retreat date, we will refund your deposit and any payments made.
Any cancellations made 14 days or less ​prior to the retreat​ ​are subject to a cancellation fee and the loss of deposit on a case-by-case basis. ​Any payments made outside of the deposit will be returned to you.
Any cancellations made 7 days or less prior to the retreat, another participant must fill your space in order for you to receive a refund of your deposit and payments made.
PLEASE NOTE:
*We are not responsible for your expenses incurred in preparation for any canceled retreat, such as airline tickets, loss of work, and/or other costs associated with preparing for your trip.
*There are no exceptions to the cancellation policy including personal emergencies, weather, flight/travel cancellations or delays. If we must cancel the retreat, there will be 100% refund on all funds received to date.
We thank you for understanding and respecting our cancellation policy!
PAYMENT PLANS:
*Once deposit is paid, you can either pay in full or opt into a payment plan. Payment plans can be structured (amounts on specific dates, based on your needs) or unstructured (pay as you can).
*Full tuition must be settled by May 7.
If you need further information, please email Jenny: hello@jennriver.com
About the organizer
Jenn River is a facilitator of remembrance who crafts transformative, healing experiences with an emphasis on our relationship with Self, sisterhood, and Spirit.