| | |
| --- | --- |
| Harvest Rain and Soak Up Overflow | |
Event Details
Workshop Details 

Presenters: Jeff Thompson, Thompson Environmental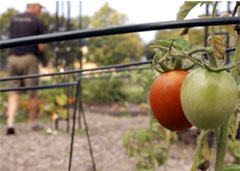 Cheryl Evans, Manager of Community Engagement (RAIN), REEP Green Solutions
Date & Time: Saturday October 5, 1 pm to 3 pm
Location: Central Frederick Community Garden, Weber Park, Kitchener (Corner of Frederick and Edna)
Parking: Free parking at Frederick Mall across the street
Cost: Free (Charitable donations are welcome, but not required)
Workshop Summary 
The Central Frederick Neighbourhood Association created a community garden to connect local residents through the growing of fruits and vegetables. Their challenge was that there was no convenient water supply available for the garden.This workshop provides a unique opportunity for participants to speak with the community garden members who are leading the project, and to learn from a landscape professional about how to harvest rainwater and install infiltration galleries.
Harvest Rain (1 pm to 2 pm): Talk to the rainwater harvesting experts who set up cisterns to collect rainwater to service the irrigation needs of the Central Frederick Community Garden. Learn how to best use cisterns like these in the context of your own home or community garden.

Soak Up Overflow (2 pm to 3 pm): Then the experts will explain the solution to prevent water ponding from the cisterns overflowing. A simple underground storage area called an infiltration gallery (aka soakaway pit) will be installed. This will allow the water to soak into the ground and solve any drainage problems.
Workshop includes:
Introduction to the RAIN program
Explanation of City of Kitchener and Waterloo stormwater utility credits

Rainwater harvesting and infiltration gallery fact sheets

Presentation about how to site, estimate cost, install, maintain and winterize rainwater harvesting systems and infiltration galleries

Interactive site tour featuring rainwater harvesting and infiltration gallery technologies

Opportunity to assemble and install infiltration gallery boxes
Get involved, get inspired and get green!
Contact REEP Green Solutions
Funder and partner acknowledgement
RAIN: An ecological approach to stormwater management is a Green Communities Canada program, delivered locally by REEP Green Solutions in partnership with the Cities of Kitchener and Waterloo.


Where

Central Frederick Community Garden, Weber Park (Corner of Frederick and Edna)
Frederick St
Kitchener, ON
Canada