The YRAC Youth Committee is proud to present "Harvesting Memories". A photography contest for youth in York Region. Join us November 27th!
About this Event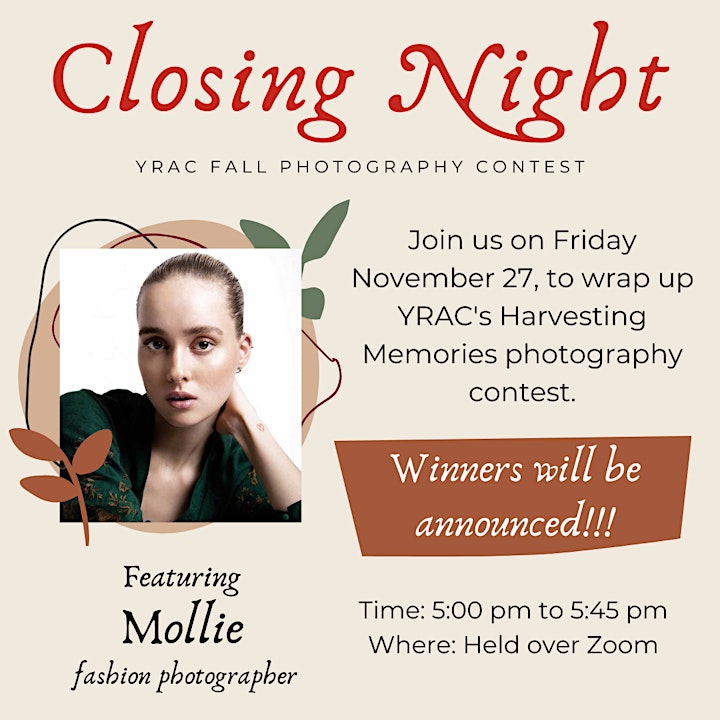 Join us for the YRAC Youth Committee's "Harvesting Memories" photography contest closing night! This contest is for youth 13-25 years of age. There are prizes for the top three winners.
There will be a small discussion and Q&A with Mollie, a professional fashion photographer, about her career in photographer as well as her photography techniques. Here we will also announce the winners and invite the winners to speak a little bit about their artistic process and practice.
About the York Region Arts Council's Youth Committee:
The York Region Arts Council's Youth Committee is dedicated to bringing artists of all disciplines together. Our initiatives are created by youth, for youth. Through events and social media, we create safe spaces for young artists from across the York Region to express themselves.
**ZOOM link will be sent to participant's email on the morning of the event.
Mollie - Fashion Photographer
Mollie is a fashion and beauty photographer from Moscow Russia. Her love for the process pushes het to experiment with often edgy and glamourous styles suitable for the commericial editorail landscape of the fashion and beauty industry. She also loves to travel and developed a lot of her inspiration and passion for her work through studying art in Russia and Germany.