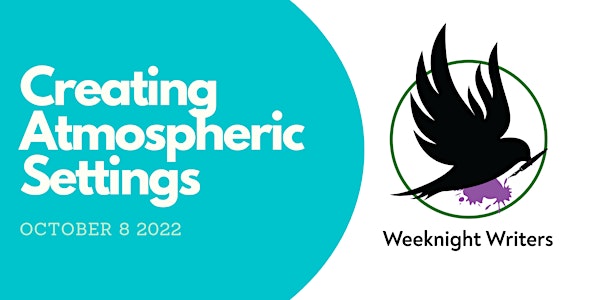 Haunted Houses and Other Spooky Places: Atmospheric Settings in Horror
A multi-author discussion about what makes a setting creepy and how to use setting to create and enhance horror in your own work.
Refund Policy
Contact the organizer to request a refund.
Eventbrite's fee is nonrefundable.
About this event
This panel is a multi-author discussion about why haunted house stories are enduringly popular, what makes a setting creepy, and how to use setting to evoke a sense of dread in your own stories.
Moderator
Dianna Gunn is a freelance SEO writer, digital marketing consultant, indie author, podcast producer, founder of the Weeknight Writers Group, and about 18 other things. Her dark fantasy novel, Moonshadow's Guardian, is available through her Ko-fi store and all major ebook retailers. Her second full-length novel, Moonshadow's Champion, is set to release through her Ko-fi membership program in late October 2022.
Panelists
Mato C Lawrence (they/she) is an openly out and proud Queer and Anishinaabe (North American Indigenous) fantasy and sci-fi writer, who can't resist making everything she touches a romance. They are proudly represented by Hannah VanVels of BelCastro Literary Agency.
Pamela K. Kinney gave ignoring the voices in her head and now writes award-winning, best-selling horror, fantasy, science fiction, poetry, and non-fiction. Her short story, "Bottled Spirits," was runner-up for the 2013 WSFA Small Press Award. She has published an urban fantasy novel, a science fiction novella, and has appeared in various anthologies and magazines. Her horror poem, "Dementia," (published in HWA Poetry Showcase, Vol. VII in 2020) got her named one of five mentioned as best in the book in Best Horror of the Year, Volume 13. She will have a story, Pumpkin Hollow, included in the Halloween horror anthology, Blame It on the Pumpkin, releasing October 25, 2022.
Brenda Radchik is a Mexican sci-fi author. Her work will be published by both Collective Tales and Ravens and Roses later this year. She is currently working on a novel on the identity and the future of her country, using elements of horror to enhance the narrative of the story while enrolled in the Certificate for Creative Writing at UCSD.
Priya Sridhar has been writing fantasy and science fiction for fifteen years, and counting. Capstone published the Powered series, and Alban Lake published her works Carousel and Neo-Mecha Mayhem. Priya lives in Miami, Florida with her family.
Conference
This event is part of Storycrafting Sessions: Horror, a virtual conference hosted by the Weeknight Writers Group. Check out the other panels too:
Spirits, Ghosts, and Ghouls: Emotional Echoes and Supernatural Encounters
Crossroad Blues: Exploring the Boundary Between Life and Death
Dire Warnings: Building Social Critique and Concern Into Your Horror
Gothic, Cosmic, Apocalyptic: Understanding Subgenres of Horror