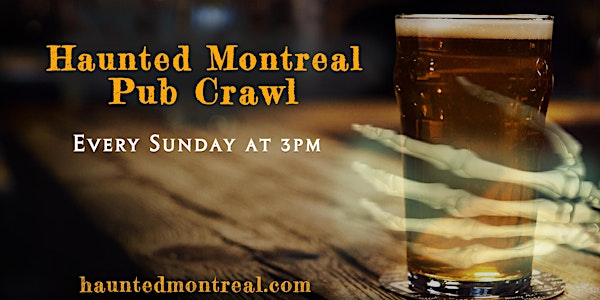 Haunted Pub Crawl
Enjoy a few drinks while soaking in the paranormal at fancy nightclubs, burlesque halls, dive bars, ancient inns, brew-pubs and more!
When and where
Location
Mckibbin's 1426 Rue Bishop Montréal, QC H3G 2E6 Canada
Refund Policy
Refunds up to 7 days before event
About this event
Montreal like you've never experienced it before...
Montreal has a lot of haunted drinking establishments to enjoy a few drinks while soaking in the paranormal, from fancy nightclubs, venerable burlesque halls and dive bars to ancient inns, brew-pubs, taverns, emporiums and other drinkeries!
Montreal is clearly the best metropolis to mix booze with creepy ghost stories, an ideal place to pour back some libations while pondering the city's brutal and sordid past and the ghosts that resulted from the worst of crimes and circumstances. While Dublin City, Ireland has around 15 haunted pubs and Savannah, Georgia, "America's most haunted city", has around 25 paranormal bars, Montreal has over 40 of these haunted drinking haunts.
Led by a professional ghost storyteller, the Haunted Montreal Pub Crawl visits 3 haunted pubs. Starting at McKibbin's Irish Pub in Downtown Montreal on Bishop Street, guests will not only learn about many of the haunted drinking establishments in the city, but will also hear Montreal's most infamous ghost stories.
Enjoy haunted pubs, spine-tingling Montreal ghost stories and learn about the historical forces that transformed the ancient Indigenous island of Tiotà:ke into Ville-Marie, an oppressive French colony founded by Catholic evangelists, a bustling British crime hub, a site of violent rebellion and subversive revolution and finally into Canada's most haunted city.
Hear the paranormal tales behind the recently-burned John Doe Pub, mysterious McKibbin's Irish Pub, the famous Sir Winston Churchill, funeral-home-cum-discotheque Club Le Cinq and, of course, Hurley's Irish Pub, where a ghost known only as the Burning Lady haunts the establishment.
The ghost storyteller will regale guests with Montreal's most deranged and infamous ghost stories. Learn about Simon McTavish, a Scottish fur baron known to toboggan down the slopes of Mount Royal in his own coffin, the ghost of John Easton Mills, Montreal's Martyr Mayor who perished while tending to typhus-stricken Irish refugees during the Famine of 1847, and Headless Mary, the ghost of a Griffintown prostitute who was decapitated by her best friend in the shantytown in 1879 - and now returns every 7 years to the corner of William and Murray Streets, still looking for her head!
Join Haunted Montreal on this unforgettable pub crawl, where you can drink some spirits with a spirit, all the while learning the city's deranged history and hearing spine-tingling local ghost stories!
Guests will also receive a complimentary map detailing dozens of other haunted drinking establishments should they wish to continue visiting more paranormal watering holes after the Haunted Montreal Pub Crawl.
* Please note that this tour is 18+ and drinks are not included in the ticket price. The Haunted Montreal Pub Crawl is approximately 2 hours long and ends at Hurley's Irish Pub (1225 Crescent Street). Tips for the ghost storyteller are always appreciated. Please drink responsibly.
Due to public health rules, the vaccine passport is required to enter each of the three bars on this tour.
Public Tours in English
Sundays at 3 pm. The Haunted Montreal Pub Crawl begins at McKibbin's Irish Pub in Downtown Montreal (1426 Rue Bishop).
Even though it is a short distance between pubs, please dress appropriately for the weather, especially in the winter.
Private Tours in English
The Haunted Montreal Pub Crawl is also available as a private tour for individuals and groups, company outings, special events, bachelorette parties and all types of gatherings. Please contact info@hauntedmontreal.com for more details and rates if you wish to organize a private tour.