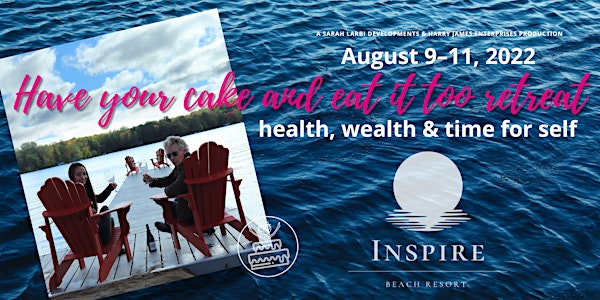 Have your cake and eat it too… Retreat
Have your cake and eat it too 3-day Retreat - health, wealth and time for self at the new Inspire Beach Resort in Coboconk, Ontario
Date and time
Tue, Aug 9, 2022 3:00 PM - Thu, Aug 11, 2022 1:00 PM EDT
Location
Inspire Beach Resort 7244 Highway 35 Coboconk, K0M 1K0 Canada
Refund Policy
Contact the organizer to request a refund.
Eventbrite's fee is nonrefundable.
About this event
Have your cake and eat it too 3-day Retreat – health, wealth and time for self at the new Inspire Beach Resort in Coboconk, Ontario
Have your cake and eat it too Retreat
Treat yourself to a 3-day retreat focused on your health, wealth and time for yourself. 'Have your cake and eat too retreat' is taking place on Tuesday, August 9 through Thursday, August 11 on the site of the new luxury 'Inspire Beach Resort' on the shores of the beautiful Shadow Lake in the up-and-coming Coboconk cottage area.
This 3-day exclusive event is presented by Sarah Larbi Developments and Harry James Enterprises and is limited to 40 people, so reserve your spot today.
Give yourself an opportunity to get motivated and educated while celebrating life with like-minded people in an incredible setting.
'Have your cake and eat it too Retreat' includes:
Great speakers
Fabulous food & accommodations
Refreshing drinks
Lots of time for networking
Numerous activities and services
'Have your cake and eat it too Retreat' entertainment:
Live performance by Danny Scott
Live comedy show featuring Chuck Byrn
Live performance by the Rùm Cuillin band
'Have your cake and eat it too Retreat' schedule"
Tuesday, August 9th, welcoming cocktails and registration at 3:00 pm.
Wednesday, August 10th, a full day of activities 8:00 a.m. to 10:00 p.m.
August 11th, breakfast, closing speakers, 8:00 a.m. until 1:00 p.m.
Fully inclusive package including all transfers, $2,000 plus HST.
Sarah Larbi – Real Estate Investor, Mentor and Podcast Host
Sarah Larbi quit the corporate 9-5 world on October 1st, 2020 after investing in real estate since 2013. Her main strategy is the Buy Reno Rent Refi and Repeat strategy also known as the BRRRR strategy. Her7-figure, 10 property, 14 door, investment portfolio includes a mix of long term and short term rentals.
Sarah's results-oriented approach has been featured in The Globe & Mail, Toronto Star, The Canadian Real Estate Wealth magazine and 1010 News Talk Radio and she is often a guest on numerous North American finance-focused podcasts.
Sarah also hosts two top 50 rated investing podcasts and is the co-founder of The REITE Club, one of Canada's fastest-growing real estate investing clubs.
Harry James – Business Owner, Investor and Motivator
Harry James has been helping people build wealth by dispensing advice for real-life since 1984.
A serial entrepreneur, he built one of Canada's premier independent financial planning boutiques and sold it for an unprecedented price. Along with his real estate investment & development company, harry james enterprises inc, he is a partner in a robust employee benefits, HJ Group.
Harry's business journey includes restaurants, a stone quarry, sports franchise, cloud services and to date orchestrating in excess of $100 million worth of real estate deals. Along the way, he has earned his black belt in failures and it's this honesty and vulnerability that resonates with the fellow entrepreneurs that he hopes to encourage and inspire.
Find out more about the development of Inspire Beach Resort in this interview with Sarah Larbi and Harry James on the Everyday Investor with Rav Toor TV Show:
Meet our speakers, motivators and entertainment…
Robby Clark
Robby Clark grew up in the entertainment business and was a teen actor growing up. He ended up losing all of his money so he paid his dues and waited tables. Then he discovered the power of real estate investing in his early twenties and never looked back. He now has 300+ doors and focuses on finding undervalued homes, r renovating them and recouping the value at the end. He is also the owner of E-Fresh a meal delivery service and more recently has bought a golf course.
As the owner of Sid Developments, Robby leads a network of companies & JV partnerships dedicated to redeveloping & improving small emerging cities across Ontario. They focus on finding undervalued assets, legalizing inefficiencies, and performing medium and major restorations.
Canada's need for housing and support outside of its large cities is one of the most significant investment opportunities in the modern era. With philanthropic aid to raise cities from a depressed state, Sid Developments provides stability and support to citizens, property owners, renters, business owners, and municipalities. In short, they purchase and encourage others to buy in areas where the project cost is less expensive than the build cost.
Brady McDonald
Brady McDonald is a multiple 8-figure business owner who has built a real estate empire in both Canada and the USA. At the age of 30, working as an arborist, Brady wanted more! After realizing the life that investing in real estate could potentially provide he relentlessly took massive action! In only 7 years he built a team in two Countries, has transacted over $200M in real estate, and built a portfolio holding of over $100M all while living his ideal dream lifestyle with his wife and two young daughters.
Brady has proven that you and your family can live where ever in the world you want as well as grow a successful and scalable business. He has travelled the waters of the Florida Keys and Bahamas on his yacht in 2018/19, lived in Costa Rica in 2020 and has recently moved to Florida, all while building a massive business and raising a beautiful family. The best part of it all is he is willing to share it all with you!
Danny Scott
Danny Scott has based a long, successful career on one simple principle…recreate the pure thrill and rollicking good times he experienced at childhood family celebrations for audiences everywhere.
From songwriter/recording artist with A&M/Universal Music Group in the 90s, to artist-producer/developer of other artists at his own Lindan Manor Recording Studio in the 2000s, to live performances in Las Vegas USA and around the world…this simple mission continues to fully motivate his life's work.
CHUCK BYRN's Bio by Chuck Byrn
Generally bios are written in a third person narrative so you don't come off as all full of yourself but let's not kid ourselves, I'm awesome. I have worked primarily as a Canadian stand up comedian for over 25 years. I've played every festival, club, university, community centre, town hall and multipurpose building in every town in every province. Comfortable on any stage, be it the National Arts Centre in Ottawa or rowdy bar in Moosejaw. My goal is putting on a show. Being funny is the only thing I take completely seriously. Writing, performing and acting skills have been earned through experience from many opportunities working in television both in front of and behind the camera. Acting in many tv shows, made for tv movies and commercials. Lots of commercials. In fact, for almost two years people on the street called me the Pop Tart guy even though the commercial I did was actually for Toaster Strudel. Good times. I've written for tv. Both for myself and for others. 37 episodes of a roundtable show called "Real Men" and writing for 5 seasons on the CBC show "Still Standing" Every great gig I have ever landed was on the recommendation of a friend.
The Rùm Cuillin Band
Inspired by his strong Scottish heritage, Rùm Cuillin is the stage name chosen by local singer-songwriter Cameron Kennedy. Backed by an outstanding band of proficient professionals; funk-fueled rock, pop and catchy favourites make up the core of a Rùm Cuillin show. Be sure to bring your voices!
Inspire Beach Resort – Coboconk, Ontario
Inspire Beach Resort is a new luxury getaway being developed by Sarah Larbi Developments and the Harry James Enterprises. Located on the beautiful shores of Shadow Lake in Coboconk a short 90-minute drive north of Toronto.
Inspire Beach Resort is a three-year staged development with Phase One scheduled for opening mid-summer 2022. This luxury resort will offer premium lifestyle short-term rental accommodations and will also be available for full facility rentals. Perfect for first-class business getaways or exclusive family functions.
Dr Gail Sauer ND (FABNO: recognized and delegated by the American Board of Naturopathic Oncology)
As the founder and director of Silver Spruce Naturopathic, Dr. Sauer has a lifelong passion and interest in the profound interplay of mental, emotional, and physical facets of healing.
She began her journey through meditation at the age of 16 and further explored her practice at a Yoga ashram in India in her 20's. Through this experience, Dr. Sauer came to appreciate not only the efficacy of alternative and complementary modalities but also the importance of quantifiable research to support their use. The quest for amalgamation of Eastern wisdom and scientific confirmation inspired her to pursue post-graduate studies at the Canadian College of Naturopathic Medicine.
In practice for 15 years and honouring the fervent interest in learning and evolving, Dr. Sauer has expanded her expertise as an accredited Fellow of the American Board of Naturopathic Oncology. She has additional accreditation in Bioidentical Hormone Prescribing and Functional Medicine and Mindfulness Based Cognitive Therapy and Stress Reduction (University of Toronto and Harvard Medical School).
Dr. Sauer has become a leading practitioner in her field, growing Silver Spruce Naturopathic into a multi-disciplinary, IV (intravenous) and wellness clinic. She continues to be passionate about her vocation and practices yoga and meditation daily.
About the organizer
Website: https://liverealfactory.com/organizer/live-real-factory/