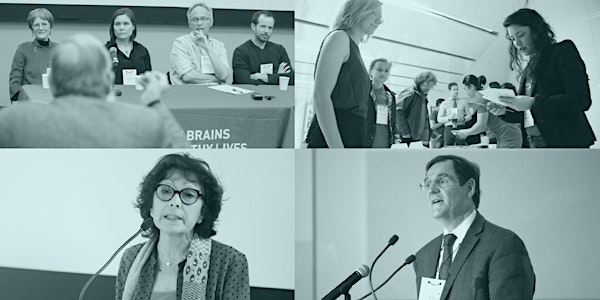 HBHL Symposium 2022
The HBHL Symposium is back! Two days of talks and networking opportunities, bringing together the HBHL brain health community.
When and where
Location
Jeanne Timmins Amphitheatre, the Neuro (Montreal Neurological Institute-Hospital) 3801 Rue University Montreal, QC H3A 2B4 Canada
About this event
We're happy to announce the return of the Healthy Brains, Healthy Lives Symposium—a two-day event held in Montreal on May 19-20, 2022!
May 19
9:00 – 9:30 a.m.: Opening Remarks: Progress and Future of HBHL
9:30 – 10:30 a.m.: International Keynote: HIBALL (McGill and the Helmholtz Association of German Research Centres)
10:30 – 11:30 a.m.: EDI in Research and Grant Proposals
11:30 a.m. – 12:45 p.m.: Spotlight: HBHL New Faculty Recruits
12:45 – 1:45 p.m.: Lunch
1:45 – 3:00 p.m.: Spotlight: HBHL Phase One Discovery Grants
3:00 –4:00 p.m.: Spotlight: McGill-Western Collaboration Grant Program
4:00 – 5:00 p.m.: NeuroHub: A platform for data management, analysis and collaboration
5:00 p.m.: Closing remarks
5:30 – 8:00 p.m.: HBHL New Faculty Cocktail Reception (McGill Faculty Club, open to all registered attendees)
May 20
8:50 – 9:00 a.m.: Opening remarks
9:00 – 10:00 a.m.: International Keynote: McGill-Douglas – Max Planck Institute of Psychiatry International Collaborative Initiative in Adversity and Mental Health
10:00 – 11:00 a.m.: Spotlight: McGill-Western Collaboration Grant Program
11:00 a.m. – 12:00 p.m.: Canadian Framework for Brain Health Research
12:00 - 1:15 p.m.: Lunch
1:15 – 2:30 p.m.: Spotlight: HBHL New Faculty Recruits
2:30 – 3:30 p.m.: NeuroSphere: Case studies in neuro commercialization success
3:30 – 3:45 p.m.: Closing remarks