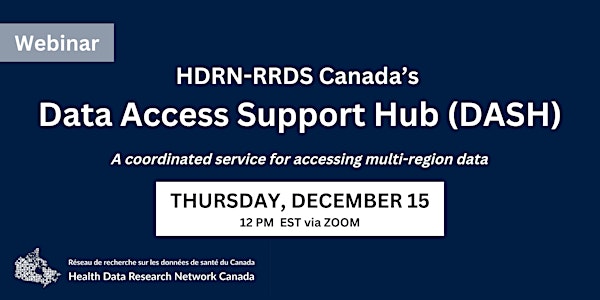 HDRN Canada's Data Access Support Hub (DASH) webinar
Health researchers interested in accessing multi-regional data will learn how HDRN Canada's Data Access Support Hub (DASH) can help.
About this event
~ le français suit
Are you a researcher seeking administrative health data from more than one province or territory in Canada? HDRN Canada's Data Access Support Hub (DASH) offers coordinated services to researchers interested in accessing multi-regional datasets. In preparation for the 2023 CIHR grant deadline, learn how DASH can help you navigate the data access process as well as the centralized services and tools available for researchers conducting research projects in more than one region, including:
the new single data access request form for researchers to request data from multiple regions
access to support from experts at data centres across Canada
an inventory of all the datasets available via HDRN Canada, and
an algorithm inventory to aid in analysis of the data.
PLEASE NOTE: This event will be recorded and posted on hdrn.ca. The event is in English, but French presentation slides will be made available on our website, hdrn.ca, after the event.
_____
Êtes-vous un.e chercheur.euse qui cherche des données administratives sur la santé provenant de plus d'une province ou d'un territoire du Canada ? Le Hub de Soutien à l'Accès aux Données (DASH) du RRMD Canada offre des services coordonnés aux chercheur.euse.s qui souhaitent accéder à des ensembles de données multirégionales. En préparation de la date limite de subvention des IRSC de 2023, découvrez comment DASH peut vous aider à naviguer dans le processus d'accès aux données ainsi que les services et outils centralisés disponibles pour les chercheurs menant des projets de recherche dans plus d'une région, y compris :
le nouveau formulaire unique de demande d'accès aux données permettant aux chercheurs de demander des données de plusieurs régions
l'accès au soutien des coordonnateurs de l'accès aux données/experts en disponibilité des données à travers le Canada,
un inventaire de tous les ensembles de données disponibles via le HDRN Canada, et
un inventaire des algorithmes pour faciliter l'analyse des données.
À NOTER : Cet événement sera enregistré et affiché sur hdrn.ca. L'événement est en anglais, mais les diapositives de présentation en français seront disponibles sur notre site Web après l'événement.