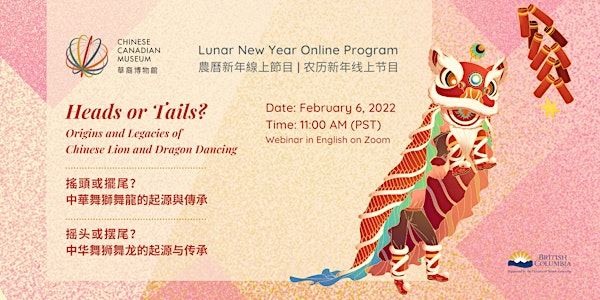 Heads or Tails? Origins & Legacies of Chinese Lion & Dragon Dancing
Celebrate Lunar New Year & learn about the rich origins & living legacies of lion & dragon dancing with two Kang Fu clubs from BC, Canada.
About this event
Hear the drums, cymbals, and gongs as lion and dragon dancers bring to life one of the core traditions of Lunar New Year celebrations around the world.
Celebrate and learn about the rich origins and living legacies of lion and dragon dancing with long-time instructors Danny Quon of the Hon Hsing Athletic Club in Vancouver Chinatown and Daniel Low of the Wong Sheung Kung Fu Club in Victoria Chinatown. 
See a demonstration of southern lion dancing and dragon dancing during our Lunar New Year virtual program!
This program is presented by Chinese Canadian Museum. Supported by Province of British Columbia.