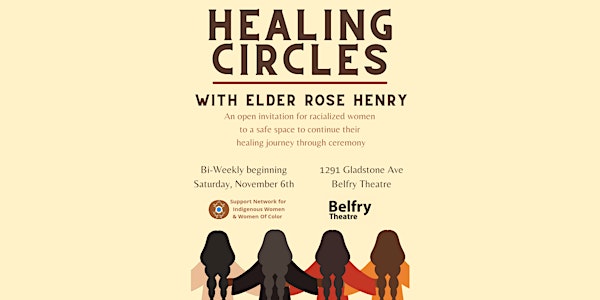 Healing Circles with Elder Klasom Satlxw Losah (Rose Henry)
Event Information
Location
Belfry Theatre
1291 Gladstone Avenue
Victoria, BC V8T 1G5
Canada
Lead by Tla'amin Elder Klasom Satlxw Losah (Rose Henry), Healing Circles are open to women, two-spirits and non-binary individuals of color
About this event
Healing circles are back!
Lead by Tla'amin Elder Klasom Satlxw Losah (Rose Henry), Healing Circles are open to all women, two-spirits and non-binary individuals of color to share their feelings and experiences in a safe environment and continue their healing journey through ceremony.
Healing Circles are an important aspect of Indigenous cultures and they play a vital role in community. The circle is the representation of the world in balance: The four seasons, the four cardinal directions, the four medicines. The Healing Circle represents the teachings of grandmothers and matriarchs.
We are hosting the Healing Circles to open the discussion of Indigenous oppression, our relationship to the land and how it affects climate change.
Healing circles are sacred, they help us step out of ordinary time into a safe and accepting environment in which we can explore our healing. With open minds, we work together to discover the best ways to remove obstacles to healing, alleviate suffering, and deepen our capacity to heal.
Join us in the Belfry Theatre, Studio B, 11:00 AM to 1:00 PM bi-weekly, on Saturdays. The next event will be April 9, 2022. Snacks, Coffee/Tea, as well as connections to other mental health services will be provided.
To check out other upcoming FREE events with SNIWWOC, click here.
Please come ready to follow COVID-19 safety protocol. Vaccine passport and valid government ID are required.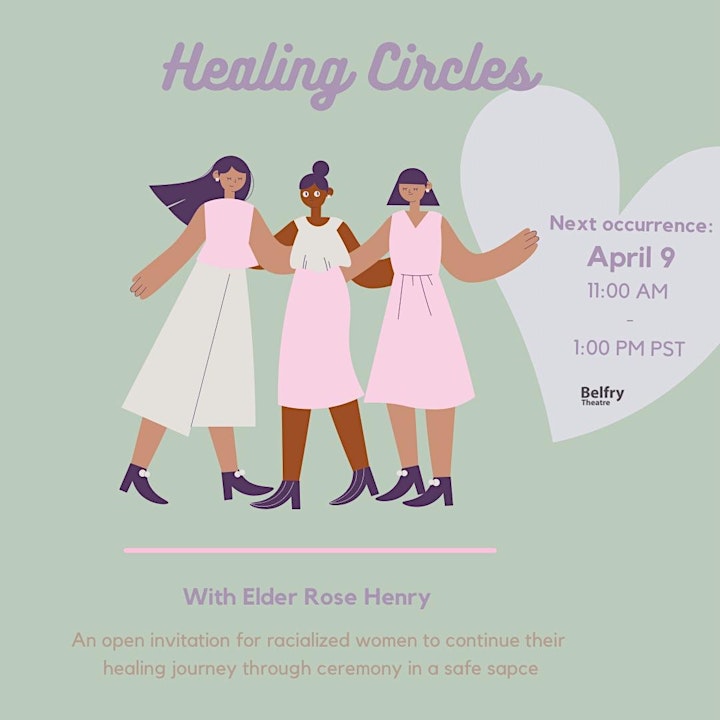 Date and time
Location
Belfry Theatre
1291 Gladstone Avenue
Victoria, BC V8T 1G5
Canada