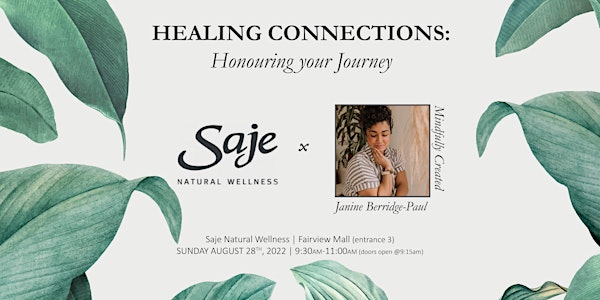 HEALING CONNECTIONS: Honouring your Journey
Join the conversation about healing and self-care with facilitator Janine, from Mindfully Created Designs, in partnership with Saje.
When and where
Location
1800 Sheppard Ave E 1800 Sheppard Avenue East Toronto, ON M2J 5A7 Canada
About this event
This workshop is an opportunity to discuss your healing journey in a safe and welcoming environment. Trauma-informed facilitator, Janine Berridge-Paul, will be sharing her own healing journey and some of the tools and techniques she has used to move trauma, grief, and anxiety. Saje and Janine will share the healing power of plants, and how essential oils can be used to elevate anyone's wellness. Enjoy exclusive deals from Saje, following Janine's meditation and facilitated discussion.
Learn more about Janine:
I am a creator, connector, artist and writer that has a passion to support others throughout their journey. My background has included working with and alongside various communities where it has been my duty to provide safe, healthy and inclusive supportive programs and services that cater to both community and individual healing. I believe we all have a unique journey that is deeply connected to those around us. Creating space to honor our journey and the journey of others is a beautiful practice and is something I seek to cultivate through my business Mindfully Created Designs, as well as through other areas of my life.
Mindfully Created Designs consists of gemstone jewelry, crystal infused essential oil rollers, raw gems and mindfulness workshops. My business was born out of my own personal healing and transformation journey. Throughout my journey, I have developed various skills in the power of meditation and breathwork, developing and trusting intuition, harnessing the healing power of gemstones and crystals as well as the power of self-love and care, which is reflected in the products and services that my business provides.
I look forward to meeting each of you as we spend time together. I will be sharing parts of my journey with you, specifically as it relates to healing from trauma, grief and anxiety and how these pieces of my journey have led me to developing self care and self love practices. I will be sharing tools and modalities that have supported my healing, such as working with crystals, meditation and gratitude practices and I look forward to hearing about your journey and what has supported you.
Wear comfortable clothing and feel free to bring a pillow to sit on; yoga mats will be provided.