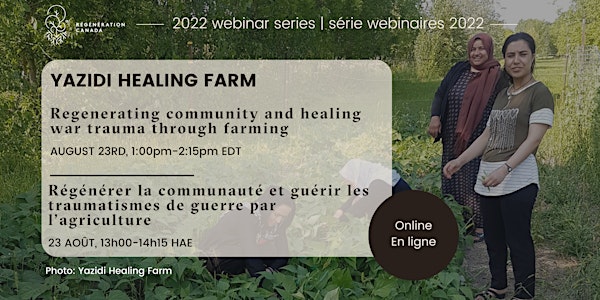 Healing Farm - Regenerating community | Régénérer la communauté
Healing Farm: Regenerating community and healing war trauma through farming | Régénérer la communauté et guérir les traumatismes de guerre
About this event
Français ci-dessous
The term "regenerative" refers to a process – the process of improving one's state. With regenerative agriculture, we often underline that the journey improves the state of the soil, of the ecosystem, of our climate. But a regenerative system also needs to improve human and community health, which is central to the Yazidi Healing Farm Project.
The Healing Farm, which began in 2018 in Winnipeg, Manitoba, is operated by the Yazidi Refugee Community to support families in the production of fresh produce, and in acquiring marketable employment skills. While producing food to feed 35 families, the Healing Farm offers a safe space to heal from trauma and gain independence in their new home. The Canadian Yazidi Association is often asked by refugees in other urban centers how to replicate the project.
Join the conversation with Jamileh Naso (President of the Canadian Yazidi Association), Nafiya Naso (Healing Farm Operator), Rev. Dr. Michael Wilson (Charleswood United Church), and Brenda Tjaden (market analyst and development consultant) who will explain how the Yazidi Healing Farm came to be and the elements needed to launch it, and define the key partners, challenges and successes.
"As we move toward our vision of a sustainable, resilient and just regional food system, it is clear that projects like the Healing Farm are absolutely key. A Healing Farm is growing into a sustainable food source, in hopes to nurture roots for independence" - Yazidi Healing Farm website
Click here to read more on our speakers !
This webinar will be in English, with simultaneous French interpretation available.
-----
Le terme de régénération fait référence à un processus - le processus d'amélioration de l'état d'une personne. Avec l'agriculture régénératrice, nous soulignons souvent que le processus améliore l'état du sol, de l'écosystème, de notre climat. Mais un système régénérateur doit également améliorer la santé humaine et communautaire, ce qui est au cœur du projet de la Yazidi Healing Farm (ferme de guérison).
La Healing Farm, qui a débuté en 2018 à Winnipeg, au Manitoba, est exploitée par la communauté des réfugié·e·s yazidis pour aider les familles à produire des produits frais et à acquérir des compétences professionnelles commercialisables. Tout en produisant des aliments pour nourrir 35 familles, la Healing Farm offre un espace sûr pour guérir des traumatismes et gagner en indépendance dans leur nouveau foyer. Les réfugié·e·s d'autres centres urbains demandent souvent à l'Association canadienne des Yazidis comment reproduire ce projet.
Joignez-vous à la conversation avec Jamileh Naso (présidente de l'Association canadienne des Yazidis), Nafiya Naso (Opératrice de la Healing Farm), Révérend Dr Michael Wilson (Église Unie Charleswood), et Brenda Tjaden (consultante en analyse des marchés et développement) qui expliqueront comment le projet a vu le jour, les éléments nécessaires pour le lancer, et pour définir les partenaires clés, les défis et les succès.
"Alors que nous nous dirigeons vers notre vision d'un système alimentaire régional durable, résilient et juste, il est clair que des projets comme la Healing Farm sont absolument essentiels. Une ferme de guérison se développe en une source de production alimentaire durable, dans l'espoir de nourrir les racines de l'indépendance" - Site web de la Yazidi Healing Farm
Cliquez ici pour en savoir plus sur nos conférencier·e·s !
Ce webinaire sera en anglais et une traduction simultanée en français sera offerte.