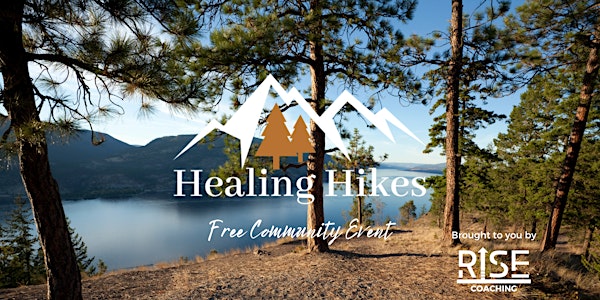 Healing Hikes - Free Community Event - West Kelowna
Healing Hikes - A guided hike experience for your mind, body and soul
When and where
Location
West Kelowna Area (Approx. 15 mins from downtown Kelowna.) Specific location details will be sent to those who register. West Kelowna, BC V4T 3E6 Canada
About this event
**Visit us at risecoachingbc.com to register for this FREE event.**
Join us for this Free Community Event! :)
We LOVE providing events that bring the community together and we are greatly looking forward to this experience!! We will be hiking in a beautiful area in West Kelowna that has incredible views. You'll LOVE taking in the sights and experiencing this peaceful part of paradise that we call home.
Healing Hikes is a wellness experience that includes guided meditations, breathwork, presence, grounding, releasing, resourcing, intentions, gratitude and more. The hikes are slow to moderate paced and geared towards all abilities.
Healing Hikes was inspired by Forest Bathing. What exactly is forest bathing? The term emerged in Japan in the 1980's as a physiological and psychological exercise called shinrin-yoku 'forest bathing.' It is a form of ecotherapy. We innately know: time spent immersed in nature is good for us. Many cultures have long recognized the importance of the natural world to human health. It's all about consciously connecting with what's around you.
Location: West Kelowna Area (Approx. 15 mins from downtown Kelowna.) *Specific location details will be sent to those who register.
FREE! Limited space. Pre-registration required.
REGISTER HERE: https://www.risecoachingbc.com/experiences
There are SO many benefits…
improves mood & energy levels
reduces stress, anxiety & depression
enhances relaxation
strengthens immune health
reduces inflammation in the body
increases focus & memory
reduces fatigue
improves physical health
regulates emotions
strengthens connection to yourself, community and the world around you
Join us and experience the many benefits that Healing Hikes has to offer!
If you have any questions, please message us on Facebook or send us an email to info@risecoachingbc.com
.
.
.
*𝘈𝘭𝘵𝘩𝘰𝘶𝘨𝘩 𝘸𝘦 𝘓𝘖𝘝𝘌 𝘥𝘰𝘨𝘴, 𝘸𝘦 𝘧𝘪𝘯𝘥 𝘵𝘩𝘦𝘺 𝘢𝘳𝘦 𝘥𝘪𝘴𝘵𝘳𝘢𝘤𝘵𝘪𝘯𝘨. 𝘛𝘩𝘪𝘴 𝘵𝘪𝘮𝘦 𝘪𝘴 𝘧𝘰𝘳 𝘺𝘰𝘶. 𝘞𝘦 𝘭𝘦𝘢𝘷𝘦 𝘰𝘶𝘳𝘴 𝘢𝘵 𝘩𝘰𝘮𝘦 𝘢𝘯𝘥 𝘢𝘴𝘬 𝘵𝘩𝘢𝘵 𝘺𝘰𝘶 𝘥𝘰 𝘢𝘴 𝘸𝘦𝘭𝘭 𝘴𝘰 𝘵𝘩𝘢𝘵 𝘸𝘦 𝘤𝘢𝘯 𝘢𝘭𝘭 𝘣𝘦 𝘪𝘯 𝘵𝘩𝘦 𝘮𝘰𝘮𝘦𝘯𝘵 𝘢𝘯𝘥 𝘧𝘶𝘭𝘭𝘺 𝘱𝘳𝘦𝘴𝘦𝘯𝘵.*
Visit us on Facebook - https://www.facebook.com/healinghikeskelowna