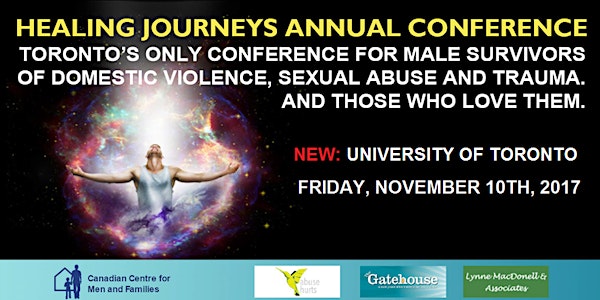 Healing Journeys 2017: Toronto's Conference on Men, Trauma and Mental Health
When and where
Location
NEW LOCATION: Woodsworth College Room 126 119 St George St. NOTE: Humber College is still on strike. We apologize for the need to change the venue of this conference. Toronto, ON M5S1A9
Refund Policy
Contact the organizer to request a refund.
Description
UPDATE: As a result of the continuing strike at Humber College, we are relocating this Conference to the University of Toronto St. George Campus. The new location is Woodsworth College Room 126 (119 St George St., Toronto), across from the St. George subway station.
The Canadian Centre for Men and Families is very proud to be co-hosting Healing Journeys 2017, a conference bringing together survivors of violence, abuse and trauma along with professionals, service providers and activists. Healing Journeys is Toronto's only conference for organizations, professionals and survivors to share their experiences and expertise on helping men to heal from all forms of abuse and violence, including domestic, sexual and emotional abuse.
Venue: Woodsworth College Room 126
119 St George St., Toronto
Across from the St. George subway station
Date and Time: Friday, November 10th, 2017
Register by October 31st at the early bird fee of $80 before prices rise to $105.
Note: Low income reduced rate options are available upon request. Contact info@menandfamilies.org or 647-479-9611 for low-income registration options.
Amazing Speaker Line-Up!
Arthur Lockhart, The Gatehouse Founder
Gary Sangha, Special Victims Unit of York Region police
Don Wright, Founder of BC Society for Male Survivors of Sexual Abuse
Sarah James, John Howard Society of Toronto
Don Ense, Native Child and Family Services of Toronto
Brian Russell, Provincial Coordinator of Dad Central Ontario
Tanja Thani, Manager of the Toronto Distress Centre
Paul Dunn is Adult Program Coordinator at The Gatehouse.
Lynne MacDonnell, MaleSurvivor.org
Rob Hawkings, counsellor, psychotherapist and consultant in private practice
Michael Healey and a panel of male survivors of intimate partner violence.


SPEAKER BIOGRAPHIES
In addition to the speakers below, we will be joined by a panel of male survivors of domestic abuse and a separate panel of male survivors of sexual abuse.
Arthur Lockhart, M.Ed. is a professor in the School of Social and Community Services at Humber College. Arthur is Founder Emeritus of the award winning charitable organization The Gatehous. Arthur is the recipient of a number of awards for his work in the fields of education and community social justices, including: Canada's Top 50 Champions of Change, Innovator of the Year Award, Youth Impact Award and Inaugural Distinguished Community Service Award.
Don Wright is the Founder of B. C. Society for Male Survivors of Sexual Abuse. Within the last couple years their contract has been expanded to include men who are victims of domestic violence. Don was the Executive Director of BCSMSSA up until June 2017 when he stepped into a new position as Education Coordinator, removing supervision of the agency's Master's and Doctoral student from the range of duties of the new Executive Director. Also, a former student and then staff therapist, moved to Japan, his home country, to establish the first agency in that country for male survivors. Don has provided consultation to similar organizations in Great Britain, New Zealand and Australia. He has also provided consultation to the Provincial and Federal governments on victim issues. In 2001, the B. C. Human Rigths commission awarded Don the B.C. Human Right Medal of Honour for his pioneering work in this field. In October 2017 Don will receive the Award of Distinction for his life time achievement in his field.
Paul Dunn is Adult Program Coordinator at The Gatehouse. He is a survivor of sexual abuse who describes his life as cycles of accomplishment followed by destruction. In his words, The Gatehouse saved his life. He now shares his experiences in order to bring hope to other men.
Sarah James is a Team Lead and Anger Management Facilitator with John Howard Society of Toronto. In this role, Sarah James works with men who are at risk of or have been in conflict with the law. Sarah has spent 8 years as a Human Service worker. She is no stranger to working with people by empowering individuals to take action on issues affecting their lives, including health, education, unemployment and their environment, by developing positive skills and attitudes. Sarah offers a wide range of programs and services, from Pre-Employment Programs for Ontario Works recipients, to doing Anger Management and doing Outreach across Toronto.
Michael Healey has for 30 years operated a successful Toronto-based consulting practice specializing in organizational development and culture. Michael is also a survivor of intimate partner violence. He will share his story and his path to recovery. Michael will host a panel of male suvivors of intimate partner violence.
Brian Russell is Provincial Coordinator of Dad Central Ontario
Don Ense is Men's Treatment Worker with the Native Child and Family Services of Toronto. Don has worked in the social service field for the past twenty years and focuses on Native mental health, domestic violence, trauma and addiction issues. For several years, he has worked as the coordinator of the "In Search of the Peaceful Warrior" program at Native Child and Family Services of Toronto. Don resides in Toronto, Ontario. He is the father and stepfather of six children and four grandchildren. Don learned about traditional ways from his grandparents, elders and healers over the course of 40 years. They instilled in him the knowledge and respect for Aboriginal culture that he learned from them. Don speaks and writes Ojibwe fluently. He is considered one of the original members of the Woodland Painters Group of Manitoulin Island which was formed in the early 1970's.
Tanja Thani is Manager of the Toronto Distress Centre.
Lynne MacDonell is a Registered Psychotherapist and has been in clinical practice since 1983. Working twenty years in substance abuse, she designed and implemented an outpatient substance abuse treatment program. In this capacity, she became aware that often issue of addictions could be traced to childhood abuse and/or other trauma. Lynne began to devote herself to healing this trauma. She designed and managed a comprehensive support system for survivors of sexual abuse, including one to one, group and clinical support. In her private practice she works with men and women who have experienced sexual abuse and trauma. Lynne developed "Understanding and Responding to Male Victimization" conferences for the Ontario Provincial Police, held in 25 venues around the province of Ontario. She and her team were awarded the Queen Elizabeth II Diamond Jubilee Medal for contributions to the community. On October 27th 2014, she received a Commissioner's Commendation for her role in educating police and justice partners, community support and child protection workers to enable them to address the unique and under-recognized needs of male victims. Lynne is a Therapist at Level I and II "Male Survivor of Sexual Abuse Weekend of Recovery Retreats" (MaleSurvivor.org). Recently she joined the Leadership Team of MaleSurvivor Weekends of Recovery. She is certified as a Compassion Fatigue Specialist, a Traumatologist, and a Trauma Group Supervisor. http://www.Lmtherapy.com
Craig Bolton has been running groups for male survivors of childhood sexual abuse for over 3 years at Reconnect Mental Health Services. He also runs a program for men who have been sexually abused as children and have acted out sexually towards others.
Rob Hawkings MA, MES, MBA, is Counsellor & Psychotherapist
Ellen Campbell: A survivor of childhood sexual abuse with a long road to healing, Canadian Centre for Abuse Awareness CEO and Founder, Ellen Campbell, translated her own recovery into hope for others. CCAA is a national non-profit charitable organization that provides support through prevention programs, advocacy and product for victims of abuse and their families. This agency, which started in her basement in 1993, now helps over 200,000 victims and their families across Canada. CCAA has a weekly, national television show called "Living Clean Living Well", along with a monthly eZine called AbuseHurts.Com. Ellen has been the recipient of many awards, the most recent honour being her appointment to the "Order of Ontario". Ellen is a speaker, author, and often interviewed on radio, newspaper, and television around issues of abuse. To learn more about the CCAA, and it's many programs go to www.abusehurts.ca.
Gabriela Beltran is a volunteer counsellor at the Canadian Centre for Men and Families. She supports and accompanies men in dealing with physical and emotional abuse, trauma and other mental health challenges. In that process, she has learned about gender ideas and cultural implications that shape their experiences, as well as the long journey they go through to find the support they seek. She hopes sharing her insights and learning from others will contribute to the improvement of services for men and families.
Rob Hawkings, MA,MES, MBA, is a Toronto-based counsellor, psychotherapist and consultant in private practice. His specialties are addictions and adult resolution of childhood trauma, with sub-specialties in sexual addiction and male survivors of childhood sexual abuse. Rob has designed, led, and supervised agency-sponsored group treatment programs for adult male sexual abuse survivors; and been a clinical consultant for projects related to treatment of male sexual abuse survivors. While with Bellwood Health Services (one of Canada's leading addiction treatment hospitals) between 2000 and 2005, Rob helped develop Canada's first residential treatment programs for sexual addiction and for military veterans with concurrent substance dependency and combat-related PTSD. From 2009 to 2016, he was a volunteer member of the Therapist/Facilitator Team for MaleSurvivor's Weekends of Recovery. For over 20 years, Rob has studied Psychodrama and Sociometry; and he incorporates these safe and powerful modalities into both his training workshops and his therapeutic work with groups and individuals.
ABOUT OUR HOSTS
The Canadian Centre for Men and Families (CCMF) is Toronto's first hub for the health and well-being of boys, men, fathers and families. The Centre is an open, inclusive and safe space, providing therapy and counselling, peer support, a legal clinic, fathering programs, mentorship and support services for male victims of trauma and violence. We provide services, research, advocacy, outreach and public education on all aspects of men's issues.

The Gatehouse mission is to provide support, resources and advocacy on behalf of those impacted by childhood sexual abuse. The Gatehouse provides information, referrals and linkages; Pro-vides resource support and groups that address vulnerable target populations; Provides a child-friendly environment, resources and support enabling Police and Child Welfare Workers to interview families when child abuse is suspected; Develops strategies for web-enabled services and support.

AbuseHurts (formerly the Canadian Centre for Abuse Awareness) is a national, charitable organization that has served Canadians since 1993.The Centre's mandate is to significantly reduce the incidence and impact of abuse through education and public awareness.CCAA operates solely on private donations with no sustaining funds from any government body. CCAA offers a full and comprehensive array of program services to address the needs of both child and adult victims of abuse. Our pro-grams give hope to abuse victims whose tragic circumstances and terror-filled lives have left them feeling helpless with nowhere to turn.

Lynne MacDonnell & Associates: My practice involves the healing survivors of survivors of childhood sexual abuse. I offer two groups for male survivors covering topics of trauma issues, safety, healthy and unhealthy coping strategies as well as many other issues. As a member of the award winning team of MaleSurvivors.org, Weekends of Recovery, I have been involved in developing training for awareness regarding male survivors for OPP, Canadian Centre for Abuse Awareness, Ontario Victim Witness Service as well as many others.