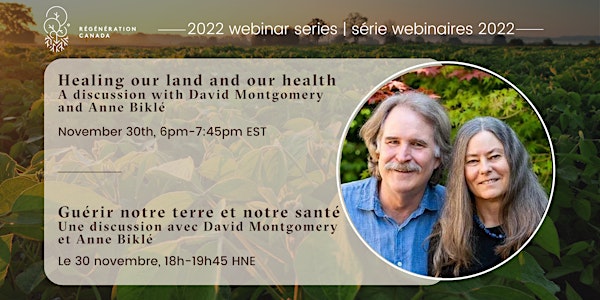 Healing our land and our health / Guérir notre terre et notre santé
A discussion with David Montgomery and Anne Biklé / Une discussion avec David Montgomery et Anne Biklé
Refund Policy
Contact the organizer to request a refund.
About this event
Français ci-dessous
Regenerative agriculture brings attention back to the soil as a living and dynamic ecosystem. It makes us see this unique earthly medium on which our food system depends. David R. Montgomery, doctor in geomorphology, and Anne Biklé, biologist and gardener, have been writing together to expand the public's knowledge on the importance of soil. In their most recent book, What Your Food Ate, they bring us even more intimately close to soil, personalizing our relationship with its health by explaining its impact on the nutritional content of our food. The choice of agricultural methods, ecological practices and the evaluation criteria of our food production are central to this question. Have we been choosing quantity over quality, and at what cost? Whether you are a farmer, chef, food producer, or engaged eater, David and Anne's work will help you draw connections between the health of the planet, people, ecosystems, and soil. Join us to discuss how to heal our land while reclaiming our health, as we all need to be part of the solution.
Our speakers
David Montgomerry is a broad-minded geologist and Anne Biklé is a free-range biologist with a bad case of plant lust.
This webinar will be in English, with simultaneous French interpretation available.
-----
L'agriculture régénératrice ramène l'attention au sol en tant qu'écosystème vivant et dynamique. Elle nous fait voir ce milieu terrestre unique dont dépend notre système alimentaire. David R. Montgomery, docteur en géomorphologie, et Anne Biklé, biologiste et jardinière, ont écrit ensemble pour élargir les connaissances du public sur l'importance du sol. Dans leur dernier ouvrage, What Your Food Ate, ils nous rapprochent encore plus intimement du sol, personnalisant notre relation avec sa santé en expliquant son impact sur le contenu nutritionnel de nos aliments. Le choix des méthodes agricoles, les pratiques écologiques et les critères d'évaluation de notre production alimentaire sont au cœur de cette question. Avons-nous choisi la quantité au détriment de la qualité, et à quel prix ? Que vous soyez agriculteur·trice, chef·fe, producteur·trice de denrées alimentaires ou mangeur·euse engagé·e, le travail de David et Anne vous aidera à établir des liens entre la santé de la planète, des personnes, des écosystèmes et du sol. Rejoignez-nous pour discuter de la manière de guérir notre terre tout en retrouvant notre santé, car nous devons toutes et tous faire partie de la solution.
Nos conférencier·e·s
David Montgomerry est un géologue ouvert d'esprit et Anne Biklé est une biologiste qui a un esprit de liberté et un amour inconditionnel pour les plantes.
Ce webinaire sera en anglais et une traduction simultanée en français sera offerte.