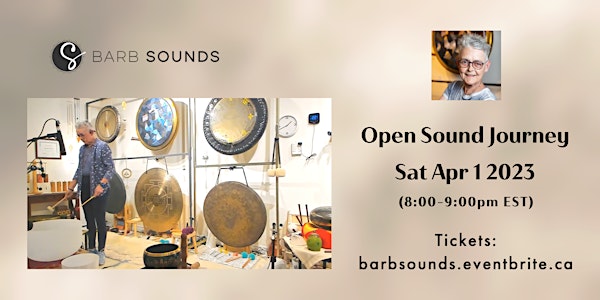 Healing Sound Journey with Barb
Virtual 60 min Sound Bath with Barb McIntosh. Open to all.
Date and time
Sat, Apr 1, 2023 5:00 PM - 6:00 PM PDT
About this event
Barb McIntosh is an accomplished Sound Healer, bringing her intuitive playing style and compassionate spirit to the ceremonies, events, and life transitions of her clients. Barb uses the vibrational frequencies created by singing bowls, crystal bowls and gongs to help her clients achieve well-being.
The sounds create a state of relaxation and calm in both your body and mind, where internal healing can occur.
Regular sound baths can help you feel better, sleep better and enjoy better physical and mental health. Sound Healing rejuvenates, repairs and increases the number of healthy red and white blood cells, boosting your immune system and reducing inflammation. Sound Healing also helps with pain, anxiety, stress, fear and negative thoughts. Something we all could use in this time of great change.
To learn more about Barb's work or book a private session just for you, go to: https://heal.me/barbsounds
About the organizer
Barb blends her intuitive use of harmonic sound instruments, light frequencies and compassionate spiritual guidance to skillfully connect you to your own inner dimensions of wholeness, profound release and healing.
To see all of Barb's offerings, or to book a private session for yourself with Barb, go to https://heal.me/barbsounds