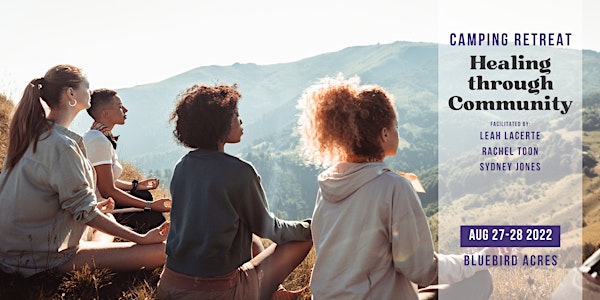 Healing through Community - A Camping Retreat
Join us on our journey to heal through community and come into inner balance on this overnight camping-style retreat near Black Diamond.
When and where
Location
Bluebird Acres 386129 112th Street West Black Diamond, AB T0L 0H0 Canada
About this event
In this retreat, you will have time to be reacquainted with yourself, your needs, and what aspects of your life want to come in balance before you move forward on your journey. You will learn how to connect with the land and yourself, at the charming Bluebird Acres located just outside of Okotoks - towards Black Diamond.
Appropriately so, this retreat takes place right at the start of Virgo Season. In this Virgo Season, the themes that arise for us are - work, health, service, organization, and attention to the details of life. Virgo focuses on health and healing and incorporating work-life balance.
Virgo Season also holds ties to the autumnal equinox. Equinox is the point in the year where days and nights hold in balance. Even sunlight and darkness. Symbolically, this brings into reflection what parts of our life desire more light, or more shadow work. As we gather before the equinox, we enter the early energies of this cosmic alignment and begin to receive hints in our life of what needs to come into balance in our own life.
We have many thoughtful workshops for you to experience and enjoy. Workshops and experiences include Animal Therapy, Meditation tools, Astrology, and Sacred Ceremonies (Red Ribbon Circle & Sacred Salts Ceremony). You'll learn about Astral Travel and connect with your guides to chat with them about your questions or concerns & receive their wisdom for your path ahead. As well, under the stars, we'll enjoy an out-of-this-world cosmos experience and be reminded of our multidimensional nature with a CE-5 meditation and experience.
We invite you to come into balance on this retreat, 'Healing Through Community' with facilitators - Leah, Rachel, & Sydney.
A one-of-a-kind experience that is awaiting one-of-a-kind YOU!
Event Itinerary
DAY 01
Arrival & Orientation
Opening Meditation
Astrology forecast
Sharing Circle - What you want to heal & hope to achieve this Virgo season & New Moon cycle.
Farm Animal Therapy
Free time
Dinner - Catered with options for allergies & meat/vegan options!!
Astral Travel 'Connect with your Guides' Workshop
Journaling & Self Reflection
CE-5 Meditation & Stargazing
Free time / bedtime
DAY 02
Breakfast
Packing up / Tidy
Yoga
Red Ribbon Ceremony
Sacred Salts (Take Home Gift)
Closing Circle

Provided:
A Safe, Judgement-Free Space
Community
Various workshops
Support / Resources
Soulful Conversation / Discussion
Water
Shared tents
Catered dinner (Day 01)
Light Snacks (Day 01)
Catered breakfast (Day 02)
What to Bring:
Your intentions & an open mind
Journal or pen & paper
Yoga mat
Dress in comfortable clothes, bring layers and pack for all weather
Proper footwear (sneakers)
Pillow + sleeping bag + foam or padding
Folding camping chair
Snacks, sharing or personal
Personal drinking water
Sunscreen / bug spray
Personal vanity items (i.e. toothbrush / toothpaste)
Note: Please arrive so we may begin promptly at 1:00 pm.
Full refunds will occur if the event needs to be cancelled. (Example reasons for cancellation, lack of registration or excessive rain).
*We are currently still working with our caterer to finalize menu items and will annouce once complete*
SUPPORTED & SPONSORED BY: