Healing Together: BIPOC Support Group for Survivors of Domestic Violence
BIPOC support group for women (trans & cis), non-binary & 2-spirit folks who are survivors of gendered and domestic violence.
About this event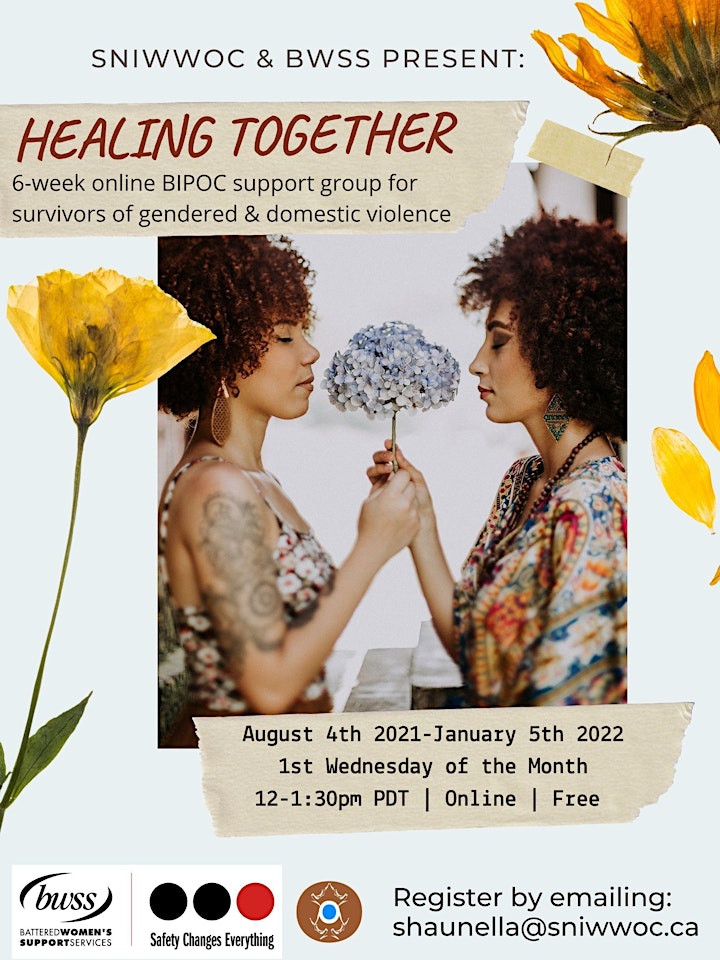 Presented by the Support Network for Indigenous Women & Women of Color and the Battered Women's Support Services:
Healing Together: 6-week BIPOC Support Group for Survivors of Gendered and Domestic Violence
When: Every 1st Wednesday of the month starting August 4th 2021-January 5th 2022
Time: 12-1:30pm PDT
FREE
REGISTRATION:
If you'd like to protect the anonymity of your participation, please email Shaunella to register: Shaunella@sniwwoc.ca
You can also register directly through our Eventbrite page, you can register for one session or as many as you'd like to attend.
**Zoom link and passcode will be provided to you upon registration**
If you need any assistance using the zoom platform, please contact Shaunella@sniwwoc.ca and we can assist you in getting comfortable with the platform.
We are holding this space specifically for women, non-binary & two-spirit folks who identify as Black, Indigenous or People of Color (BIPOC). Please only register if you are part of these identity groups. We commit to protecting the confidentiality and anonymity of all participants registered to our support groups.
About the Event:
As a direct response to our community's needs and requests for ongoing support regarding gendered and domestic violence, the Battered Women's Support Services and the Support Network for Indigenous Women & Women of Color are partnering to offer a 6 Week Virtual Support Group for BIPOC women, non-binary and 2-spirit folks.
We will highlight a different topic related to domestic and gendered violence each week and weave in open circle discussion so that all participants have a chance to feel heard, to co-create safer and braver spaces for survivors, to heal, to build community, access networks of support, to ask questions and get connected to further resources.
More info on the facilitators and topics of each session TBA! Stay tuned.
Meeting Dates: August 4th 2021, September 1st 2021, October 6th 2021, November 3rd 2021, December 1st 2021, January 5th 2022
In our first session, we will be joined by Rosa Elena Arteaga (she/her) from the Battered Women's Support Services to discuss the 'Contributing Factors to Gender Based Violence: Power & Control VS Healthy Relationships'.
Important Information to Consider Before We Meet:
As this is an event where we are speaking on issues related to gendered-violence and domestic violence, where some of the participants might be survivors themselves, we require that participants be brave and keep their cameras on during the sessions as one step towards prioritizing individual and group safety in this virtual space.
A lot of survivors might feel uncomfortable sharing in a space where they can't see exactly who is there and who is listening, so we ask that people honor and respect the safety of individuals and the group. This includes not sharing the identities of anyone in this group or any conversations that we had during the sharing circle/discussion portion of the event. We are trying to hold space for people with lived experience of different forms of violence and hope that we can co-create safer and braver spaces together. If you need to step away or leave the session unexpectedly, if able, let us know. If you can't let us know and we don't know why you had to leave, a facilitator will reach out by email to check in.
If you'd like to get connected to a counsellor to have access to continued support, SNIWWOC offers FREE counselling services for BIPOC women, 2-spirit & non-binary folks who are part of these sessions. Please email Shaunella: Shaunella@sniwwoc.ca to get connected to counselling services for free.
If having your camera on during these sessions feels unsafe or uncomfortable for you and you are really needing support, you can also access one on one support through SNIWWOC's free counselling services for BIPOC folks. Please get in touch with us if this is the case, and we will set you up with more accessible support.
***
We acknowledge that this event is hosted from the traditional territory of the Lekwungen (lək̓ʷəŋən) people, currently and specifically the Esquimalt, the Songhees and the W̱SÁNEĆ.
Organizer of Healing Together: BIPOC Support Group for Survivors of Domestic Violence