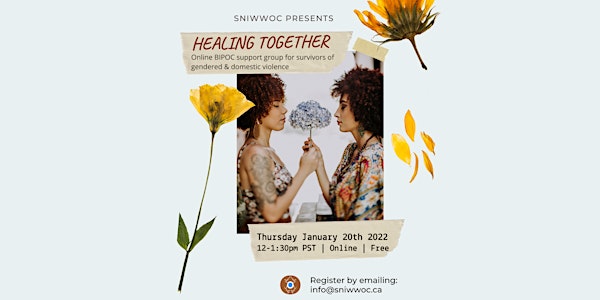 Healing Together: BIPOC Support Group for Survivors of Domestic Violence
Say No to Domestic Violence. Know your rights, share and heal. Join us for a conversation and sharing circle on Jan 20th at Noon via Zoom.
About this event
Support Network for Indigenous Women and Women of Colour is offering a free virtual support and open sharing circle to start the new year on a positive note. Let us help you to heal by joining us on Thursday, January 20th, 2022 from 12:00pm to 1:30pm via Zoom.
Weave in open circle discussion so that all participants have a chance to feel heard, to co-create safer and braver spaces for survivors, to heal, to build community, access networks of support, to ask questions and get connected to further resources.
We have Dr. Juanyetta to help us share our experiences and create a support system. She will be talking about intimate partner violence: Is it Contagious? She has a unique ability to curate experiences for individuals to inspire them to be bold, brave, & brilliant.
We are holding this space specifically for women (trans & cis), non-binary & two-spirit femmes. We commit to protecting the confidentiality and anonymity of all participants registered to our support groups.
What is gender based violence?
Gender based violence encompasses physical, emotional and sexual abuse such as: name-calling, hitting, pushing, cyber stalking, harassment, rape and gaslighting. women, girls, and Two Spirit, trans and non-binary people are at the receiving end most of the times.
FACT 1: Gender Based Violence costs lives. According to Statistics Canada, (2019), approximately every six days, a woman in Canada is killed by her intimate partner.
FACT 2: Gender Based Violence costs billions of dollars for victims to deal with the aftermath. Reportedly, it costs around $7.4 billion to deal and heal from the trauma of spousal and intimate partner violence.
FACT 3: Transgender people are more likely to have experienced violence compared to cisgender people. Due to crimes related to transphobia, transgender people are more likely to have experienced violence at the adolescent age of 15.
FACT 4: Reportedly 30%
of all women age 15 or older report experiencing sexual assault at least once. There are still a large number of cases which go unreported.
FACT 5: Children who witness violence in the home have twice the rate of psychiatric disorders as children from non-violent homes.
Sources:
1. Canadian Women's Foundation: The Facts about Gender-Based Violence
2. Psychiatry Online: PTSD, Other Disorders Evident in Kids Who Witness Domestic Violence
3. Government of Canada: An Estimation of the Economic Impact of Spousal Violence in Canada
4. Statistics Canada: Homicide in Canada, 2018
To know more please visit the link here: https://www.sniwwoc.ca/events/2021/8/4/healing-together-bipoc-support-group-for-survivors-of-domestic-violence
Join the event on Zoom: https://us02web.zoom.us/meeting/81108660343
Meeting ID: 811 0866 0343