Healing Trauma & Addiction with Psychedelic-Assisted Therapy
MAPS Canada Presents: Healing Trauma & Addiction with Psychedelic-Assisted Therapy, ft. Gabor Maté, Joanna Simundic, and Trevor Millar
About this event
The Multidisciplinary Association for Psychedelic Studies (MAPS) Canada is excited to invite you to a special Valentine's weekend fundraiser on February 16th, 2019 at the University of British Columbia in beautiful Vancouver, BC featuring presentations by Dr. Gabor Maté, Joanna Simundic, and Trevor Millar!
MAPS Canada is a non-profit organization committed to legalizing psychedelic medicine by conducting honest and careful research investigating the safety and efficacy of psychedelic-assisted therapy to treat a variety of mental health disorders, funded 100% by public donation.
Vancouver is one of 15 international Phase 3 sites for MAPS' MDMA-Assisted Psychotherapy for PTSD study which the BC Centre on Substance Use (BCCSU) will be recruiting participants for soon. In August 2017, MDMA-Assisted Psychotherapy for PTSD was granted Breakthrough Therapy Designation by the FDA in recognition of outstanding Phase 2 results. This novel treatment is on track to be legalized by 2021 so please help us raise awareness, share knowledge, and provide hope to those suffering from treatment-resistant PTSD. Visit www.maps.org/mdma to learn more.
We hope you can join us for an informative and inspiring evening featuring presentations by some of Canada's top psychedelic leaders who collectively have first-hand experience healing trauma and addiction with Ayahuasca, MDMA, and Ibogaine!
You will also have an opportunity to hear personal experiences from participants who received Ibogaine treatment for opiate addiction & MDMA-Assisted Psychotherapy for PTSD!
Registration
Doors open at 5:30pm.
Ticket Options:
General Admission: $40.00 Enjoy the evening fundraiser with guest speakers. (6:00pm-8:30pm)
VIP (Limited number): $100.00 Enjoy the evening fundraiser followed by an exclusive VIP Q&A Mingle with speakers & The MAPS Canada team with light refreshments. VIP guests will receive a gift basket including a free float from Float House Gastown! (8:45pm-9:30pm)
Tickets will sell out fast - purchase yours today! And for those of you who can't make it, we will be live-recording this event to share with the larger community!
Thank you to our generous sponsors The UBC Psychedelic Society and Float House Gastown!
About the Speakers:
Dr. Gabor Maté, Addiction Expert, Speaker, and Best-Selling Author
A renowned speaker, and bestselling author, Dr. Gabor Maté is highly sought after for his expertise on a range of topics including addiction, stress and childhood development. Rather than offering quick-fix solutions to these complex issues, Dr. Maté weaves together scientific research, case histories, and his own insights and experience to present a broad perspective that enlightens and empowers people to promote their own healing and that of those around them.
For twelve years, Dr. Maté worked in Vancouver's Downtown Eastside with patients challenged by hard-core drug addiction, mental illness and HIV, including at Vancouver's Supervised Injection Site. With over 20 years of family practice and palliative care experience and extensive knowledge of the latest findings of leading-edge research, Dr. Maté is a sought-after speaker and teacher, regularly addressing health professionals, educators, and lay audiences throughout North America.
As an author, Dr. Maté has written several bestselling books including the award-winning In the Realm of Hungry Ghosts: Close Encounters with Addiction; When the Body Says No: The Cost of Hidden Stress; and Scattered Minds: A New Look at the Origins and Healing of Attention Deficit Disorder, and co-authored Hold on to Your Kids. His works have been published internationally in twenty languages.
Dr. Maté is the co-founder of Compassion for Addiction, a non-profit that focuses on addiction. He is also an advisor of Drugs over Dinner.
Dr. Maté has received the Hubert Evans Prize for Literary Non-Fiction; an Honorary Degree (Law) from the University of Northern British Columbia; an Outstanding Alumnus Award from Simon Fraser University; and the 2012 Martin Luther King Humanitarian Award from Mothers Against Teen Violence. For his groundbreaking medical work and writing he has been awarded the Order of Canada, his country's highest civilian distinction, and the Civic Merit Award from his hometown, Vancouver.
Joanna Simundic, RCSW, RCC, MAPS Phase 3 MDMA Therapist
Joanna Simundic is a Registered Clinical Social Worker and Registered Clinical Counsellor. She is the sole founder, owner and psychotherapist at Embracing Change Therapy, a private practice she started in 2013 supporting individuals in processing traumatic material using a variety of techniques such as: Eye Movement Desensitization Reprocessing, Mindfulness, Internal Family Systems and various somatic approaches. She graduated from York University in Toronto, ON in 2006 with an Honours Undergraduate Degree in Psychology. She also completed her Masters of Social Work at Wilfrid University in Kitchener, ON in 2012. Joanna has been in the helping profession serving various populations for the last 12 years. Her main passion is working with trauma survivors as she herself has extensive lived experience with trauma. Trauma work is her passion and calling in life as she supports individuals in healing traumatic material and achieving post traumatic growth. She has followed MAPS research since 2010 in her previous work as a Substance Use Counsellor and was honoured to be invited into the Vancouver MAPS team in early 2016 as one of the MAPS Therapists for the MDMA-Assisted Psychotherapy Phase III Research Study.
Joanna possess a wide array of experience working with trauma from her work in Medellin, Columbia working with marginalized youth, working with First Nations communities in Northern British Columbia and also supporting at risk youth in Newfoundland and Toronto. Throughout her career, Joanna has supported individuals and families in overcoming difficulties such as: developmental trauma, abuse and neglect, sexual trauma, first responders' exposure to traumatic events on the job, domestic violence, adult children of caregivers abusing alcohol and drugs and various others exposures to difficult life events. Her other passion is her devotion to spirituality and personal transformation as well as being out in nature, hiking and exploring the beauty of British Columbia.
Trevor Millar, MAPS Canada Board Chair & CEO of Liberty Root Ibogaine Therapy
Trevor Millar is a social-entrepreneur and owner of Liberty Root Therapy Ltd., serving those called to experience the healing properties of African plant medicine Tabernanthe Iboga and its derivatives. Iboga is a powerful psychedelic and an exceptional addiction interrupter; recent discoveries show it's also excellent for treating Parkinson's Disease and perhaps other neurological disorders. Trevor's interests extend into psychedelics as evolutionary tools and practical life-enhancers and has a passion for helping the Downtown Eastside of Vancouver, spearheading projects that benefit the residents of that neighbourhood. Trevor is also the former Executive Director of the Global Ibogaine Therapy Alliance.
About MAPS Canada
Vision
The Multidisciplinary Association for Psychedelic Studies (MAPS) Canada envisions a world where psychedelics and marijuana are safely and legally available for beneficial uses, and where research is governed by rigorous scientific evaluation of their risks and benefits.
MAPS Canada envisions global education based on science and cultural reintegration for the beneficial uses of psychedelics and marijuana.
Mission
MAPS Canada furthers its mission by:
Providing evidence-based, honest public education about the risks and benefits of psychedelics.
Supporting scientific research into many aspects of psychedelics including treatments for medical conditions, neuroscience, creativity and spirituality.
Planning, conducting, and publishing scientific research of psychedelic medicines.
Developing psychedelics into prescription medicines.
Training psychedelic psychotherapists and working to establish a network of treatment centers that can provide this service in the context of professional best practices.
Goals
Stimulate psychedelic research that will enable the further mainstreaming of psychedelic medicine as legal prescriptions.
Build a community of researchers and mobilize a network of volunteers.
Educate scientists, therapists, teachers, students, and policy makers.
Create dynamic, safe, ethical, and respectful learning and working environments.
Develop enhanced infrastructures to support innovation and applied research.
Partner with academic, health, hospital and community organizations to support and enhance psychedelic research.
Train therapists to provide psychedelic psychotherapy guided by best practices.
Plan, conduct and publish scientific research.
Build a network of clinics where treatments can be provided.
Values
Transparency: Information is shared openly and clearly. Communications are respectful, honest, and forthright.
Passion and Perseverance: We persist in the face of challenges. We have a sense of urgency about our work, and know that it's a long-term effort.
Intelligent Risk: Our decisions are informed by research and experience. We try new things and learn from our mistakes.
Trust and Accountability: We value integrity and honesty, and embrace the highest standards.
Inclusivity and sharing: We encourage a wide range of academic and health organizations to participate in psychedelic research and share our protocols with other groups of researchers.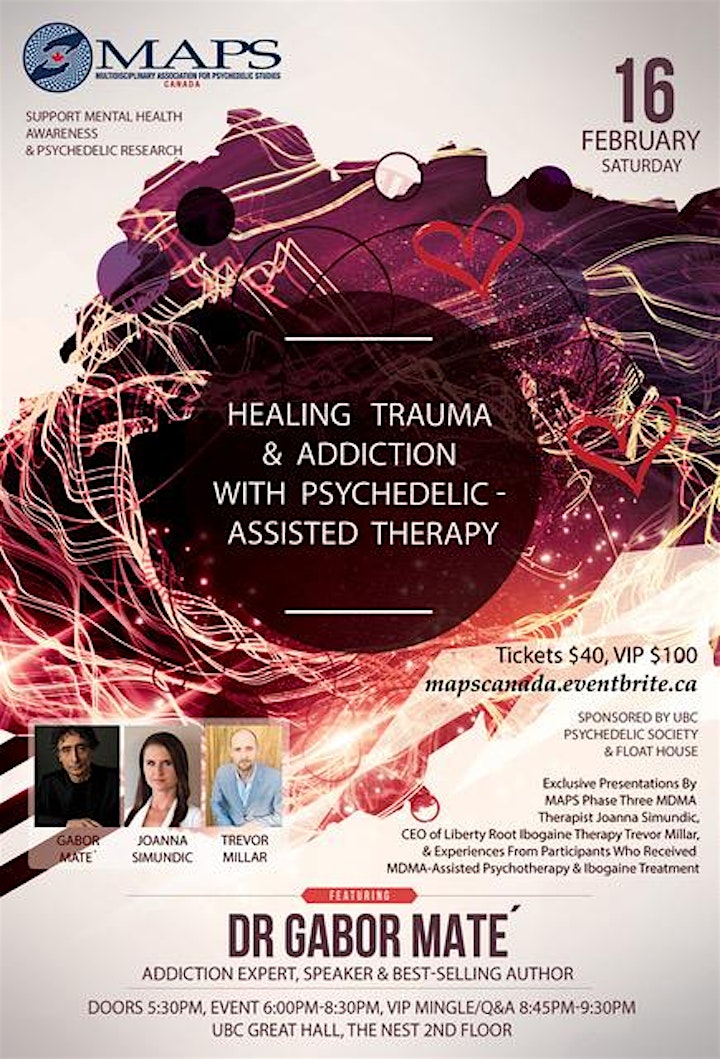 Organizer of Healing Trauma & Addiction with Psychedelic-Assisted Therapy