About this Event
eMERGE Guelph is hosting a series of events designed to help local environmental early adopters succeed in fighting climate change. We call the series: As if Climate Change Matters.
HEALTH... as if Climate Change Matters
We have done a poor job communicating climate change to get real action. The 'far off' impacts have frequently made people feel as if sea level rise or flooding just couldn't happen to them.
The reality is that southern Ontario is already seeing the health impacts of climate change. We need to do a better job at communicating climate change. Now let's learn about the local impacts.
Climate change is harming human health
Research has shown that our health, and our children's health, is being directly and seriously impacted by our changing climate. These changes are contributing to the spread of ticks that carry Lyme disease, asthma triggers and the risk of heat-related illness. Untreated, these health impacts can cause hospitalization – or worse. Without action, our health and quality of life is at risk.
Join us as we host Pegeen Walsh, Executive Director of the Ontario Public Health Association as our keynote speaker. We will also have a panel of health experts in an open dialogue with Pegeen.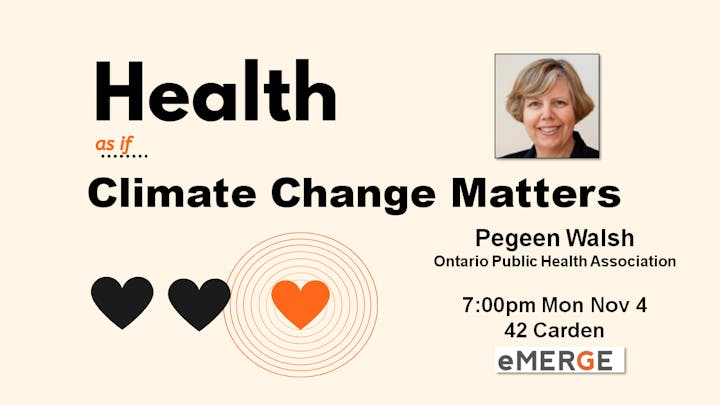 Pegeen Walsh
Pegeen is the Executive Director for the Ontario Public Health Association. Her role requires supporting and facilitating advocacy efforts in public health and capacity building and knowledge transfer and exchange initiatives within the province and beyond. Prior to OPHA, Pegeen has led the design and delivery of a wide range of programs, policies, partnerships, and research that have supported individual and community health and well-being. As Ontario Regional Director with Health Canada, the Public Health Agency of Canada and Director at the Ontario Ministry of Health Promotion, she oversaw various health initiatives ranging from early child development, healthy eating, and tobacco control, healthy communities to injury, alcohol abuse and 2008 OPHS Standards. As Director of Public Policy at YMCA Canada, she developed government relations training and strategies. Just prior to joining OPHA, Pegeen was a Research Director at the Canadian Council for Public-Private Partnerships responsible implementing research strategy to advance knowledge and best practices. Pegeen is also a Board member at Family Services Toronto, serving as chair of its Governance Committee. She holds a BA degree from University of Waterloo in Political Science.
(more panelists to come)
Tickets:
$10 - in advance (this price includes HST and Eventbrite fees)
eMERGE wants these events to be accessible to all. If the cost is beyond your ability to pay, please contact evan@emergeguelph.ca for a complimentary ticket.
_______________
eMERGE fights climate change.
We do this by helping people reduce energy and water use. Promoting smart behaviour, policy and improved efficiency helps Guelph build a road map to beat climate change and achieve 100% renewable energy by 2050. This builds a more diversified local economy that can also save people money.