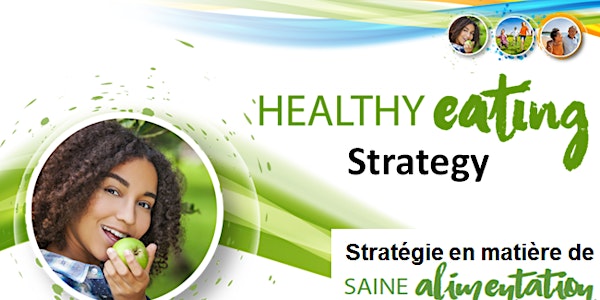 Health Canada's Front-of-Pack Labelling Stakeholder Engagement Meeting/Rencontre de mobilisation des intervenants en ce qui concerne l'étiquetage sur le devant de l'emballage de Santé Canada
When and where
Location
Ottawa Ottawa, ON Canada
Description
Health Canada will be hosting a meeting on September 18, 2017 on front-of-pack (FOP) labelling evidence and symbols. The objectives of the meeting will be to bring together experts, industry and health stakeholders to share and review evidence, and to explore additional options for FOP symbols for further public consultations. Information related to FOP labelling, such as the public health context, consumer research, and international experiences will be shared and discussed.
The WEBCAST URL is now online: http://collaboratevideo.net/hc-sc
To ensure you will not have any problems connecting to the live webcast, we highly recommend that you visit the following web site as soon as possible so that we can address any issues prior to the event.
WEBCAST TEST SITE: http://the.canwebcast.net/test/cv

Webcast participants can send questions/comments by following these steps:
1. Click the "PARTICIPATE" button on the webcast player;
2. Enter your email address;
3. Write your question in the space provided, and press "send".

Le 18 septembre 2017, Santé Canada tiendra une rencontre qui portera sur les observations et les symboles relatifs à l'étiquetage sur le devant de l'emballage. Cette rencontre a pour but de permettre aux experts et aux intervenants de l'industrie et du secteur de la santé de se réunir pour échanger et examiner les observations recueillies et étudier d'autres possibilités de symboles d'étiquetage aux fins de consultations publiques. On échangera de l'information concernant l'étiquetage et on discutera notamment du contexte de la santé publique, des recherches auprès des consommateurs et des expériences internationales.
Pour éviter toute difficulté de connexion à la webdiffusion, nous vous recommandons fortement de vous rendre dès que possible au site dont l'adresse figure ci-après afin que nous puissions rectifier toute situation problématique avant la conférence
WEBCAST TEST SITE: http://the.canwebcast.net/test/cv
Les personnes qui participeront à la conférence par le biais du Web devront suivre la procédure suivante pour poser des questions:
1. Cliquer sur le bouton "participer" de la page de webdiffusion;
2. Entrer votre adresse électronique;
3. Écrire la question et cliquer sur le bouton "envoyer".