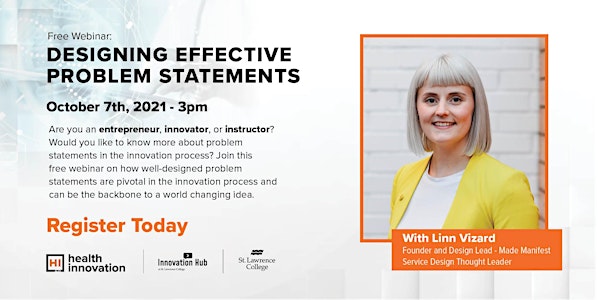 Health Innovation YGK: Designing Effective Problem Statements
Learn how well-designed problem statements are pivotal in the innovation process and can be the backbone of a world-changing idea.
About this event
Hosted by the Innovation Hub of St. Lawrence College as part of the HI YGK health innovation initiative, join Linn Vizard, one of Canada's leading advocates in Service Design, in learning how to better navigate problem statements. Join academics, students, entrepreneurs, health care professionals and design thinkers in learning how to ask and dissect questions, to better solve problems.
Outcomes from this 50-minute session include:
• Learn what is a problem statement and why they are important
• Understand problem statements and where they fit in the innovation process
• Gain insight into common frameworks or approaches for developing problem statements
• Walk away with tips and common pitfalls when developing problem statements
About the Expert:
Linn is one of Canada's leading advocates of service design, and co-founded Service Design Toronto in 2013. She currently runs a boutique consulting practice, Made Manifest, leading transformational service design projects with a wide range of clients. Clients have included organizations like TELUS, Shopify, Instacart, the City of Toronto, WSIB and OCADUCO. She also writes the popular 'Ask a Service Designer' newsletter. In her previous role as Director, Design Strategy at Bridgeable, she applied service design methodologies to solve client challenges in fields like banking, telecommunications and the public sector. She is a respected contributor to Touchpoint, the journal for service design professionals, as well as writing frequently for Adobe on design. Linn has spoken around the world at events, including Interaction (the IxDA conference), Adaptive Path's Service Experience Conference and the Global Service Design Network Conference. Linn loves teaching and mentoring the next generation of designers, and often guest lectures at universities, as well as teaching at Juno College of Technology in Toronto. She loves glitter, dancing, and cats, and can deadlift over 220 pounds.
About Health Innovation Kingston (HI YGK):
As part of a FedDev Ontario investment the City of Kingston in partnership with Queen's University, St. Lawrence College, GreenCentre Canada, Kingston Health Sciences Centre, and Kingston Economic Development Corporation, the project, called HI YGK, has brought some of the region's most notable post-secondary and health care institutions together to position Kingston as a place to develop, test, and commercialize innovative solutions for the health sector. This collaboration is leveraging three technology development labs to support local R&D needs and establish new business advisory supports to help entrepreneurs and SMEs commercialize health innovations and scale up their companies.